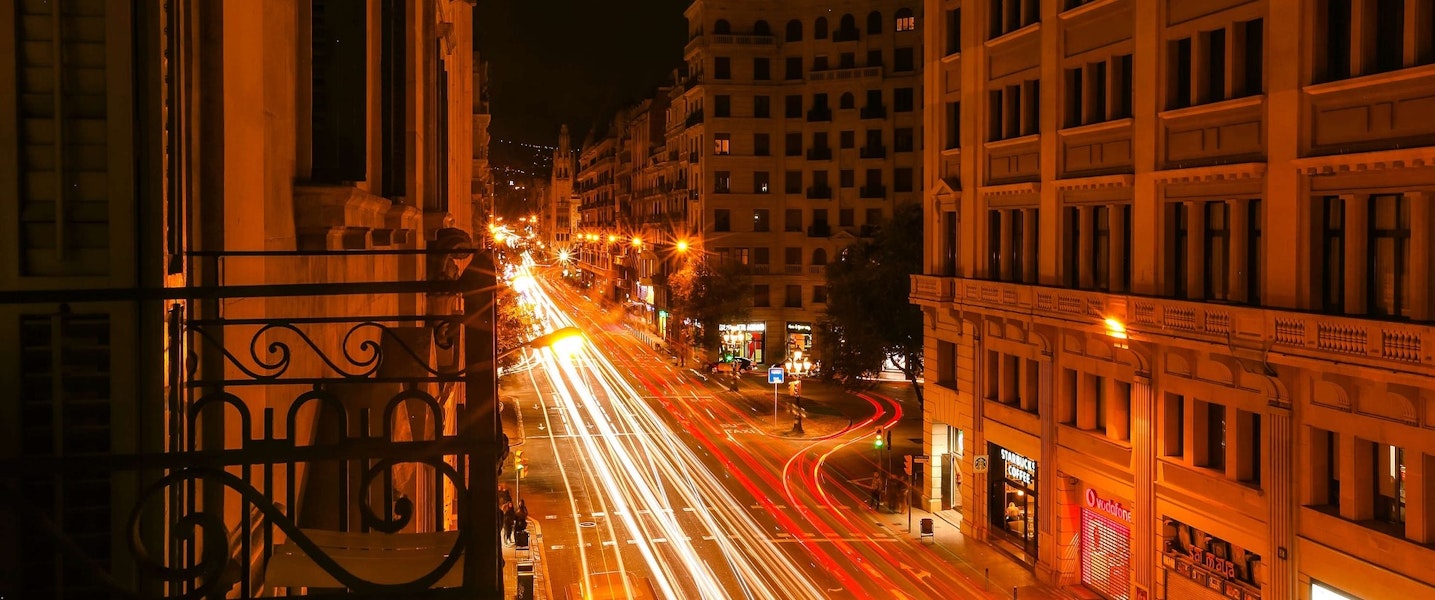 Barcelona 1-Day Itinerary | The Ultimate Travel Guide | Barcelona Itineraries
The Catalonian capital of Barcelona presents Mediterranean bliss all year round. With fabulous beaches, great food and opulent architecture, Barcelona is one of the most sought after tourist destinations.  The cosmopolitan city is home to great artistic expressions of legends like Antoni Gaudi, Joan Miro, and Montserrat Caballe. Barcelona is an excellent location to spend your holiday.
Every minute in Barcelona will give you glimpses of its glorious history. The city is packed with activities, even if you are there for just a day. Our Barcelona 1-day itinerary
The guide takes you through what to do if you're spending one day in Barcelona. Know the hotspots of the city and get a peek into its culture. Be ready to walk fast as there is limited time and lots to see. Even one day in Barcelona is worth it!
Barcelona 1-Day Itinerary Budget
Food: €30 per day if you don't choose fancy meals
Tickets:
Casa Mila: €24 for skip-the-line tickets
Sagrada Familia: €48 for a Guided Tour
Park Guell: €10 for entrance tickets
Las Ramblas: Free
La Boqueria: Free
Placa de Catalunya: Free
Total: €112
Barcelona 1-Day Itinerary - The Highlights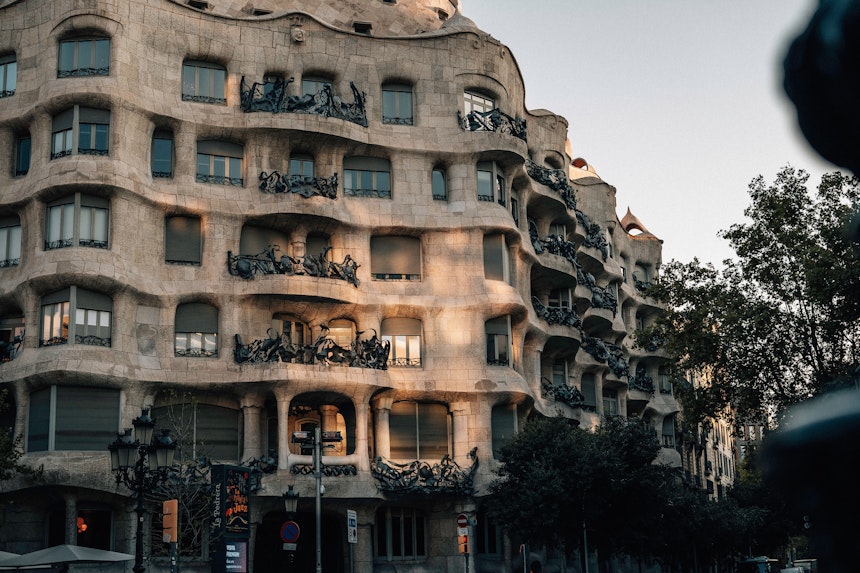 Casa Mila
Distance from Sagrada Familia - 1.6km - 15 min walk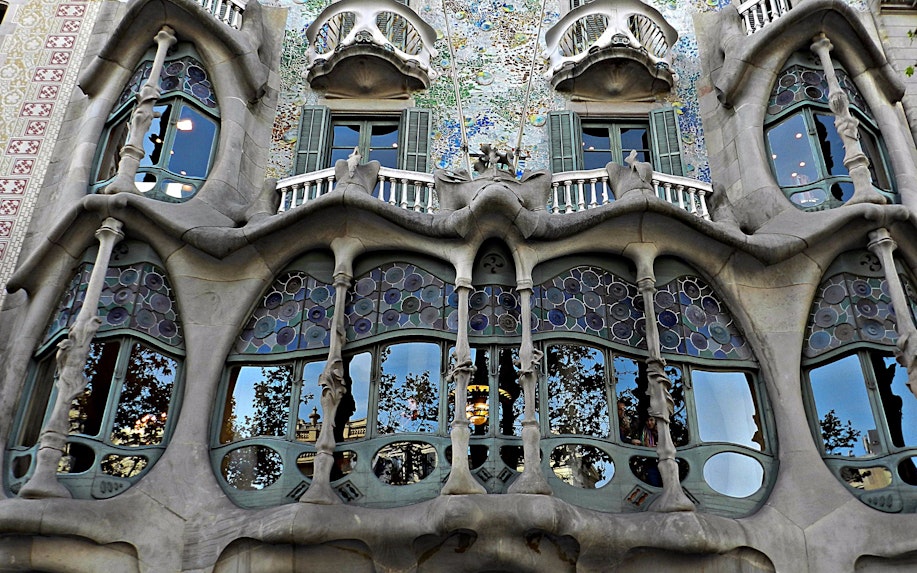 Casa Batllo
Distance from Sagrada Familia - 1.6km - 15 min walk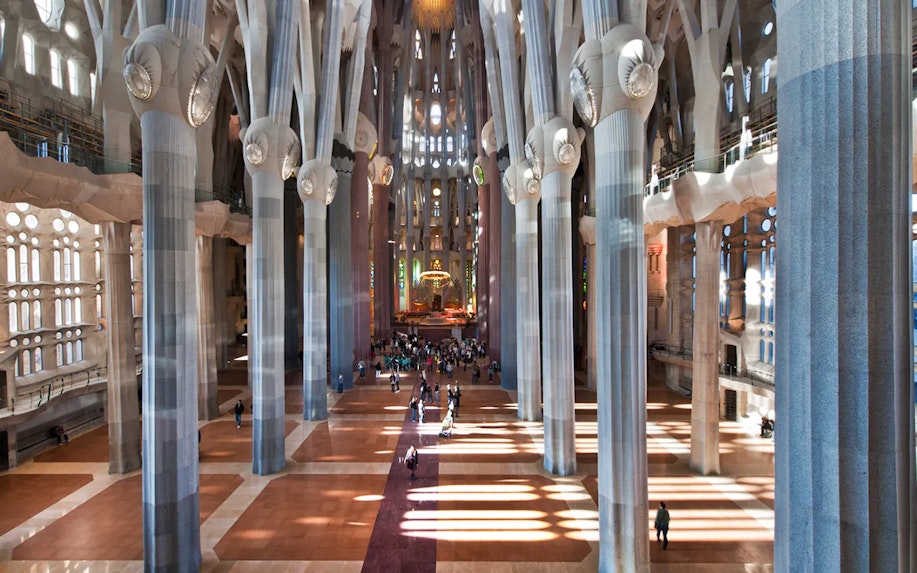 Sagrada Familia
Distance from Park Guell - 2.2 km - 24 min walk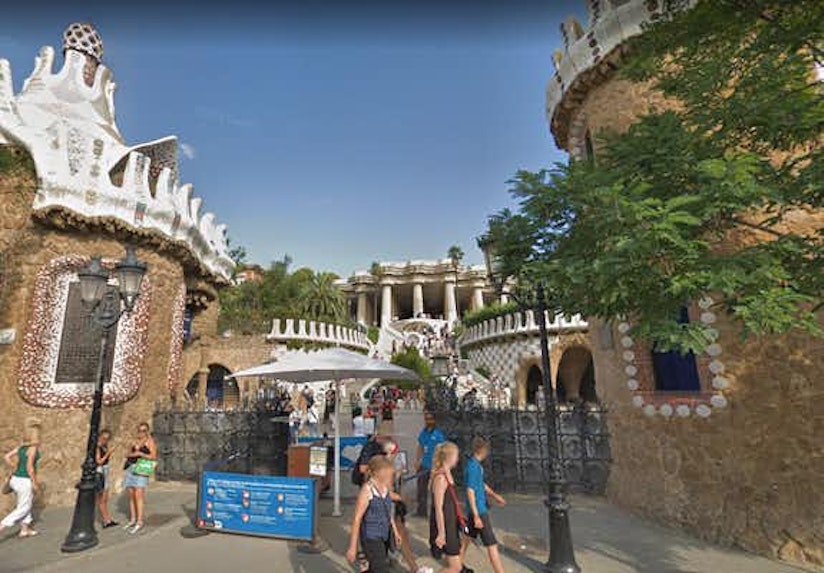 Park Guell
Distance from La Rambla - 6.9 km - 22 min drive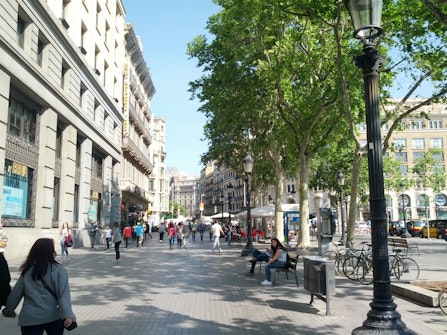 Las Ramblas
Distance from La Boqueria - 0.17 km - 1 min walk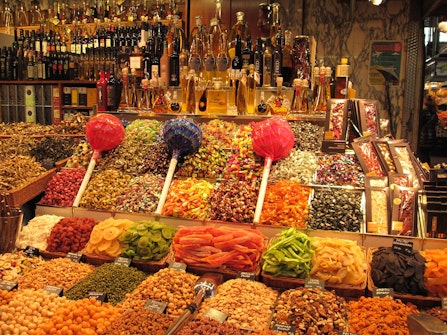 La Boqueria
Distance from Placa de Catalunya - 0.8 km - 8 min walk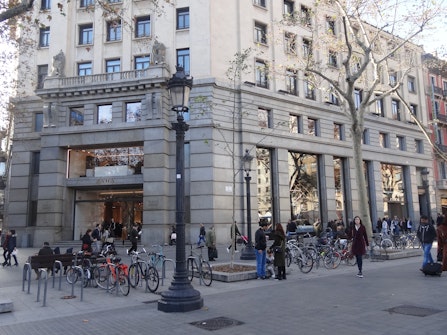 Best Time to Visit Barcelona
May and October
The best time to visit Barcelona is when the crowds thin and the real beauty of the city can be seen. The spring month of May in Barcelona is marked with fewer crowds and days sunny side up. Sightseeing with no long lines is a luxury afforded in May and October. The end of May also brings rising temperatures of sea waters that are comfortable for a swim. 
October too makes the city calm and quaint. With accommodation prices at a low, October is a tempting month to visit Barcelona. October also sees chilly temperatures and the autumn charm. Visiting Barcelona for just a day can be made easier in October owing to the off-season.
Day 1
In the Morning
Kick-off your trip to Barcelona by visiting the architectural marvels of Barcelona curated by Gaudi - the legendary artist of Barcelona. Casa Mila and Casa Batllo are masterpieces that enthrall tourists by their sheer finesse.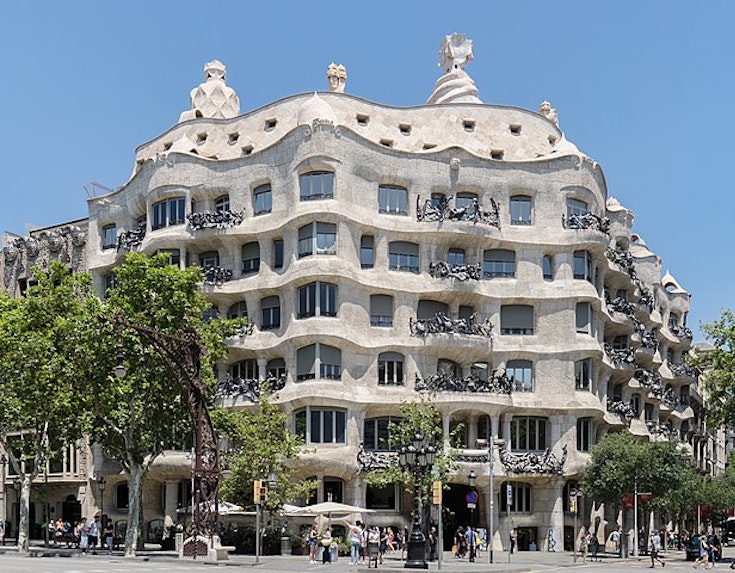 Casa Mila
Commissioned as a home for the Mila family, Casa Mila or La Pedrera is now an iconic Barcelona attraction. Far from conventional, the Stone Quarry resembling architecture is inspired by nature. The intricate and sophisticated wrought iron framework displays the genius of Gaudi. 
Casa Mila, built in 1912, stores more than a century worth of controversy, untold stories and much more. The magnificent building is now declared a World Heritage Site. Spend at least a couple of hours exploring the expanse of the beautiful structure. 
Tips to Visit Casa Mila
Always book your tickets in advance to avoid any last-minute hassle. 
Avoid crowds by going during mid-week in the morning around 9:00 AM to late in the evening at 5:30 PM. 
Book a Casa Batllo Tour along with Casa Mila. Both are just 5 minutes apart. 
The closing time of the landmark varies along with seasons, be sure to confirm the timings before you plan your itinerary. 
Audio guides are very insightful, be sure to listen in.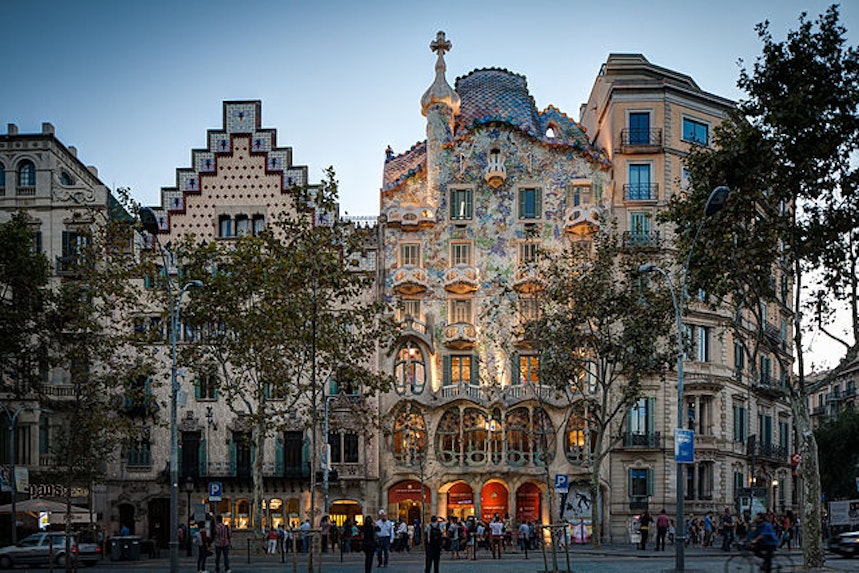 Casa Batllo
A structure seemingly made of skulls and bones, Casa Batllo is one of the main attractions of Barcelona. Located on Paseo de Gracia, Casa Batllo was originally built by Gaudi's professor in 1877. Known for its colors and the imagination it evokes, Casa Batllo is an expression of artistic freedom.
The building is deemed symbolic of legends of Saint George, the patron saint of Catalonia. In around 50 minutes, you can take the entire tour of the Casa with the audio guide. Get special tickets for your visit and bid adieu to long lines with skip-the-line tours.
Tips to visit Casa Batllo
Visit the Batllo in the morning on a weekday to avoid crowds.
Always have an advanced booking and make use of online discounts and offers.
The Casa is open to photography as long as the pictures are used for personal use.
The augmented tour inside is very helpful in understanding the architectural marvel.
The ideal way of exploring the Casa is by going to the roof first and walking your way down.
Your trip to Barcelona is incomplete without visiting Gaudi's Masterpieces. Give yourself a breather by taking a stroll in the refreshing Jardins Del Palau Robert Park. After you are done exploring the Casa, unwind walking through this pizzazz street. You can catch a quick bite at Cafe de la Pedrera, La Baguetina Catalana, Archimissa Gastrobar or The Rooftop at Sir Victor - all on Passeig De Gracia. 
After visiting the Casa Batllo, you can explore the famous Museu del Perfum, explore Casa Amatller and indulge yourself at the Boulevard Rosa. Enjoy some paella and pan con tomate while spending time with Gaudi's artwork. 
In the Noon
After completing your morning exploration head out in the afternoon to explore more attractions lining Barcelona.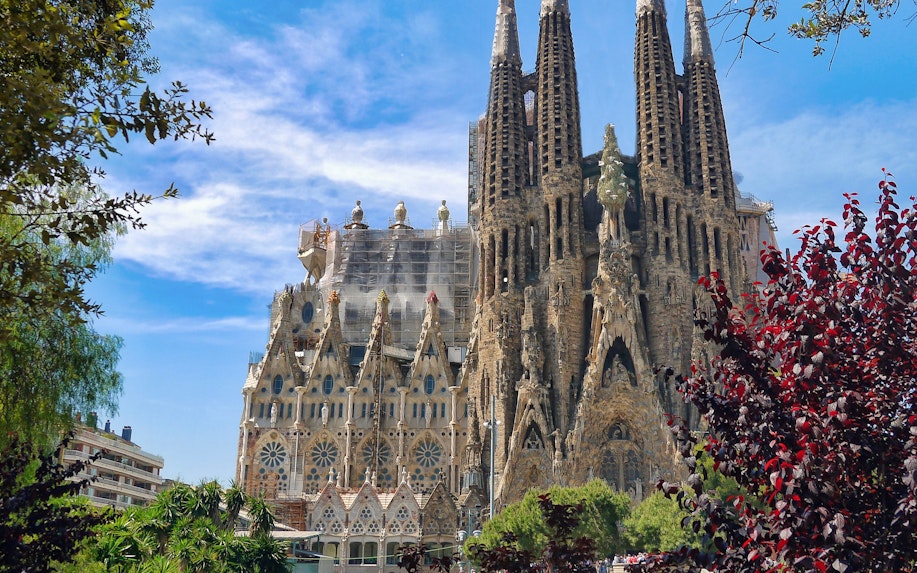 Sagrada Familia
Sagrada Familia is the pride and joy of Gaudi and Barcelona. This one-of-a-kind church is still under construction and is expected to be completed by 2026. The massive basilica is an Expiatory Temple of the Sacred Family bringing together all the symbols of Christianity. The Master of Modern Architecture, Gaudi, infused the intricate structure with great symbolic significance.
Spare a couple of hours of your one day in Barcelona to visit the Sagrada Familia and you won't be disappointed. There is a lot to explore around the monument as well. A stroll across Gaudi Avenue is a blissful walk giving you beautiful views of the city. Lined with restaurants and cafes, you can have a nice afternoon meal - the tapas are highly recommended.
Tips to visit the Sagrada Familia
Always book your tickets in advance to visit the landmark.
Take a guided tour to understand the nuances of Sagrada Familia. An audio tour can be shared with another person if you take a pair of earphones along.
Visit the towers of the church as well, as the view from up there is beautiful. However, people with a fear of heights and claustrophobia should avoid going to the towers.
If you have a time constraint, choose between the Nativity Towers and Passion Towers. The former gives a view of the mountains while the latter faces the ocean.
Take back home the trending fashion pieces of Barcelona from the Avenue.
Avail discounts that Sagrada Familia provides students.
Sagrada Familia is a church and modest clothing is expected inside the premises. The Crypt of Sagrada Familia can only be visited during mass times.
Give your tour a sweet twist with the Puiggros Bakery which offers scrumptious pastries and coffees.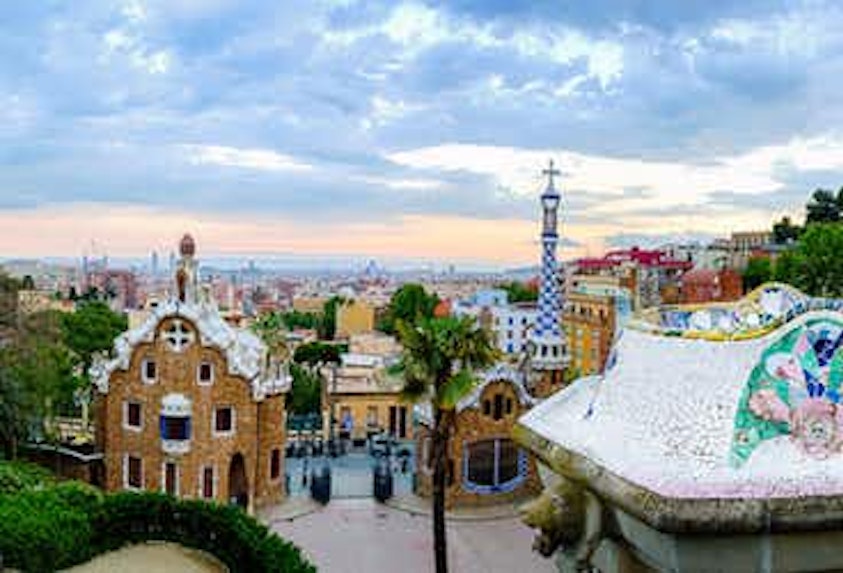 Park Guell
Another special gem of Gaudi, Park Guell embellishes Barcelona with its artistic language of Modernism movement. Carved out of a tree-covered hillside, Park Guell was commissioned by Count Eusebi Guell and converted into a park. Guarded by a mosaic dragon/lizard - the gates of Park Guell take you to a fantastical realm. Explore the park in about two hours and don't miss the breathtaking views from the top floor. Around the Park Guell, you'll find the riveting 4D Gaudi Experience - a walkthrough of the legend's work. Take home memories and memorabilia from La Botigueta de Souvenirs.
Tips to Visit the Park Guell
Book tickets to see the Monumental Zone, the rest of the park is free to access.
You can and should carry your own food and water.
Wear comfortable shoes to explore the parks.
Always have your sunscreen and hat with you especially during the noon hours.
The more isolated parts of the park shouldn't be traversed alone.
The Gaudi House Museum is a must-visit when you visit Park Guell.
In the Evening
Las Ramblas
The heart of the city rests in the streets of Las Ramblas. The large boulevard runs from Port Vell to Placa de Catalunya. Las Ramblas presents street performers, entertaining the passers-by. Along with this, you'll find plenty of shops and restaurants to delight you. From a Miro Mural to Museu de l'Erotica, Las Ramblas doesn't see a dull moment. Stroll down this 1.2 km carnival of a road and see Barcelona's true colors.
Tips for Visiting Las Ramblas
Being a major attraction in Barcelona, Las Ramblas is considerably expensive.
Restaurants with the word casero indicate homemade, authentic food.
Beware of con artists trying to trap tourists outside clubs.
Purchasing a Barcelona Night Card will help you save money and make your tour more flexible.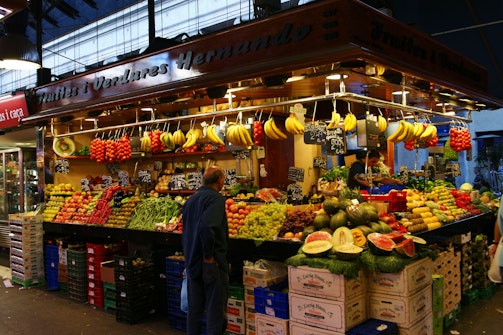 La Boqueria
What started as a meat market has now transformed into Barcelona's food hub at La Ramblas. Tourists can seek out La Boqueria to grab a quick bite and stock snacks for those midnight cravings. The market is your one-stop for all your food requirements along with occasional handicrafts shops.
La Boqueria is famous for its seafood tapas, fruit smoothies, and hams. For grilled seafood, you should check out Kiosk Universal, and Bar Pinotxo serves the best tapas. La Boqueria is a haven for every foodie.
Timings: 8:00 AM to 8:30 PM
Tips to Visit La Boqueria
The market is closed on Sundays.
Prices vary across stalls, don't buy from the first place you see but explore around.
Carrying cash is important in La Boqueria
Nearing closing times, you get good deals on almost everything.
The public toilet costs 50 cents
There is a playground for the kids getting fussy after some shopping.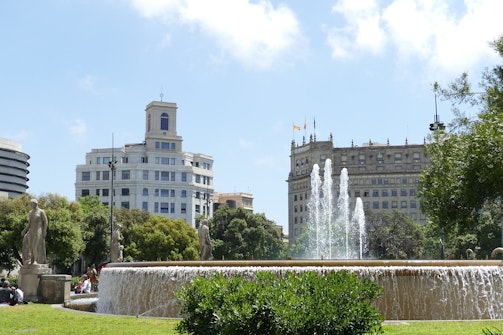 Placa de Catalunya
End your one day in Barcelona by visiting the historic Placa De Catalunya. A favorite of locals and tourists alike, this square is steeped in fun with shopping centers and departmental stores. 30,000 square meters of entertainment is the central-most point of the Catalonian Capital. Bedecked with statues, fountains and all things enjoyable, Plaza de Catalunya hosts live musical performances quite often.
Tips to Visit Placa de Catalunya
While exploring the Plaza, you can also visit the Barcelona Cathedral, Museu del Modernisme de Barcelona and Palau de la Musica Catalana.
Where to Eat: You can visit the panoramic restaurant of Corte Ingles to get the best view of the square.
Find great Mediterranean and Catalan food at El Jardi. Kan Bakus is known for its delicious sushi and Asian food.
Getting Around in Barcelona in One Day
Barcelona is well connected with public transport, making it very easy for tourists to navigate their way around. Barcelona is an extremely pedestrian-friendly city allowing beautiful alleyways and streets to be explored on foot. 
Trains are functional till midnight and all through the night on a Saturday. The city's inner train system- Ferrocarrils- can be relied upon to plan day trips to nearby places like Sarria or Tibidabo.
Buses keep doing their rounds in Barcelona connecting every area. 
Yellow and Black taxis with a green light on the roof can be hailed to take you from one destination to another. Taxis are cheap and can be booked through MyTaxi at difficult times. 
Owing to integrated cycle lanes, a lot of tourists prefer to bike their way around the city. 
FAQs
Q. Can I see Barcelona in just one day?
A. To see the nooks and crannies of Barcelona in one day is impossible but with a packed itinerary, one can easily cover the highlights of the city in one day.
Q. How much money does one day in Barcelona cost?
A. Aside from the tickets of each attraction, the daily costs would include stay, meals, transport, and shopping. If you plan to visit Barcelona for one day, the transportation cost might go high as you won't have time to spend on public transport. On average $30 on food is spent per day if you don't go for fancy meals.
Q. What should I see if I come to Barcelona for just one day?
A. Some landmarks of Barcelona are unmissable, like Gaudi's masterpieces Casa Mila, Casa Batllo, Sagrada Familia, and Park Guell. You can spend your day exploring the famous markets and streets of Barcelona and interact with the locals.
Q. Which month is the best for visiting Barcelona?
A. May and October are the best months to visit Barcelona, owing to fewer crowds and pleasant weather.
Q. Is there a fixed dress code for Sagrada Familia?
A. As such there are no strict rules about dressing but it is deemed proper to cover yourself up while visiting the church. The crypt doesn't allow entry to people wearing inappropriate or revealing clothing
Q. How far is Sagrada Familia from Casa Mila?
A. Both the landmarks are 2.2 kilometers apart. You can either take a subway (7mins), bus (10 mins), taxi (2 mins) or walk to cover the distance between the two landmarks.
Q. Where to stay in Barcelona for a day?
A. If just visiting for a day, then staying at a hostel or an Airbnb is the most reasonable and convenient.
Q. Is Park Guell wheelchair accessible?
A. Owing to its architecture, it is not easy for all the areas of the park to be accessible by wheelchair. However, certain itineraries can be followed by people with reduced mobility. The Park also provides 2 wheelchairs upon request.