Barcelona 3-Day Itinerary | The Ultimate Guide to Planning Your Visit
A trip to Barcelona is exciting for many reasons. From pristine beaches and old-world architecture to a kick-ass nightlife and deep-rooted traditions, Barcelona has something for every kind of traveler. The 2000-year-old architecture that dots the city, the many beautiful and enriching museums available for your viewing pleasure, and of course, the legendary Sagrada Familia. 
Given that there's a lot to experience in Barcelona, it's easy to get overwhelmed and miss out on some good attractions. To ease your burden, we have curated a well-researched 3-day Barcelona itinerary. From places to see to general travel tips, our Barcelona itinerary has got you covered.
Best Time to Visit Barcelona
May & June
Average temperature: 20°C to 22°C
Without a doubt, the best time to visit Barcelona is during May and June. These months offer the perfect balmy temperature where you can step out and explore the city without worrying about getting sunburnt. The average temperature remains in the pleasant 20 to 22 degrees Celsius range and the average precipitation falls around 50 mm. Since May and June mark the beginning of summer, the city comes alive with a bevy of festivals and events. 
Day 1 - Barcelona Itinerary
Morning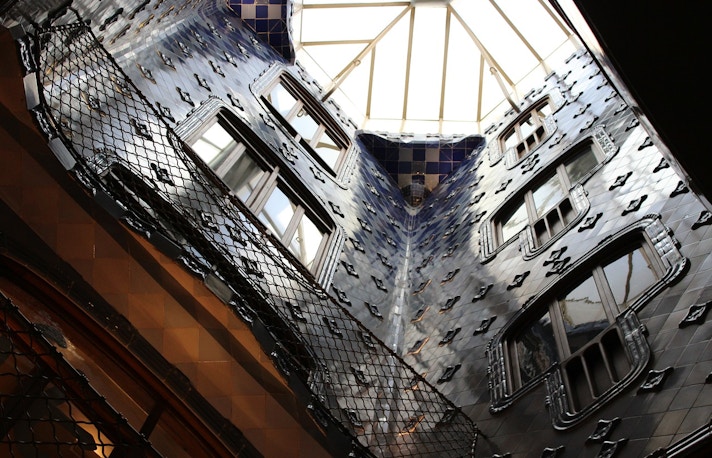 Casa Batllo
Begin your Barcelona itinerary by visiting Casa Batllo, locally known as House of Bones. Originally an apartment complex, the building was redesigned by Gaudi in 1904 and presently functions as a museum. Casa Batllo features various highlights, including the hallway, Patio de Luces, a grand staircase that looks like a sea, and the terrace with chimneys.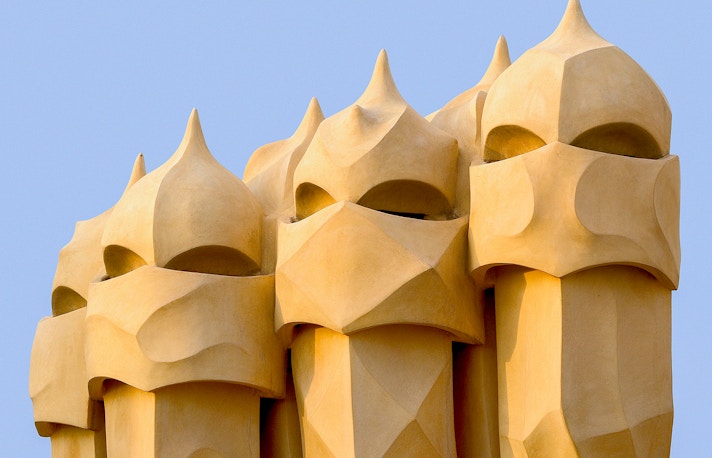 Casa Mila
Continue your Gaudi tour at Casa Mila, one of Gaudi's most unique and controversial buildings. Popularly known as La Pedrera, or the stone quarry because of its quarry-like exterior, Casa Mila was the last private residence designed by Gaudi between 1906 and 1912.
Afternoon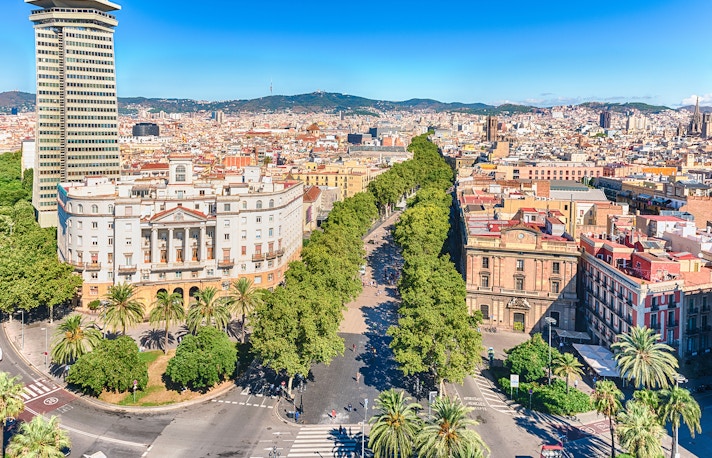 Las Ramblas
This popular pedestrian boulevard is spread across a distance of 1.2 km from Plaça de Catalunya to Port Vell. While walking around Las Ramblas, avoid eating at the restaurants as they are often tourist traps. Instead, you can enter one of the side streets for authentic Spanish restaurants.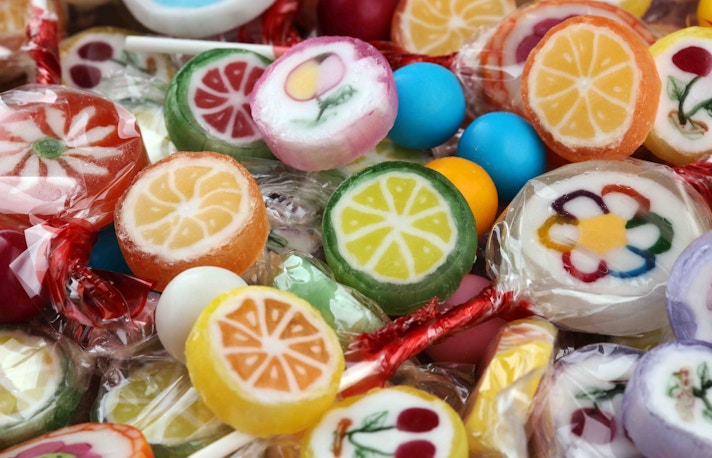 La Boqueria
While exploring Las Ramblas, you'll cross the marketplace 'La Boqueria', which means 'Goat Market'. Dating back to 1217, this historic market originally began as a meat market. In 1911, the market got a facelift and the current complex was built. At La Boqueria, you can shop for fresh produce and food. This is also the perfect place to have an authentic Spanish lunch in the city.
Evening/Night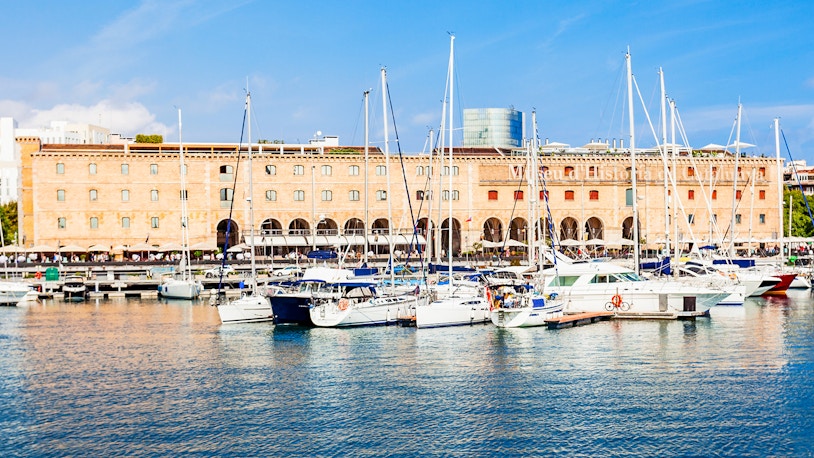 Catalonia History Museum
End your first day in Barcelona with a relaxed trip to the Museum of the History of Catalonia. This history museum showcases the awareness and knowledge of Catalonia's history and culture. You can enjoy the permanent exhibition "The memory of a country" that will take you on a journey through the history of Catalonia from prehistoric to modern times. (Image Credits)
Day 2 - Barcelona Itinerary
Morning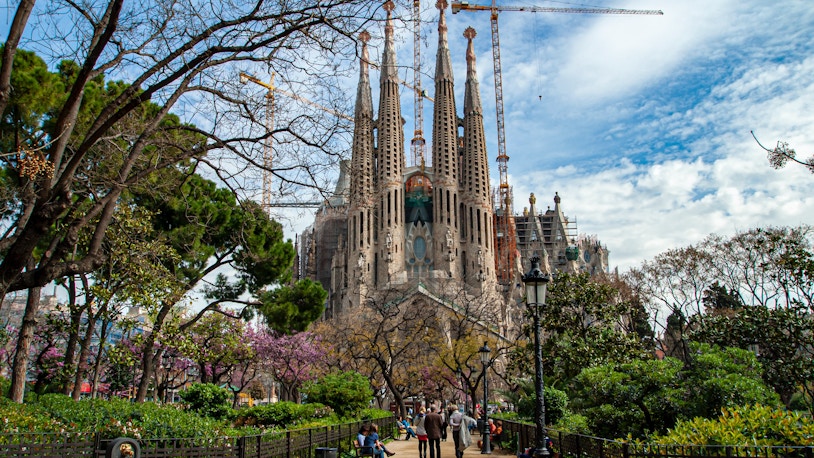 Sagrada Familia
Still under construction, Sagrada Familia boasts a breathtaking blend of Catalan Modernism, Spanish Late Gothic and Art Nouveau style architecture. There's a lot to see in this church and you'll need around two hours to explore everything, including the beautiful Nativity and Passion facades. Get Sagrada Familia fast track tickets to beat the queue and spend the time saved exploring this architectural marvel.
Afternoon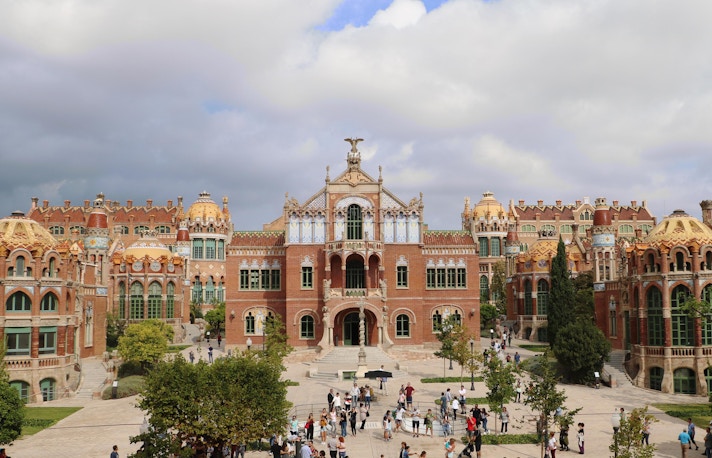 Recinte Modernista Sant Pau
Hospital de Sant Pau, also known as the Hospital of the Holy Cross and Saint Paul is another architectural gem in Barcelona's treasure chest. Fully functional till 2009, the hospital underwent some restoration work, post which it began being used as a museum and cultural center. The hospital complex is an official UNESCO World Heritage Site.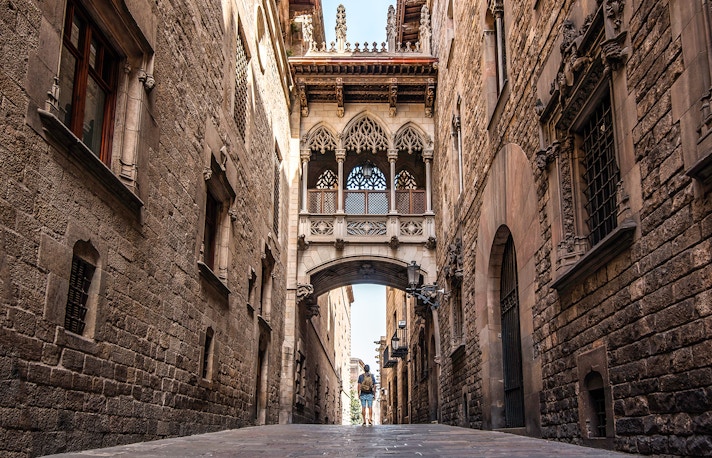 Gothic Quarter
Located in the center of the old city of Barcelona, the Gothic Quarter is a travelers paradise. Stretching from La Rambla to Via Laietana, and from the Mediterranean seafront to the Ronda de Sant Pere, this locality makes for a fascinating travel experience. The Gothic Quarter forms a part of the Ciutat Vella district and encompasses the oldest parts of the city of Barcelona. Gothic Quarter is lined with various cafes, restaurants and shops, making it the perfect spot for an afternoon brunch and shopping escapade.
Evening/Night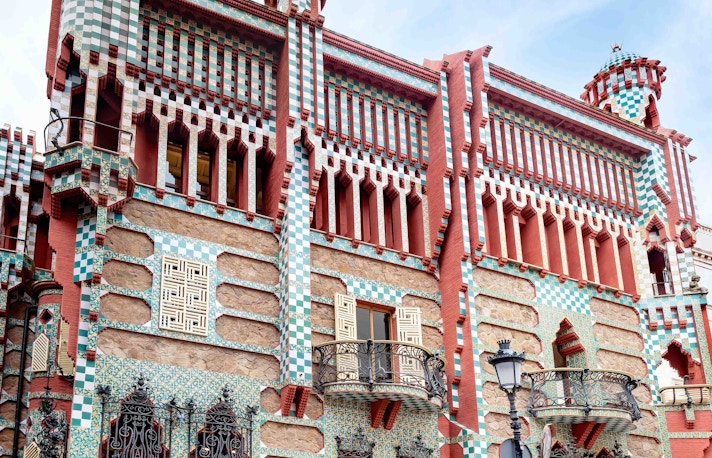 Casa Vicens
Casa Vicens showcases Gaudi's first expression of Modernisme and features noticeable influences of Mudejar, Indian and Japanese architecture styles. Casa Vicens was a private residence until 2014 and not open to the public. Casa Vicens opened to the public as a museum in November 2017.
Placa de la Vila de Gracia
A tourist-friendly neighborhood packed with art galleries, boutiques, and arthouse cinemas, Gracia is famous for housing the Vila de Gràcia - the locality's historic old center. The villa is also home to many iconic institutions, including the Orfeo Gracienc and the Club Excursionista de Gràcia.
Day 3 - Barcelona Itinerary
Morning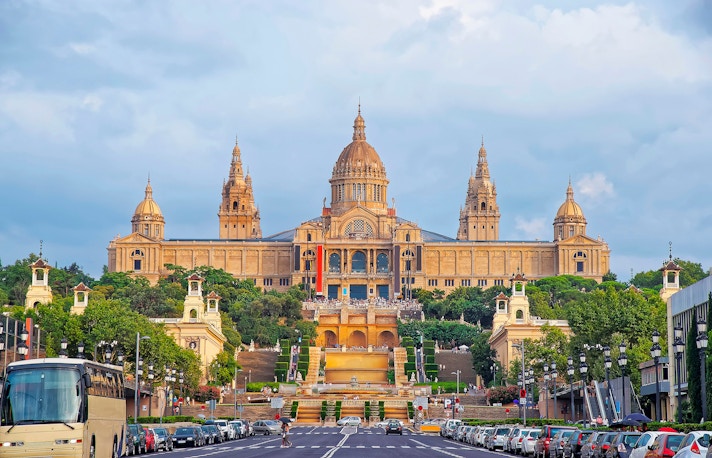 Montjuic Hill
Begin your last day in Barcelona by heading to the Montjuic Hill for a morning full of sightseeing and history lessons. You can take the cable car from Camp Nou to get to the hill. You can also take the Teleferic return ticket which costs €12 but is worth the cost. At the Montjuic hill, your first stop should be at Parc Montjuic, which houses a bunch of attractions, including the National Art Museum of Catalonia, Fundacio Miro, Barcelona Ethnological Museum and Poble Espanyol.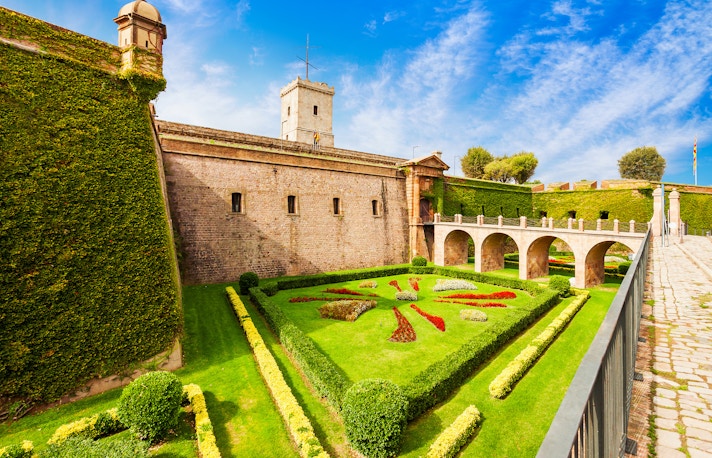 Montjuic Castle
At the peak of Montjuïc Hill, which is some 173 meters above sea level, you'll find the Montjuic Castle. Originally, the castle was used as a defensive site because it offers panoramic views of the surrounding territory. The first fortress of Montjuic Castle was constructed in 1640 during the Reapers' War and stands tall to this day. Spend your morning exploring this fascinating castle and learn about its many secrets. 
Afternoon
Park Guell
A public park that opened in 1926, Park Guell is another Gaudi masterpiece. Home to beautiful murals and offbeat architecture inspired by nature, this park is the perfect place to spend a relaxing afternoon. The highlights of Park Guell include Porter's Lodge Pavilion, Dragon Stairway, The Hypostyle Room, The Greek Theatre, The Laundry Room Portico and Austria Gardens. If you're planning on visiting Park Guell, please note that access to the central area is limited to a certain number of people every half-hour. 
Evening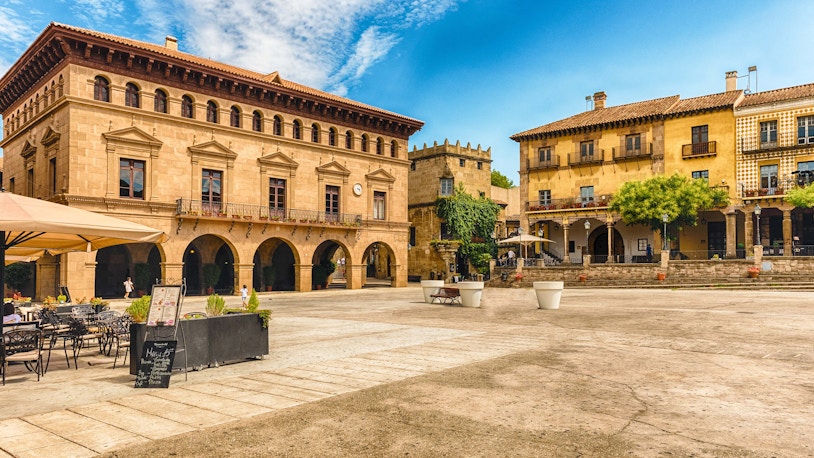 Poble Espanyol
An open-air architectural museum in Barcelona, Poble Espanyol is located a mere 400 meters away from the Fountains of Montjuïc. Constructed  1929 for the 1929 Barcelona International Exposition, the museum includes 117 full-scale buildings that recreate Spanish villages. The museum has special activities designed for kids, such as Sunday morning workshops, TOT Puppet Festival in March, and living nativity scenes during Christmas.
Getting Around Barcelona
Barcelona is blessed with a robust public transportation network, which makes getting around the city a breeze even for tourists. Here's the lowdown on the most popular public transport options in Barcelona:

If you're in Barcelona for multiple days, it's advisable to get the Hola Barcelona travel card that gives you access to the city's public transport network for a pre-decided number of days. There are other travel pass options you can choose from, including the Barcelona Pass, Barcelona iVenture Card, and the Barcelona All Inclusive Card.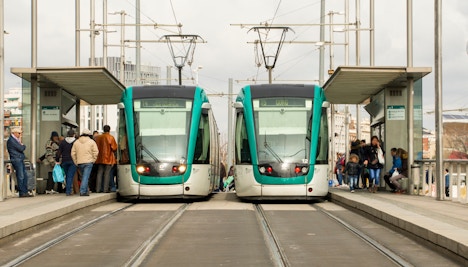 Tram
The Barcelona tram network is spread over approximately 30 km with 6 lines. Currently, the city's tram network includes two systems, Trambix, which covers the western part of Barcelona, and Trambesos, which connects to the eastern part. You can buy a tram ticket at any stop for £2.20.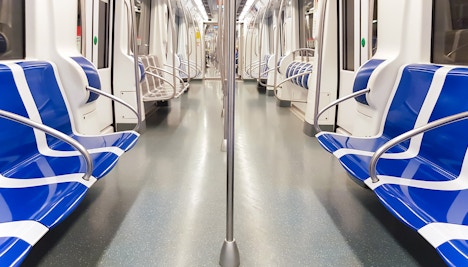 Metro
Without a doubt the most convenient way of getting around in Barcelona, the metro boasts a dense network of 12 lines and over 160 stations. You can get to pretty much any part of Barcelona using the metro. The city metro runs from 5:00 AM to 12:00 AM on weekdays, including Sunday, till 2:00 AM on Friday and uninterrupted on Saturday.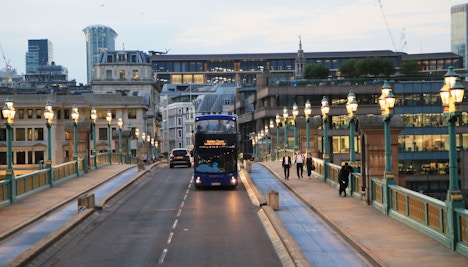 Bus
Considered the backbone of Barcelona's public transportation system by locals, the TMB buses boast a massive 230 lines currently running. The only drawback of taking a bus is that there's a possibility of getting in traffic. Presently, the TMB buses run from 5:00 AM to 10:00 PM while the night buses run from 10:00 AM to 5:00 AM.
Know Before You Go
Where to Go
Travel Tips
Tours & Tickets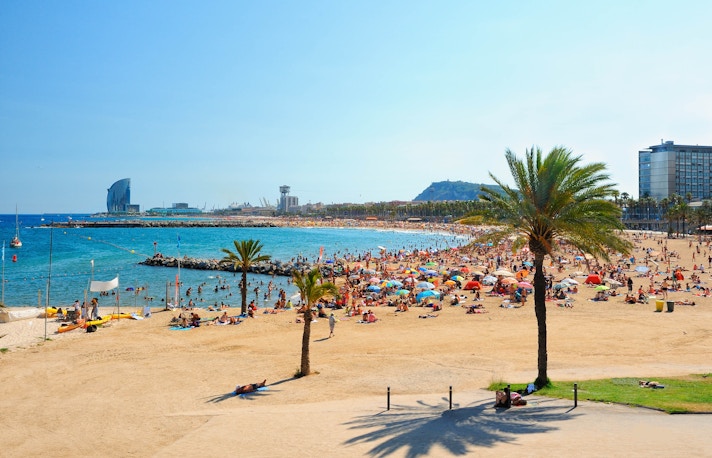 Head to the Beach
If you're visiting Barcelona during the summer, take advantage of the balmy sun and spend some memorable time at the seafront. You can lounge about at the beach and enjoy delightful views of the sea and sand.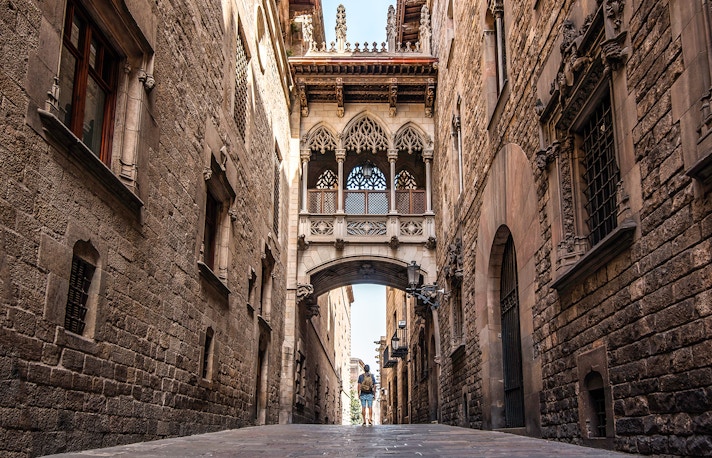 At the Gothic Quarter
An iconic part of Barcelona, the Gothic Quarters of Barcelona are deeply rooted in centuries worth of history. When visiting this special area, make it a point to try as many local delicacies as you can. One item you definitely shouldn't miss is the churro con chocolate.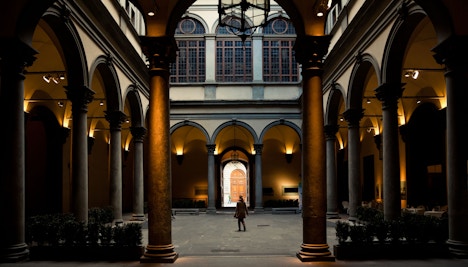 Visit Museums on Sunday
On the first Sunday of every month, the entry fees of various museums are waived off. Take advantage of this special offer and explore as many museums as possible to get a fascinating look at the culture and history of Catalonia and Spain.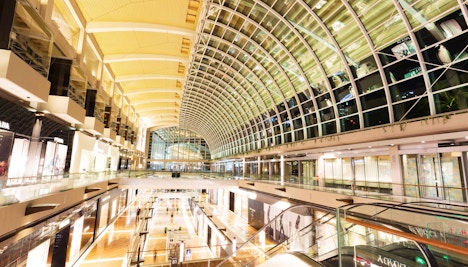 Shopping in Barcelona
If shopping in Barcelona is on your agenda, please note that many shopping establishments, except for a couple of small cafes and souvenir shops, remain closed on Sundays. Plan your Barcelona itinerary in a way that allows you to shop on other days of the week.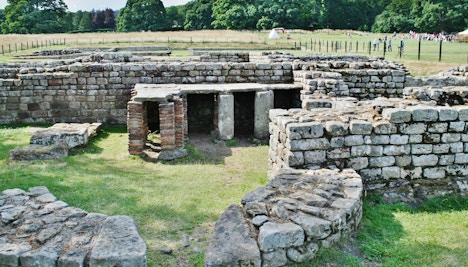 What To Wear
Barcelona is a pretty liberal city and you can walk around the city wearing whatever makes you comfortable, as long as it's not immodest. If you're visiting in May or June, remember to pack a lot of cotton dresses, shorts, t-shirts and capris. Do keep your shoulders covered when visiting the Sagrada Familia.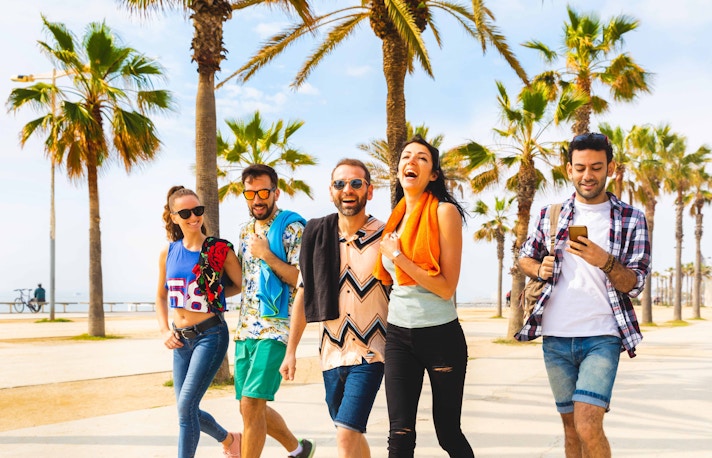 Take a Barcelona Walking Tour
Barcelona is designed to enable walking with different walkways located all around the city. During these walking tours, you'll get to experience the art and architecture that define Barcelona. You can alternatively opt for a guided walking tour that will take you to designated places led by a knowledgeable guide.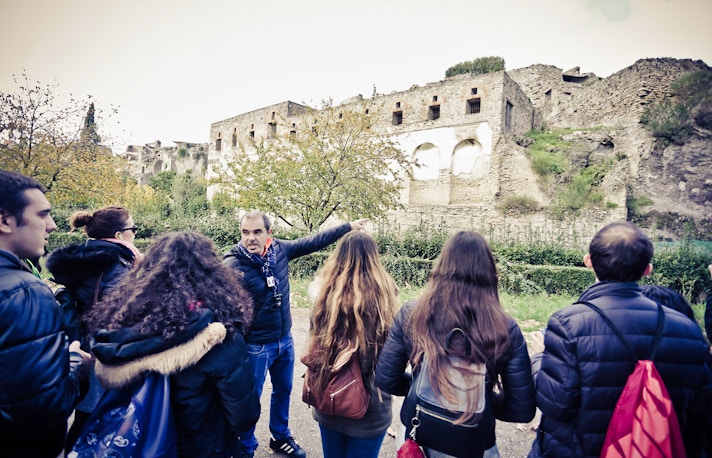 Book Tickets in Advance
An important part of your Barcelona itinerary planning process is booking tickets in advance. These include everything from flight and accommodation to tickets for specific activities and attractions you're planning on visiting during your trip. This will not only help save your time but you can also enjoy great discounts online.
FAQs
Q. Is there a Barcelona city pass?
A. Yes, the Barcelona city pass includes priority access without queuing to the Sagrada Familia, Park Güell, airport transfer ticket with the Aerobus, and a ticket for the official Barcelona city Hop-on Hop-Off tourist bus.

Q. Which area of Barcelona offers the best accommodation?
A. For first-time visitors, a central location for accommodation in the city is ideal. These areas include the Placa de Catalunya, Las Ramblas and the Gothic Quarter.

Q. Is Barcelona safe at night for solo travelers?
A. Barcelona is a relatively safe place to walk around at night as long as you avoid deserted areas and keep a lookout for pickpockets.

Q. What is the best time of day to visit Sagrada Familia?
A. The best time to visit Sagrada Familia is from 9 am to 12 pm.

Q. Is Barcelona a walkable city?
A. Yes, Barcelona is an extremely walkable city with wide pedestrian boulevards.

Q. What is the city center of Barcelona called?
A. Barcelona's city center revolves largely around Plaza Catalunya and its surrounding areas.

Q. Which is the best neighborhood to stay in Barcelona?
A. The best neighborhoods to stay in Barcelona include the Placa de Catalunya, Las Ramblas and the Gothic Quarter.

Q. Is tap water in Barcelona safe to drink?
A. Yes, water from the tap is drinkable in Barcelona and safe for cooking too.