Barcelona Travel Budget | Barcelona City Guide
Contents
Insider Tips & Hacks to Explore Barcelona on a Budget
Tours
Getting Around
Things to Do
Handy Tips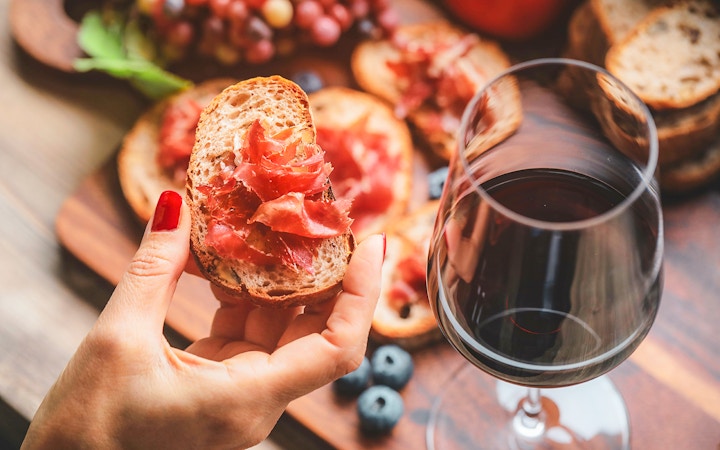 Barcelona is famous for tapas, finger food served in small portions as an accompaniment with drinks. Opt for a tapas and drinks tour if you're interested in tasting local flavors.
The work of Antoni Gaudi is one of the most prominent visual elements in Barcelona. While there are paid tours of his entire collection, you can enjoy his work by walking around the neighborhood and appreciating buildings such as Casa Mila and Casa Batllo, for free.
Many tour operators in Barcelona operate free walking tours in the city. Depending on your interests, you can opt for the Gothic Quarter, a Gaudi architectural tour or a street art tour.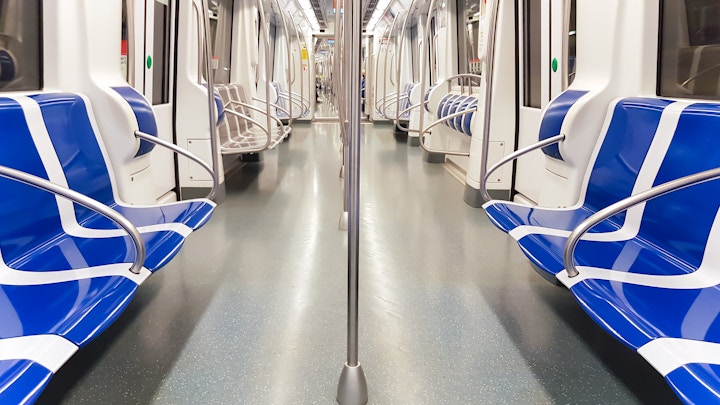 Avoid buying a single fare metro ticket unless you're only going on the metro four or fewer times. A single ticket costs €2.15, while you can get a T10 ticket for €9.95, which is valid for 10 journeys. Also, the T10 can be used by multiple people! So if you're traveling with a partner or friend, you can share a T10 between you for five journeys.
Take the RENFE train from Terminal 2 at the airport to Passeig de Gracia. Take the metro from there; it counts as just 1 journey on a T10 ticket as long as it's under 1 hour and 15 mins. If you land at terminal 1, take the free shuttle bus from terminal 1 to 2. This works out to be much cheaper than taking the metro directly from the airport.
While you might hear that La Barceloneta is the best beach in the city, other tourists hear the same, leading to overcrowdedness. You're better off visiting calmer beaches such as Sant Miquel, Bogatell, Nova Icaria, and San Sebastian.
Las Ramblas is amongst the most popular tourist destinations in Barcelona and is a breeding ground for tourist traps. If you want to visit Las Ramblas, be careful of how much and where you spend your money.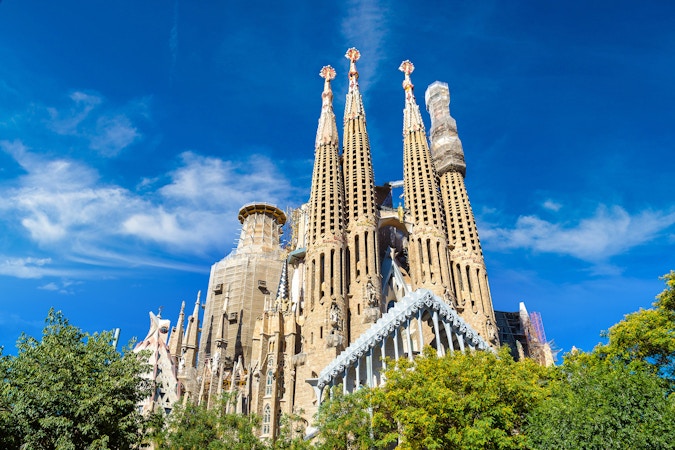 See the Sagrada Familia for Free
The still-under-construction church boasts a breathtaking exterior that you can see for free! To get the best view of the exterior, walk from Placa Catalunya (2.1 km) for about half an hour, or take the metro to the Sagrada Familia metro station (L2, L5).
Your trip to Barcelona is incomplete without attending a flamenco show. Avoid the overpriced bars in Las Ramblas and retire to a smaller bar where you can see this stunning dance form being performed.
If you don't want to overspend on drinking, do as the locals do and have a drink al fresco in the evening. Head to Placa del Sol in Gracia and you'll find many locals sitting outside on a Friday or Saturday night, drinking beer from the supermarket or from the guys who sell cheap cans of beer here.
Party at Barcelona's Nightclubs
Barcelona is known for sleeping late. Most clubs charge a heavy entry fee if you arrive late into the night. By Barcelona standards, arrive at nightclubs at around 11:30 PM and you won't have to pay any excessive entry fee.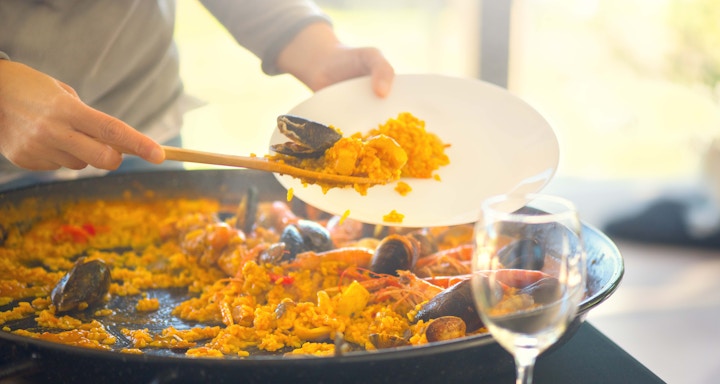 Have lunch at a restaurant that has menu del dia, which means 'menu of the day'. These menus list a fixed-price lunch special that includes a main course dish and a starter or dessert plus drink, totaling to under 15 Euros making it an absolute steal.
Get a local sim card for uninterrupted connectivity in Barcelona. The easiest way to get one is at Barcelona Airport. Just ask anyone at the airport and they'll point you in the direction of the nearest tourist sim outlet.
In Barcelona, the first Sunday of most months is free museum day. Plan on your trip so that it falls on the first weekend of the month. This way you can access many popular museums in Barcelona for free! Some of the free museums include the Picasso Museum, Barcelona history museum, MNAC and CCCB and others. The MNAC also offers free admissions on Saturday from 3:00 PM.
As a rule of thumb, be careful of your personal belongings in crowded places since they foster a lot of pickpockets.
10 Places to Visit in Barcelona on a Budget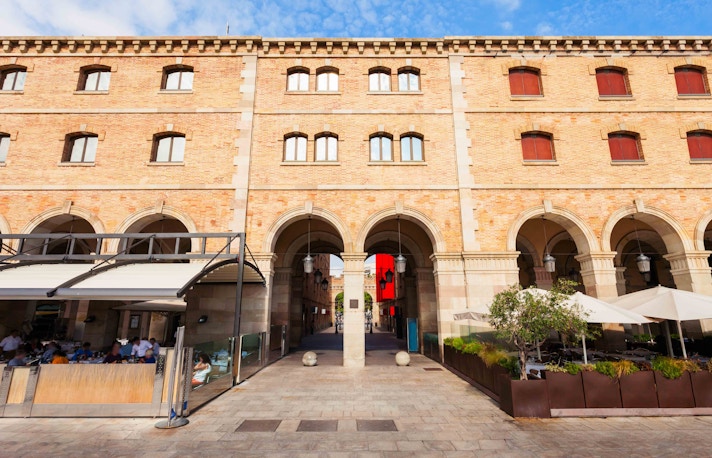 1. Museu d'Història de Catalunya
Barcelona is the capital of Catalonia, a region with language, culture and economy that's different from Spain. Your trip to Barcelona will be that much richer knowing the history of the Catalonian flags at Museu d'Història de Catalunya. Admission to the museum is free on the first Sunday of every month.
Ticket Price: €6 
Timings:
Tuesday to Saturday: 10:00 AM to 7:00 PM
Wednesday: 10:00 AM to 8:00 PM
Sunday and bank holidays: 10:00 AM to 2:30 PM
Mondays: Closed
Address:  Plaça de Pau Vila, 3, 08039 Barcelona, Spain
Google Maps | TripAdvisor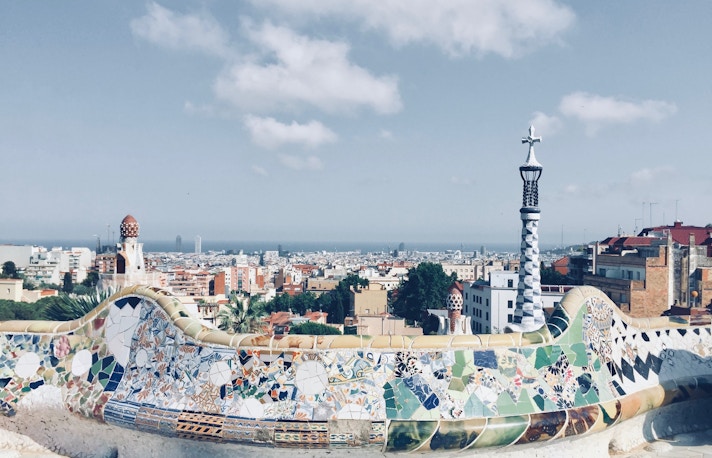 2. Park Güell
Gaudi's imagination and engineering genius can be seen all around the city and Park Güell is the ideal place to take it all in. You can take a stroll around the expansive grounds and paths of the park for free. If you want to tour the main house, you'll need to buy tickets.
Ticket Price: Tours starting from €24
Timings: Daily - 8:30AM to 7:00 PM. Get more information here
Address: Carrer d'Olot, 5, 08024 Barcelona Spain
Google Maps | TripAdvisor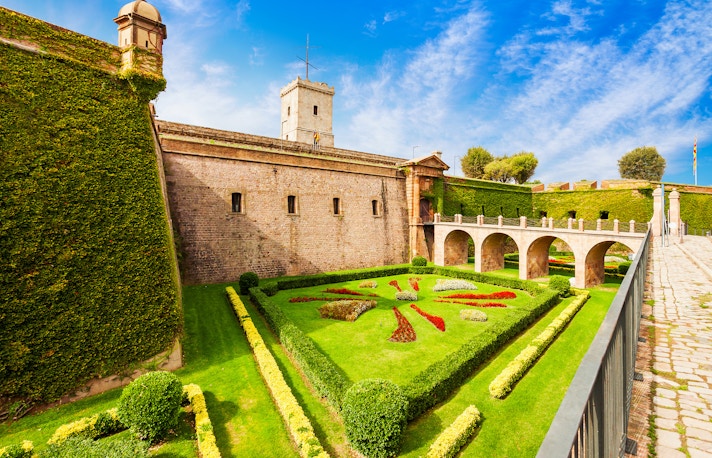 3. Montjüic Castle
One of the most iconic locations in Barcelona, Montjuic Castle offers a breathtaking look at the city and the port. You can enjoy beautiful panoramic views of Barcelona from the top and also take a pleasant walk around the perimeter of the castle. You can get there by metro and funicular and go down on foot by Mirador de l'Alcalde, overlooking the city.
Timings: 10:00 AM to 8:00 PM All days, for more click here
Ticket Price: Standard fee - €5, Free Admission - Sundays after 3:00 PM, First Sunday of the month
Address: Carretera de Montjuic, 66, 08038 Barcelona Spain
Google Maps | TripAdvisor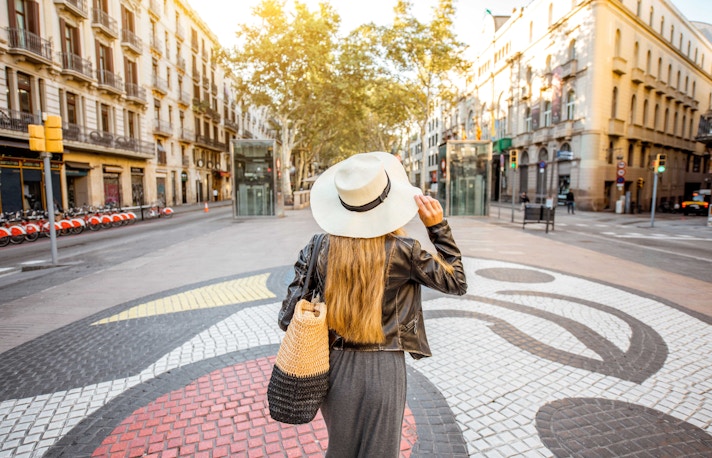 4. Barcelona Walking Tour
A beautiful city like Barcelona is best explored on foot. Make your time in the city more insightful with a free walking tour. These walking tours of Barcelona are organized by different companies and cover different parts of the city. You can opt for a tour of the medieval Gothic Quarter or the visually stunning Gaudi tour. Most walking tours will take you to the city's hidden spots, which are impossible to find on your own.
Timings: Most of them start in late morning hours
Ticket Price: Pay what you want
Address: All over Barcelona
Image Credits: New Europe Tours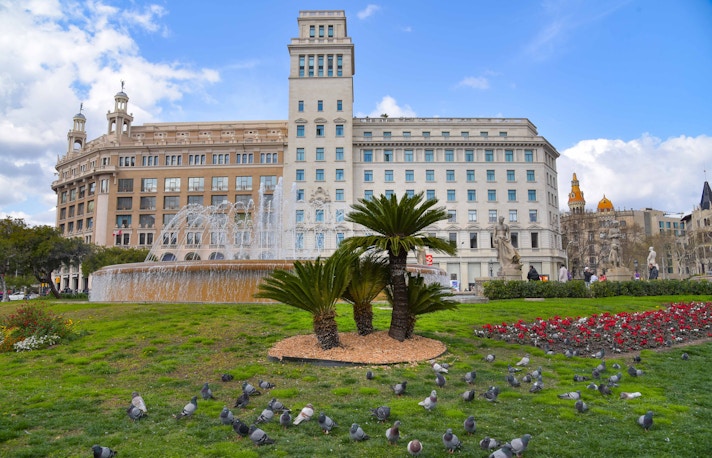 5. Plaça de Catalunya
Located at the heart of Barcelona, Placa de Catalunya is the central hub for transport. The famous Las Ramblas begins from this location and it serves as the main gathering point for the city. At Plaça de Catalunya, you can enjoy the fountains, sculptures, and observe locals and tourists alike. It's also the start of a shopper's haven, with four major shopping zones tapering out from its core.
Timings: Open 24 hours
Ticket Price: No Entry Ticket
Address: Plaça de Catalunya, 08002 Barcelona, Spain
Google Maps | TripAdvisor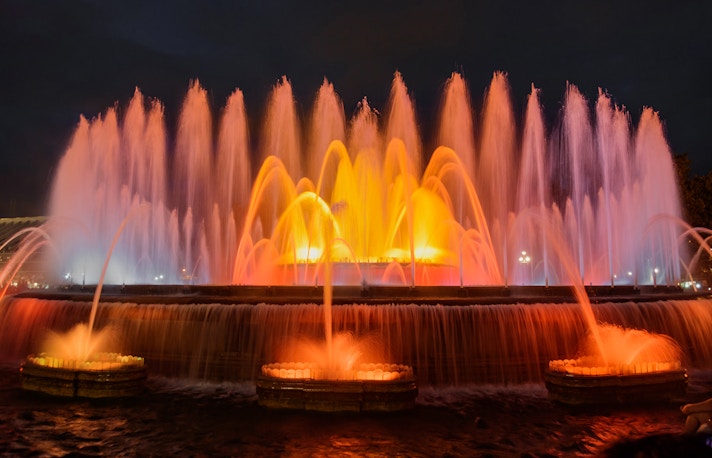 6. Magic Fountain
Visit the Magic Fountain of Montjüic for free. Built for the International Exhibition of 1929, the light and music show has been entertaining locals and tourists alike for almost 100 years. If you are visiting Barcelona in September during La Mercè Festival, don't miss the closing event with the fountain, music, and fireworks synchronized for a spectacular grand finale!
Timings: Thursday to Saturday: 8:00 PM to 9:00 PM 
Ticket Price: No Entry Ticket
Address: Placa Carles Buigas 1, 08038 Barcelona Spain
Google Maps | TripAdvisor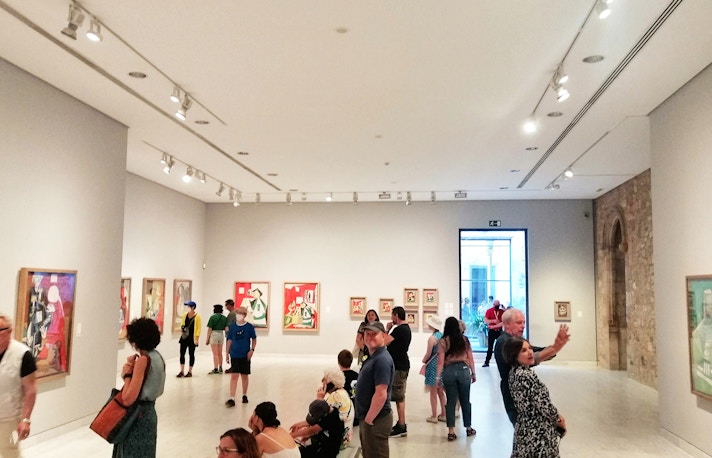 7. Picasso Museum
The Picasso Museum is one of those attractions you just can't miss. Tucked away in the beautiful pedestrian alleyways of Ciutat Vella, the museum acquaints you with the full spectrum of the artist's life. Be amazed at the on-point talent of young Pablo before he mingled with the bohemian crowd and revolutionized modern art with his abstract ways. Admission to the museum is free every Sunday from 3 to 7:00 PM , and the entire day on the first Sunday of the month.
Ticket Price: €7–12
Timings:
Mondays: 10:00 AM to 5:00 PM
Tuesdays to Sundays: 9:00 AM to 7:00 PM 
Fridays to Sundays: 9:00 AM to 9:30 PM 
For more info, click here
Address: Carrer Montcada, 15-23, 08003 Barcelona Spain
Google Maps | TripAdvisor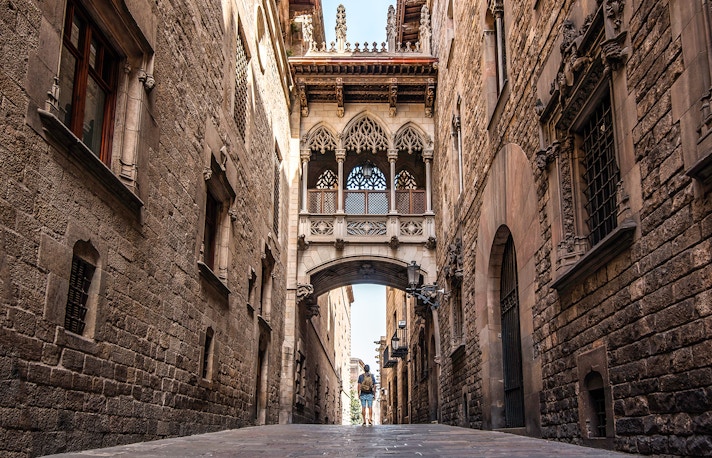 8. Gothic Quarter
The Gothic Quarter, located at the heart of the old city, is one of the most strikingly beautiful parts of Barcelona. With structures dating back to the Medieval period, a walk down the Gothic Quarter often feels like walking through another time, with narrow cobblestone streets turning into hidden plazas and curving off into brick-walled walkways.
Timings: 8:30 AM to 7:00 PM  (All Days)
Ticket Price: No Entry Ticket
Address: Mediterranean Seafront to Ronda de Sant Pere, Ciutat Vella, 08002 Barcelona Spain
Google Maps | TripAdvisor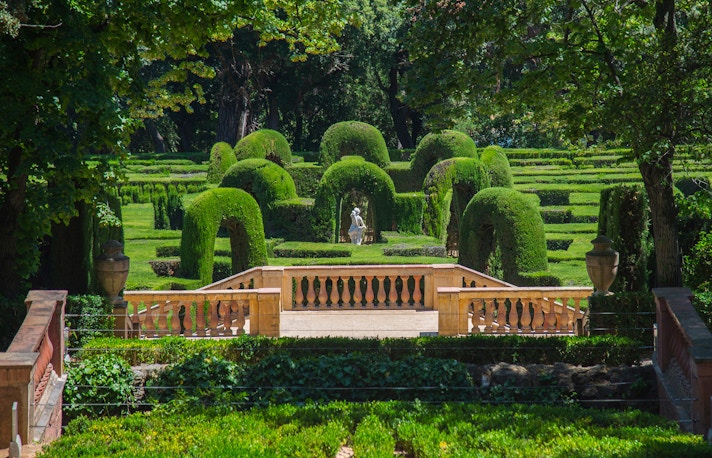 9. Parc del Laberint d'Horta
If you're craving a Goblin King fantasy, the manicured Cypress maze filled with Greek statues at Parc del Laberint d'Horta is where you should be at. One of the most unique experiences in Barcelona, the adventure costs under €3, making it even better. To get there, take the L3 to station Mundet. From the station, it's a quick walk away.
Timings: 10:00 AM to 6:00 PM. For more info, please click here
Ticket Price: €2.23
Address: Passeig dels Castanyers 1, 08035 Barcelona Spain
Google Maps | TripAdvisor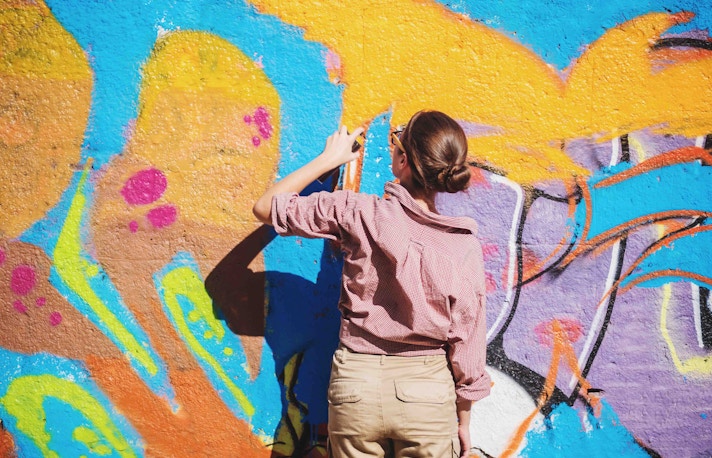 10. Street Art
One of the best free things to do in Barcelona is to explore the streets looking for street art. The Northern side of the PobleNou neighborhood is the origin point for many big murals, but little pieces of work in the form of sculptures are present everywhere in the city.
Timings: Any time, preferably during the day
Ticket Price: No Entry Ticket 
Address: All over Barcelona