Casa Batllo Facts - Exploring the Enchanting Marvel of Antoni Gaudí
Casa Batlló in Barcelona, Spain, is Antoni Gaudi's architectural masterpiece. The building's facade looks like a skeletal creature, with vibrant mosaic tiles and intricate details adding to the attraction's charm.
Casa Batllo Facts
Nature-Inspired Design
Antoni Gaudi was a visionary. He gave Casa Batllo a nature-inspired design at a time when it wasn't a thing. The organic curves of the facade resemble waves, while the vibrant colors of the mosaic tiles are inspired by marine life. Gaudi's deep connection with nature is evident throughout Casa Batllo, making it a unique attraction.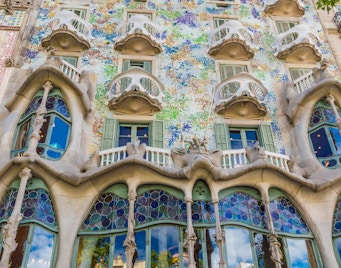 Icon of the Modernisme Movement
Casa Batlló's architecture made it a Modernisme movement icon. The building exemplifies the movement's focus on organic forms, intricate detailing, and the integration of art with architecture. Thousands of architects, engineers, and artists sought inspiration from Casa Batllo's visionary design, symbolizing artistic innovation.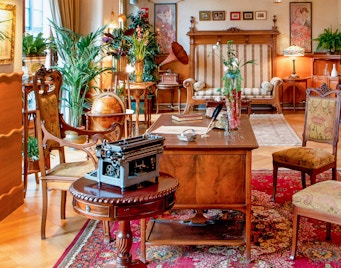 The Batlló Family's Bold Vision
The Batlló family's bold vision for Casa Batlló was the perfect fuel to light Gaudi's urge to innovate. They propelled the creation of an architectural marvel, inspiring a residence that reflects their progressive spirit. Casa Batllo fuses art and functionality: every detail contributes to an extraordinary living experience and showcases the family's commitment to innovation.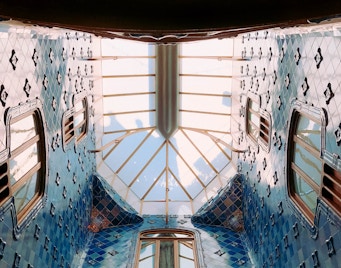 Innovative Utilization of Light and Space
Gaudi was a genius. His innovation extended to all areas of Casa Batlló, including the interiors. His innovative utilization of light and space makes the building's interior light up like summer, enhancing visitors' experience. The skylights, stained glass windows, and strategically placed openings allow natural light to flood the interior, creating a vibrant atmosphere.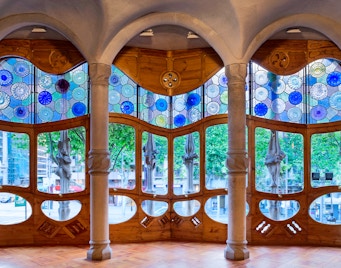 Impressive Attention to Detail
Gaudi stood out as a perfectionist. Casa Batllo is proof: from the intricate mosaic patterns on the facade to the innovative arrangement of tilework, every corner exudes artistic precision. Gaudí's reputation as a perfectionist is also visible in the crafted furniture, stunning stained glass, and ornate handrails.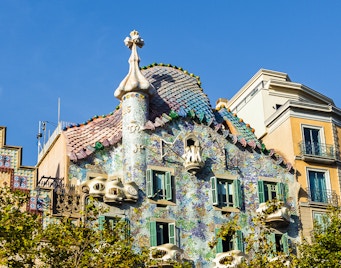 Symbolism within the Architecture
Symbolism is a defining feature of Casa Batllo: it showcases Gaudí's deep-rooted artistic philosophy. Many believe the skeletal-like facade represents the legend of St. George slaying the dragon, while the vibrant colors symbolize marine life. Organic motifs signify the connection between nature and architecture, making it one with the universe.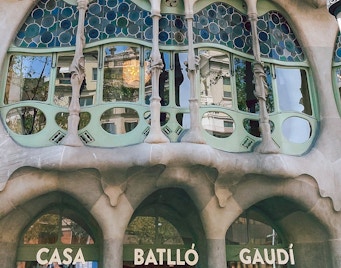 Reframing of Traditional Catalan Design
When completed, Casa Batlló represented a massive shift from the traditional Catalan design. While drawing inspiration from Catalan architectural elements, Gaudí reinvented them with a modernist twist, thus inspiring a new movement. Innovative materials, unconventional shapes, and intricate ornamentation reinterpret Catalan heritage, breathing new life into the architectural landscape.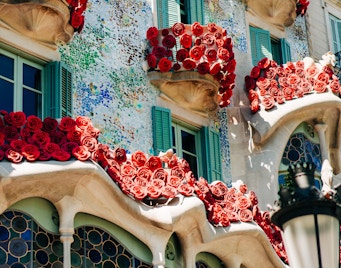 Unique Use of Materials and Colors
Antoni Gaudi used unique materials and colors to give Casa Batllo extraordinary allure. From the iridescent mosaic tiles adorning the facade to the vivid hues in the interior, the architect's choices were intentional and captivating. Gaudí explored materials and embraced vibrant colors to create a visually stunning and immersive experience for visitors.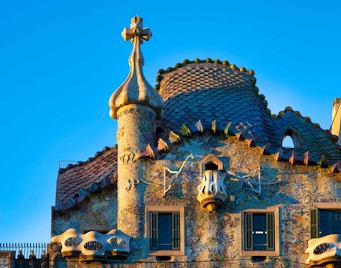 Roof Resembling a Dragon's Back
Casa Batllo's roof is a marvel in itself. It resembles the undulating dragon back: the distinctive scale-like ceramic tiles in blue and green shades create a mesmerizing effect that'll blow you away! This dragon-inspired design element adds whimsy and mythical allure to the attraction, enhancing its unique charm.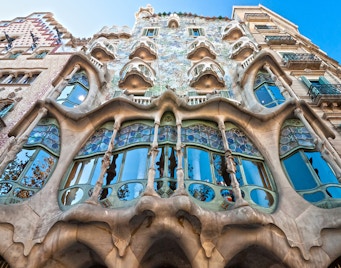 Recognition as a UNESCO World Heritage Site
Given its charm and lure, Casa Batllow was destined to have the UNESCO World Heritage Site tag. The attraction was handed the prestigious distinction in 2005 as an acknowledgement of its outstanding universal value, exceptional architectural significance, and cultural importance. Gaudi's masterpiece stands as a cherished piece of humanity's heritage, preserved and celebrated for future generations.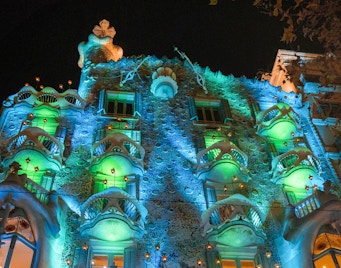 The Magic Night of Sant Jordi
The Magic Night of Sant Jordi at Casa Batlló celebrates love and literature. The iconic building transforms into a magical setting for the event, adorned with roses and books. You can immerse yourself in a world of enchantment, enjoying live music, performances, and a vibrant atmosphere.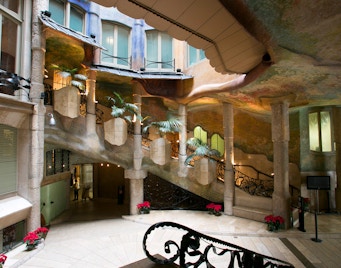 Complete Restoration in the Early 21st Century
Casa Batlló underwent restoration in the early 21st century to preserve its architectural splendor. The restoration project, guided by research and the same attention to detail as Antoni Guide, revived the building to its original glory. It helped rejuvenate the vibrant colors, restore delicate ornamentation, and revive the unique ambience of Barcelona's key attraction.
Frequently Asked Questions On Casa Batllo Facts
What is the most interesting fact about Casa Batllo?
Casa Batllo's innovative design inspired the Modernist movement, immortalizing Antoni Gaudi.
When was the Casa Batllo built?
Casa Batllo was built at the start of the 20th century.
When did the Casa Batllo open?
Casa Batllo was opened to visitors in 1995.
Architect Antoni Gaudi designed and oversaw Casa Batllo's construction.
Is it true that Casa Batllo's roof looks like a Dragon's back?
Yes. Casa Batllow's roof looks like a dragon's back because of the distinctive scale-like ceramic tiles in blue and green shades.