La Boqueria Barcelona | Highlights, What to Eat & More
Contents
Why is La Boqueria so famous?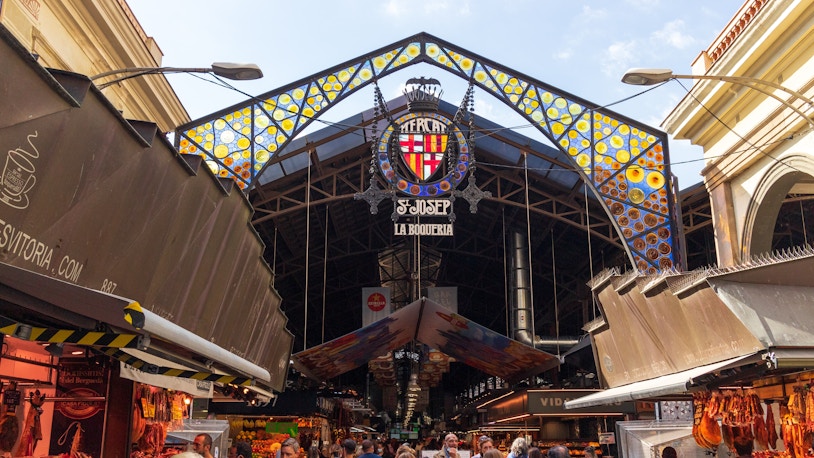 La Boqueria is a place apt for all food lovers and is open all day with free entry. 
Located at the heart of Barcelona, the space has 330 stalls that sell the highest quality products. 
Catalunya's top chefs visit early morning to have their pick of top fruits, vegetables, seafood, and animal products. 
One of the best places to find excellent Jamon and local cheeses that are packed well. 
Highlights of La Boqueria Barcelona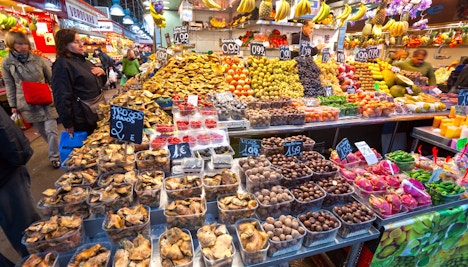 Find Fresh Produce Like No Other At La Boqueria
Enjoy top-quality food and fresh produce at Barcelona's La Boqueria market. Products from across the world are found under one roof and is a one-stop destination for everything you desire. The floors are wrapped with melted ice and fruit skins, adding charm to the experience. The stalls throughout the market sell fresh fruit juices, a refreshing treat in the middle of the mayhem. 
A splash of color, everywhere!
The La Boqueria market in Barcelona is a very famous one and is a real feast for the senses. The market is structured neatly with an array of fruity rainbows or multi-colored bell peppers. The space is often crowded but you will be lost in the aromatic mix of great food and variety around you. The rates are quite affordable and you can indulge yourself in a shopping spree.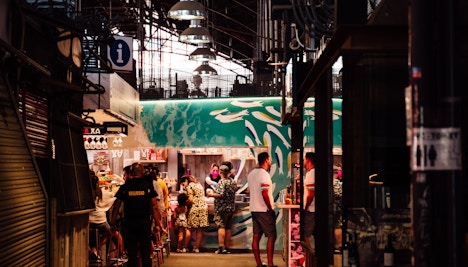 Explore top-notch bars and restaurants in La Boqueria
Dotted around the market are great bars selling both food and drinks. Need a light snack? Head to the very famous bar called El Pinotxo, situated at the right of the entrance. The food is exotic and is priced similarly to a top-quality restaurant. El Quim de La Boqueria is famous for its fried eggs, delicious ham croquettes, and squid.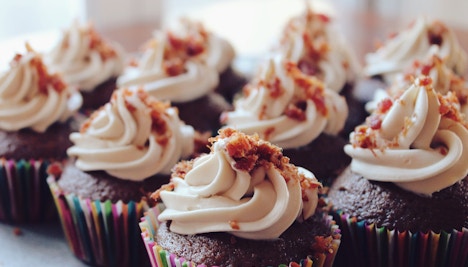 Take a class at the Boquería Food School
Attend a class at the Boqueria Food school and learn all about how to eat, and how to cook that perfect cuisine. You will get an insight into the origin of products, understand the basic cooking techniques along with the preparation of conserves. You will be very well guided by renowned chefs and sommeliers and it is an experience worth cherishing.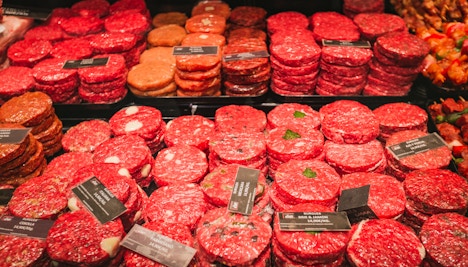 A Great Abode for Ham Lovers
Wondering what else is La Boqueria famous for? HAM! Yes, the place serves top-quality ham that is rich in taste, is perfectly salty and the meat dissolves as soon as you grab a bite. You can learn all about how ham is made from the experts themselves. Italian Prosciutto and Spanish Iberico can get your lip-smacking and are a must-try.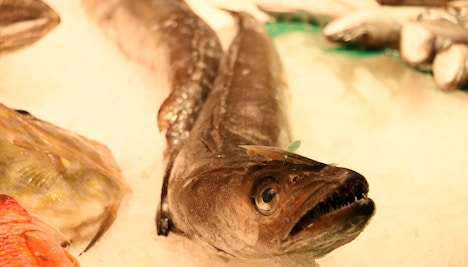 Barcelona's very own Vietnam in La Boquería
Did you know that the southern side of La Boqueria is called 'Vietnam'? Lot of the exotic produce comes from this side of the market and you will be able to find a great variety of fresh herbs, spices, chilies, and exotic fruits and vegetables. If you are a seafood lover, enjoy great deals than those from the central plaza. 
Plan Your Visit to La Boqueria Barcelona
Opening Hours
Getting There
Food
Nearby
Frequently Asked Questions About La Boqueria Barcelona
What is La Boqueria market?
La Boqueria is a famous market in Barcelona, located at La Rambla Avenue. Initially known as the Sant Josep Market, the space is open to the public for free entry and sells a variety of fresh produce, right from fruits, vegetables, meat, seafood and so much more.
What do they sell at La Boqueria market in Barcelona?
A famous market in Barcelona that provides a wide variety of fresh fruits, vegetables, seeds, nuts, sweets, meat, cheese, fish, dairy and so much more. This is a one-stop destination for all your daily produce under one roof.
What's the famous market in Barcelona?
The popular market in Barcelona is El Mecat de Sant Josep de la Boqueria, famously known as La Boqueria. Situated at the centre of the city, the place is well known for its tapas restaurant and the fresh produce sold in the stalls. 
What does Boqueria mean in Spanish?
The name is believed to be derived from Catalan boc, which means 'goat'. Hence, a boqueria in Spanish would mean a place where goat meat is sold
What is the famous food market in Barcelona?
Mercat de Sant Josep de La Boqueria is the famous food market in Barcelona. It is located along La Rambla and its popularity has made it an official landmark in the city. 
How do you get to La Boqueria Barcelona?
Metro: get down at Liceu (L3)
Bus: Take bus 14, 59, N9 or N12 and get down at La Boqueria
Hop on hop off bus: Placa Catalunya 
Why is La Boqueria Barcelona famous?
The La Boqueria market in Barcelona has become the largest and the most comprehensive food markets that offer fresh produce. It is privileged with the great location of Las Ramblas, which is a tourist hotspot. 
When did La Boqueria Barcelona market open?
The La Boqueria market is the first local market in Barcelona and opened in 1840. But its history spans much earlier as the first food peddlers were said to have been around since the 13th century selling meat on the streets. 
How many stalls are in La Boqueria Barcelona?
There are more than 400 stalls in La Boqueria that sell fresh fruits, vegetables, sea food, meat, nuts, and so much more.
When were the first stalls set up on the site of La Boqueria and what did they sell?
In 1217, there was a presence of meat stalls that were set in the location as a part of a series of street markets on the Rambla. These markets were temporary stalls set in the open air by farmers from the surrounding village.