Casa Batllo | Barcelona | Antoni Gaudi's Architectural Masterpiece
Contents
Barcelona, the vibrant capital of Catalonia, is a seaside city that has something for every age, from beautiful scenery and sunny weather to stunning architecture. Famous for its Modernist architecture, Barcelona is filled with gorgeous buildings designed by Antoni Gaudi, a few of which have been listed as UNESCO Heritage sites.
One such spectacular UNESCO site to visit in Barcelona is Casa Batllo. Plan a visit to Casa Batllo Barcelona, a multistoried apartment building that is one of the best works of Antoni Gaudi and receives visitors from all over the world. 
What is Casa Batllo?
Casa Batllo in Barcelona is a stunning building designed by Antoni Gaudi that was the home to a wealthy aristocrat in the early 1900s.
The attention to detail with which Gaudi designed the structure is evident throughout. At first glance, it would seem as if the facade of Casa Batllo has been made out of skulls and bones. In reality, the skulls are the balconies while the bones are the supporting pillars. Antoni Gaudi used the colors and shapes found in marine life to design the building and not a single straight line can be found on the facade. Gaudi also worked on the interiors and the carpentry of Casa Batllo. When you visit this gorgeous building, you see the beautiful interiors of the home with several elements inspired by the Mediterranean sea. The beautiful facade, stunning interiors, and the history of the restoration of the house through the years make it a must-visit place in Barcelona.
Plan Your Visit to Casa Batllo
Who built Casa Batllo?
Located at number 43 on Paseo de Gracia, Casa Batllo was born as a result of renovating a building designed in 1877 by Emilio Sala Cortés. Interestingly enough, Cortes was Antoni Gaudi's teacher. The original building, commissioned by Lluís Sala Sánchez, was a classical building, with no remarkable features.
In 1906, after the house was bought by Josep Batlló, they had Gaudi redesign the house in a way that it did not resemble any of the other houses that belonged to the Batllo family. Between 1904 and 1906, the building was renovated.
History of Casa Batllo
Where is Casa Batllo Located?
Address: Pg. de Gràcia, 43, 08007 Barcelona, Spain
Passeig de Gràcia or Paseo de Gracia is a Parisian-styled boulevard in Barcelona that used to connect the city to Villa de Gracia in the early days. Villa de Gracia is currently a district in Barcelona city and Paseo de Gracia has become invaluable over the years. It is a popular shopping and business area and is home to the city's several prominent architectures.
The Illa de la Discòrdia or Mansana de la Discòrdia (Block of Discord) is a city block on Paseo de Gracia. This block is noted for having buildings by four of Barcelona's most important Modernista architects — Lluis Domenech i Montaner, Antoni Gaudí, Josep Puig i Cadafalch, and Enric Sagnier. It is the distinctly different architectural styles that earned this block its name. It is here that Antoni Gaudi's most famous architectural work, Casa Batllo, stands.
Getting to Casa Batllo
Design and Architecture
Antoni Gaudi was known for his ability to bring together design and functionality. His work can be identified as Modernisme or Art Nouveau.
Casa Batllo, in particular, has a skeletal organic quality, achieved by avoiding straight lines. The ground floor is categorized by its irregular oval windows and flowing sculpted stonework. The facade, made using a technique called trencadis, is a dialogue of color and light. It resembles the waves of a calm sea.
You will find inspiration from nature in all other aspects of the house. Take, for example, the wooden railing that evokes the backbone of a large cetacean, or even the terrace that resembles a dragon's back, thanks to the use of colored tiles that have a metallic sheen, allowing it to look like scales.
Inside Casa Batllo
Inside Casa Batllo
Gaudi designed the interiors of Casa Batllo with the same attention to detail as he did the exteriors, taking inspiration from nature. You will find marine life and floral motifs throughout the house.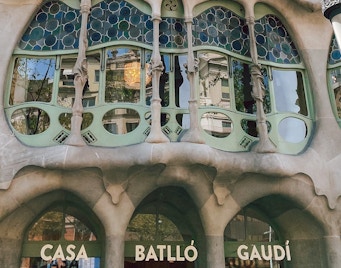 Facade
Gaudi used marine life as inspiration for the facade and added sculptures, decontextualized objects, recycled materials, etc. to give it a unique design. The main floors feature stone columns that are shaped as bones with modernist elements while the balcony railings have the shape of masks. It also features a roof with large scales where the upper part is made from huge spherical components whose color varies from one end to another. You will also notice a cross with four arms pointing in different directions that rises from a tower on the roof.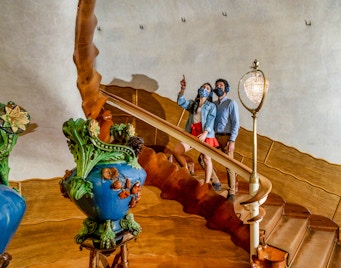 The Entrance Hall
The first stop of the Casa Batllo Barcelona building is the Entrance Hall.
This communal hall on the ground floor will take you to the private entrance hall of the Batllo family through a modernist grid.
With skylights resembling turtle shells, vaulted walls, and an impressive wooden staircase, the hall feels like an underwater world. You will also find a carved hardwood banister that represents a huge animal's backbone.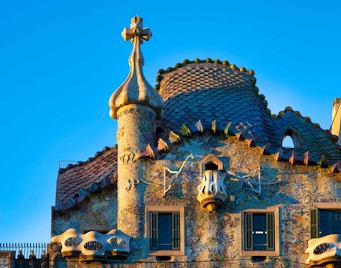 Noble Floor
Showcasing high levels of modernism, the Noble Floor with a unique hall is located at the center of the building.
The Noble Hall begins with Mr. Batllo's study room featuring a very unique mushroom-shaped fireplace. From here, you head to the house's living room where the gallery can be seen through a large picture window.
Other important features of the floor are the large oak doors with organic shapes made from stained glass and the wavy ceiling that represents the strength of the sea.
Patio of Lights
A fundamental component of Casa Batllo in Barcelona is the Patio of Lights that uses the main skylight to redistribute the air and light. Antoni Gauded extended this patio to ensure that the light enters all the rooms of the house. He used tiles of varying blue tones as decorative elements to uniformly distribute the light in the room. This is also why the upper windows are smaller and slowly increase in size as you descent to allow light in.
The lower windows feature slits for ventilation control. There is also a wooden lift car installed in the center of the patio of lights, which is still in use.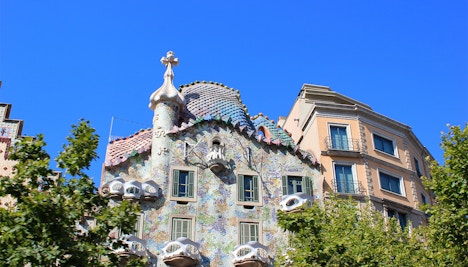 Indoor Garden
From the private dining room of the Batllo family, visitors can reach the rear courtyard on the Noble Floor. This small garden is a great spot for relaxing in the afternoon. When you enter this space, you will find the space has been decorated with paving and tile- and glass-covered flower pots.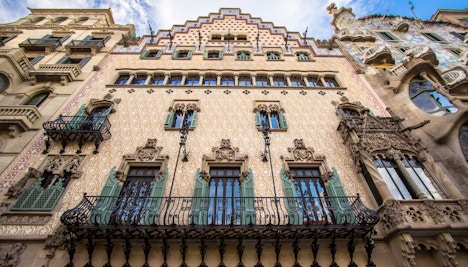 Loft
The Loft isn't just aesthetically pleasant but extremely functional as well. Formerly, this was the service area for the tenants and included a storage area, laundry room, and so on. It's largely white, indicating Mediterranean influences, and has light permeating throughout. You will see a series of 60 catenary arches, which resemble the ribcage of an animal.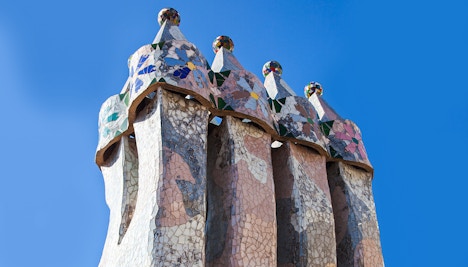 The Terrace
The Terrace is best known for the facade made using different colorful tiles so that it evokes the image of a dragon. It has hence been popularly dubbed as the dragon's back.
The main focus of the terrace is the four crooked chimney stacks that have been added to prevent backdraughts. With the help of Catalan modernism, the terrace design by Gaudi is both beautiful and functional.
Plan Your Visit to Casa Batllo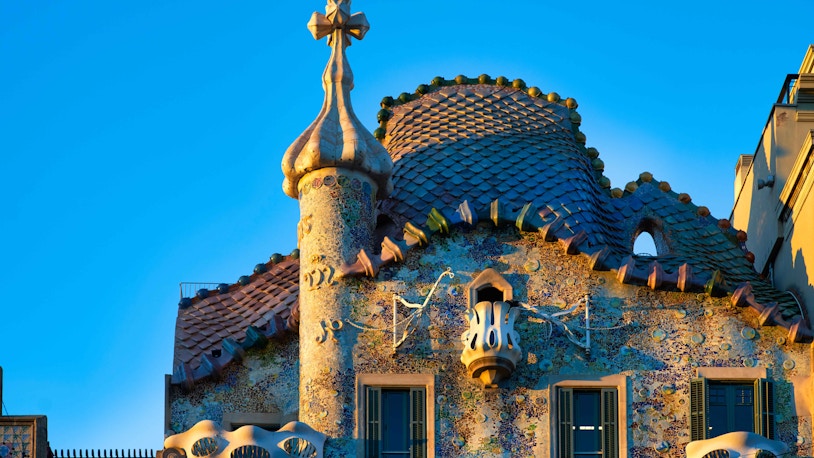 Daily: 9 AM - 6:30 PM (Last entry at 5:30 PM)
Duration: It will take you approximately 1 - 2 hours to tour Casa Batllo.
Best time to visit: If you wish to enjoy a quieter vacation in Barcelona, then plan a visit between March to May or September to November.
Plan a visit to Casa Batllo in the morning hours, between 9 AM - 11 AM or late afternoon between 3 PM - 5 PM, to avoid the crowd.
Know More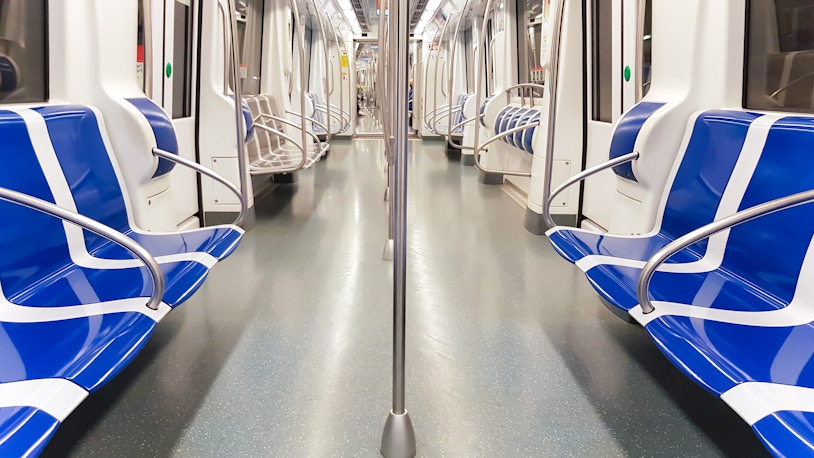 Address: Pg. de Gràcia, 43, 08007 Barcelona, Spain
By Bus: Take buses H10, V15, 7, 22, and 24 to get to Casa Batllo. You can also take the red and blue route of the Barcelona Tourist Bus to reach Casa Batllo.
By Train: Use RENFE to reach Passeig de Gràcia station or FGC to reach Provença station. Casa Batllo is a 5-minute walk from the stations.
By Metro: Take metro L2, L3, or L4 to get down at Passeig de Gràcia.
By Car: You can drive a car to Casa Batllo. You can park the car in the nearby paid parking spaces.
Plan Your Visit
How to Buy Casa Batllo Tickets and Tours?
All Your Questions About Casa Batllo Answered
A. Casa Batllo is a multistoried apartment building in Barcelona that was designed by Antoni Gaudi and is said to be one of his masterpieces. This building is famous for its design and architecture, especially the facade added by Gaudi.
Q. How much does it cost to visit Casa Batllo?
A. The prices of tickets to Casa Batllo in Barcelona starts at €35. You can buy Casa Batllo tickets here.
Q. When was Casa Batllo built?
A. The building preceding Casa Batllo was built in 1877 by Emilio Sala Cortés, an architect professor of Gaudi. In 1904, the renovation for the building started and the building was renamed Casa Batllo. Antoni Gaudi was the chosen architect for the renovation.
Q. Who designed Casa Batllo?
A. Antoni Gaudi renovated the Casa Batllo Barcelona building in 1906.
Q. What is Casa Batllo famous for?
A. The Casa Batllo is a UNESCO World Heritage Site that features Gaudi's finest design and modernism.
Q. Where is Casa Batllo located?
A. Casa Batllo, also known as Casa dels ossos, is located at number 43 on the Paseo de Gracia street in the Example district of Barcelona.
Q. What is Paseo de Gracia?
A. The Paseo de Gracia is one of the most important boulevards in Barcelona. It features beautiful architectural buildings and has luxury stores on both sides.
Q. What is inside Casa Batllo?
A. The inside of Casa Batllo Barcelona is beautifully designed by Gaudi in collaboration with a few of the best artisans of that time. Ceramic tiles, wrought iron, stained glass, wood, and stone ornaments are a few things used to design the interiors of the home.
Q. What are the timings for Casa Batllo?
A. The timings for visiting Casa Batllo Barcelona are from 9 AM to 6:30 PM every day. The last entry is at 5:30 PM.
Q. How long does it take to tour the Casa Batllo?
A. It takes approximately an hour to explore Casa Batllo in Barcelona.
Q. Is the Casa Batllo wheelchair-friendly?
A. Yes, Casa Batllo Barcelona is wheelchair-friendly and offers access to a large portion of the home to disabled visitors.
Q. Is the Casa Batllo accessible to people with disabilities?
A. Yes, Casa Batllo can be accessed by people with disabilities as well. There is a lift with priority usage that can be used by visitors with disabilities, reduced mobility, and pregnant women.