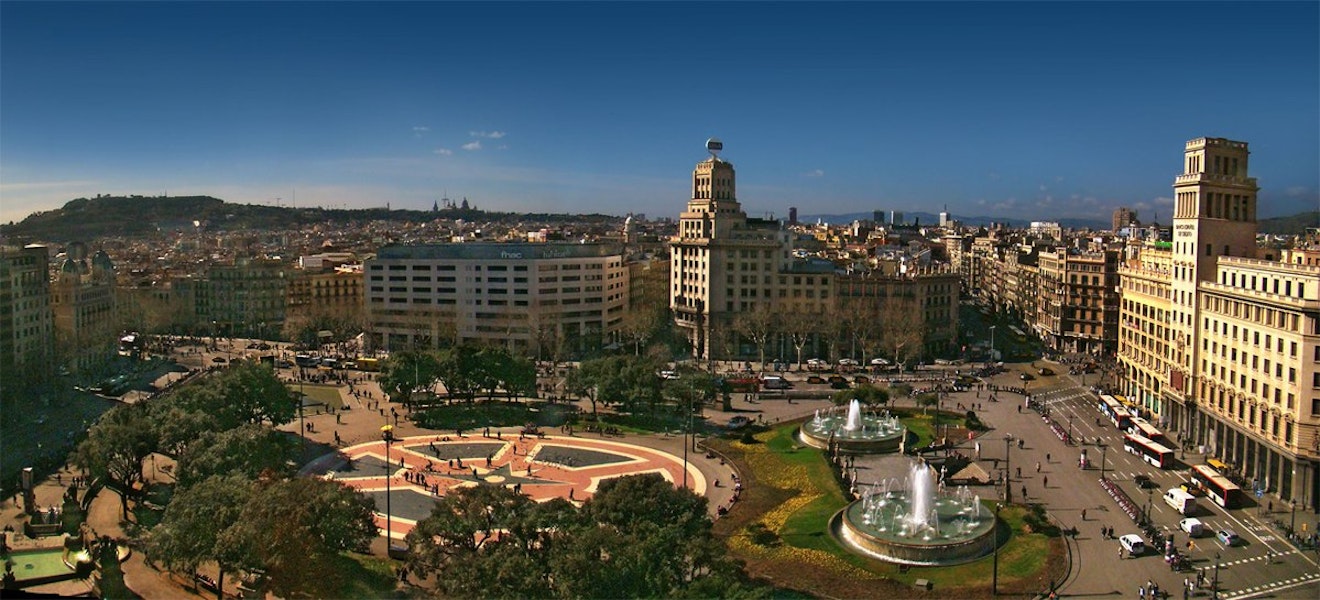 Placa de Catalunya | The Definitive Guide | Barcelona City Guide
In the heart of Barcelona lies Plaça de Catalunya, a large plaza embossed with sculptures, magic fountains and grass surrounded by monumental buildings. Here, Ciutat Vella (old city) and the modern 19th-century district of Eixample merge, offering an eclectic and energetic experience. Unveiled in 1927 by King Alfonso XII, this bustling square with a plethora of breathtaking modernist architecture and bustling shopping arcades manages to draw in locals and tourists with equal aplomb. Plaça Catalunya Barcelona is the perfect spot in Barcelona to stop by and immerse oneself in the throbbing hum of vibrant city life.
Why Visit Placa de Catalunya in Barcelona
When you think of Plaça Catalunya Barcelona, a rush of images is likely to pop up in your head after all this Catalunya Plaza Barcelona truly embodies the Catalan pride.
Connecting the old city and the more modern Exiample, this plaza holds a special place in the heart of Barcelonans and evokes a sense of interest and wonder among tourists making it an essential pit stop during your Barcelona trip. 
Get a glimpse of some of its unique contemporary architecture in the form of sculptures, especially the six sculptural groups around the plaza that represent the four Catalan capital cities, wisdom and labour, noteworthy monuments as well as creations of Anton Gaudi's most renowned creations.
Steeped in history, the site of Plaça Catalunya Barcelona was formerly an open piece of land that was located in front of the gates to the walled city before it was inaugurated by King Alfonso XIII in 1927. Architects like Pere Falqués, Puig I Cadafalch, and Francesc de Paula Nebot, as well as recognized artists such as Clara and Llimona, lend their signature touches to this grand plaza.
Catalonia Square Barcelona is a place that never sleeps. From bustling department stores and independent boutiques, streets teeming with tourists and locals to live musical shows, concerts, and colorful fiestas and celebrations, there is a constant hive of activity in this large central space, be it night or day.
Besides shopping extensively and admiring this historical space replete with sculptures, monuments, which include works by well-regarded artists such as Josep Clarà, Josep Subirachs, and Eusebi Arnau, this is also a great spot to sit on one of the many benches and get a whiff of the Catalan culture and vibe.
Top 10 Things To Do
If you are passing through Barcelona and planning a stopover at Plaça Catalunya Barcelona, which we highly recommend, here is a compact list of ten things you must try to fit into your itinerary.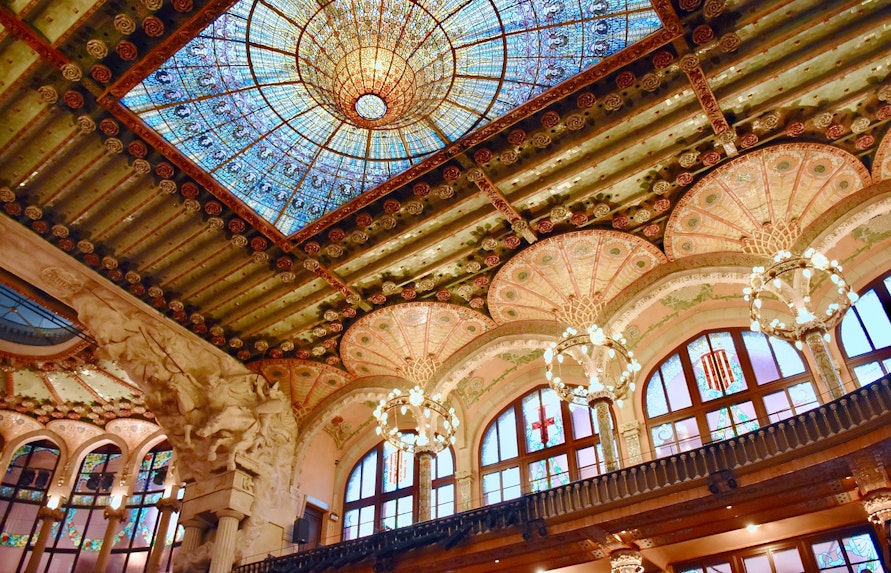 If you happen to have a free evening in Barcelona, visit the Palau de Música Catalana, and enjoy one of the many concerts offered throughout the year at the concert hall, a UNESCO World Heritage Site.
While there, marvel at the structure and façade of the Music Palace, which exemplifies the modernist Catalan style.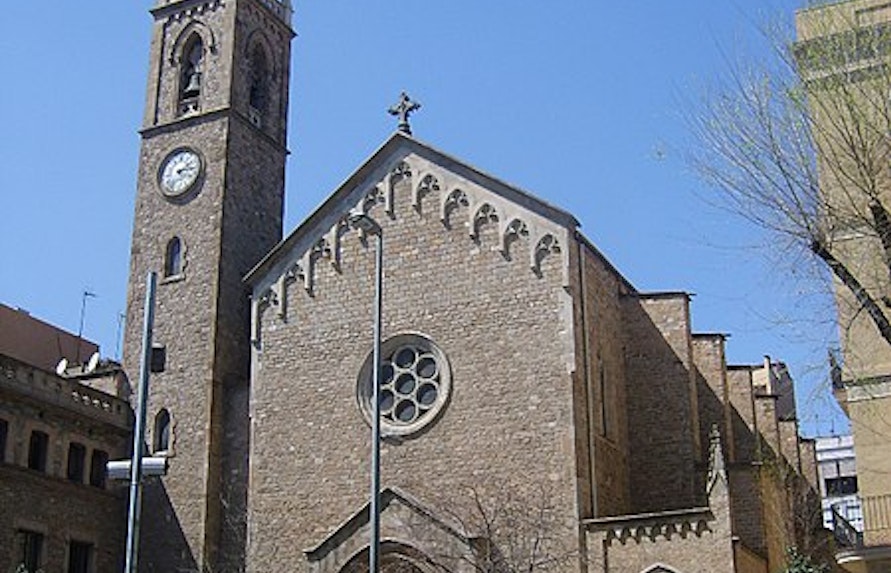 Tucked away in the Eixample neighborhood are one of its hidden treasures, the Rector Olivera Gardens. Take a stroll through these gardens to get a taste of everyday Barcelona life and glimpse the Church of Conception from a different viewpoint. The gardens are open daily from 1 November to 31 March from 10:00h to 19:00h and from 1 April to 31 October from 10:00h to 21:00h.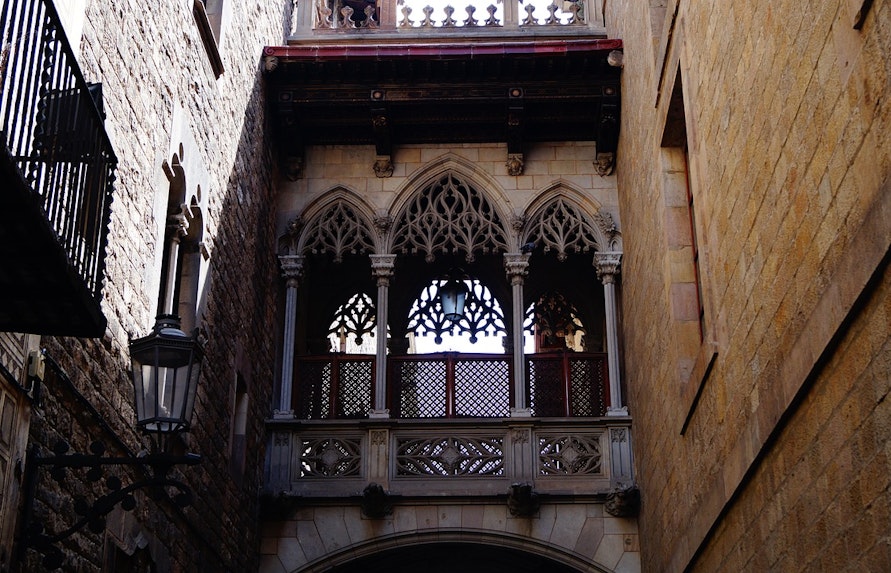 Take a walk down history by visiting the charming Gothic Quarter, or Barri Gòtic, with its narrow medieval streets filled with architecture dating back 2000 years, trendy bars, clubs and sumptuous Catalan restaurants.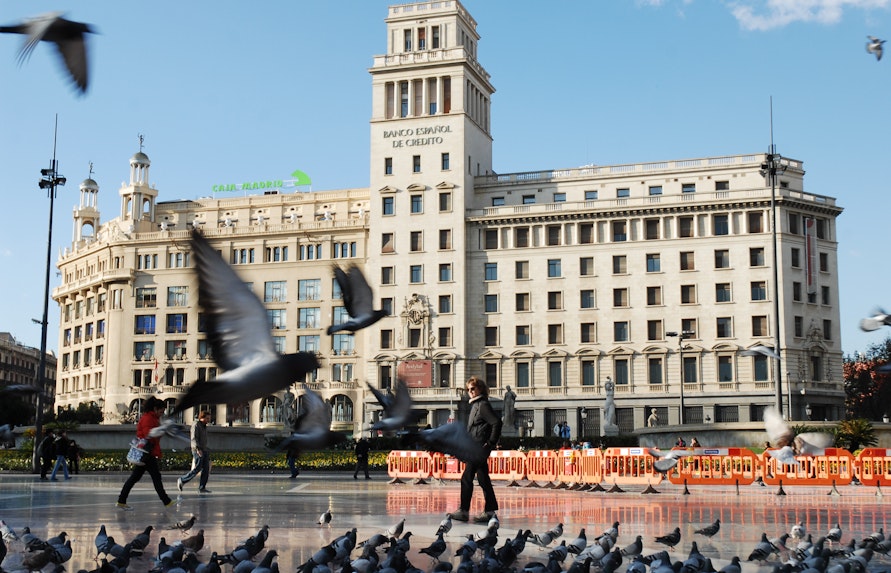 Make time to visit one of Anton Gaudi's signature creations, Casa Batllo, while exploring Catalonia Square Barcelona. An erstwhile common house, its transformation to a dreamlike structure from floor to ceiling symbolizes the renewal of Barcelona. Ticket prices range from €25 to €39 with discounted prices for children. It is open from all days of the week from 9:00 AM to 6:00 PM.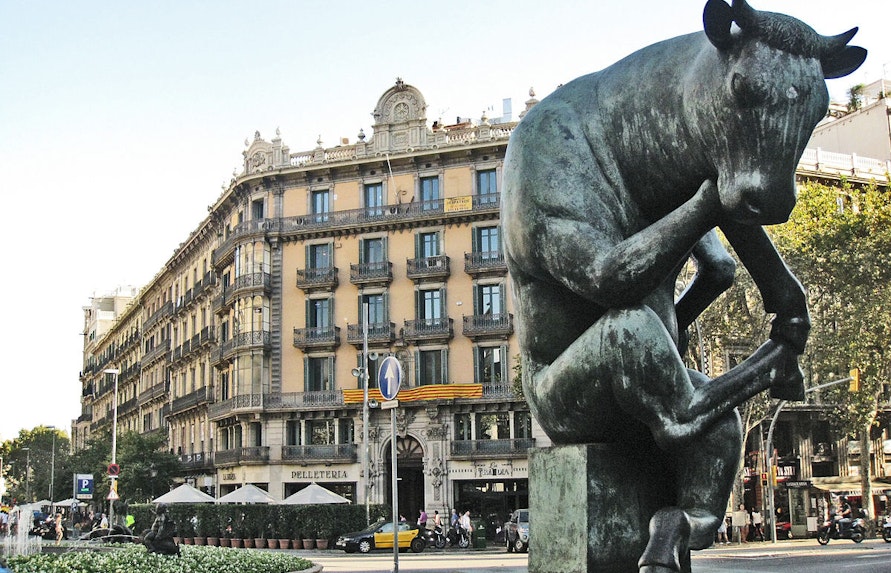 Starting just north of the Placa De Catalunya is Rambla De Catalunya.  Stroll down this quiet tree-lined street, and shop at some of its trendy shopping centers that house luxury brands, and finally tuck into some mouth-watering Tapas at Cervesería Catalana.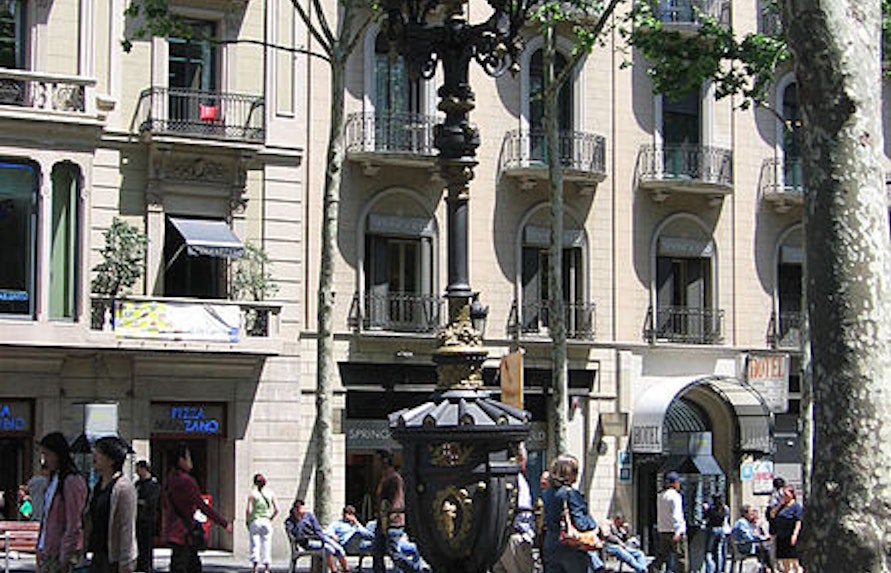 Located on Las Ramblas in the Gothic Quarter is Font de Canaletes, a historic fountain with elegant lights and ironwork. It is a popular meeting place for Barcelona FC fans after games. And the description of this magic fountain Barcelona states that if you drink from this fountain, you will return to Barcelona someday. A myth that most tourists and locals alike believe.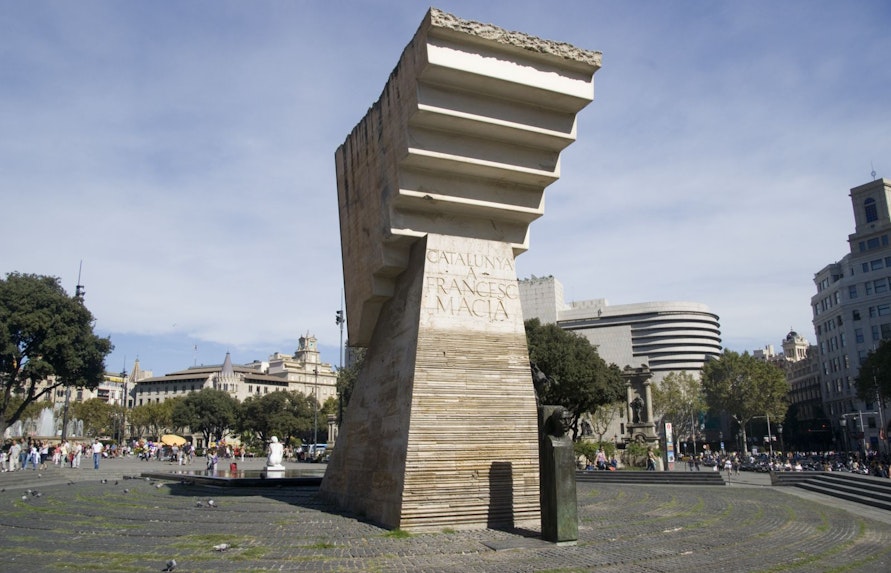 Be sure to check out the Monument Francesc Masia, a unique sculpture in the shape of an inverted staircase, that was erected in the honor of the Francesc Masia, the first president of the Catalunya region, who was assassinated in 1933. This sculpture, constructed by the famous sculptor, Josep Maria Subirachs, symbolizes the history of Catalonia, particularly its future, the uncertainty of which is depicted by the unfinished steps of the sculpture.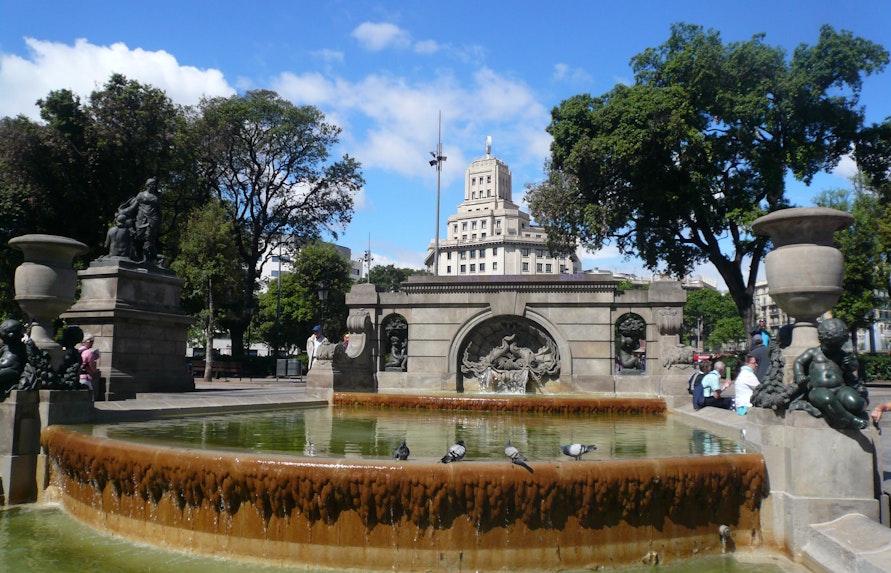 Discover the beautiful fountain of Font dels Sis Putti on one side of the Placa De Catalunya. A treat for sore eyes, this fountain constructed in 1926 has some beautiful sculptures of six chubby little young male figures or putti. The fountain symbolizes the birth of the Greek goddess Aphrodite. Folklore states that the Goddess of love and beauty was born from the foam of the waves, near the coast of Cyprus, and this breathtakingly beautiful fountain is a striking representation of Aphrodite.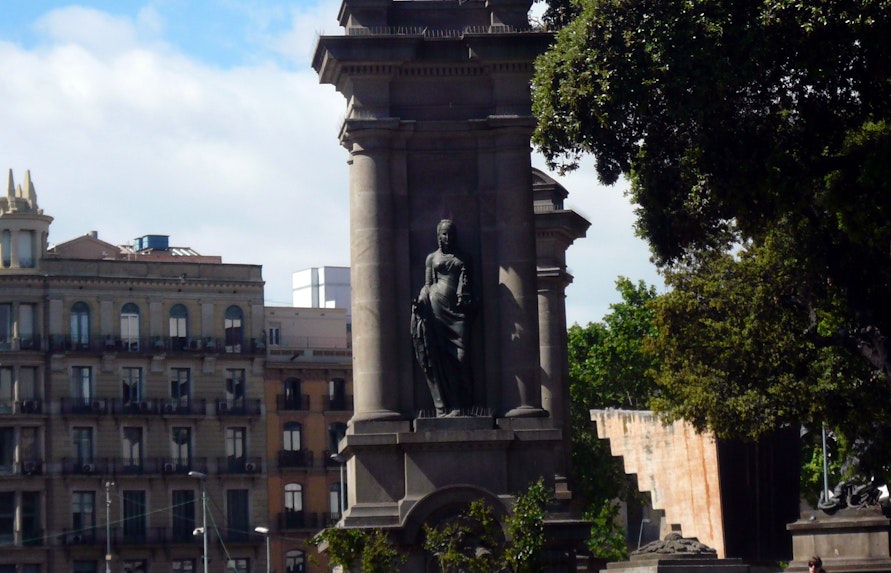 Continue exploring breathtaking sculptures in Catalonia Square Barcelona by visiting Dona amb imatge de la Mare de Deu, part of the sculptural ensemble bythe fountain at the north part of the plaza, It is a moving sculpture that features a mother cradling her child, while the child clings to her neck. The woman wears an ecstatic look as if thankful for her child.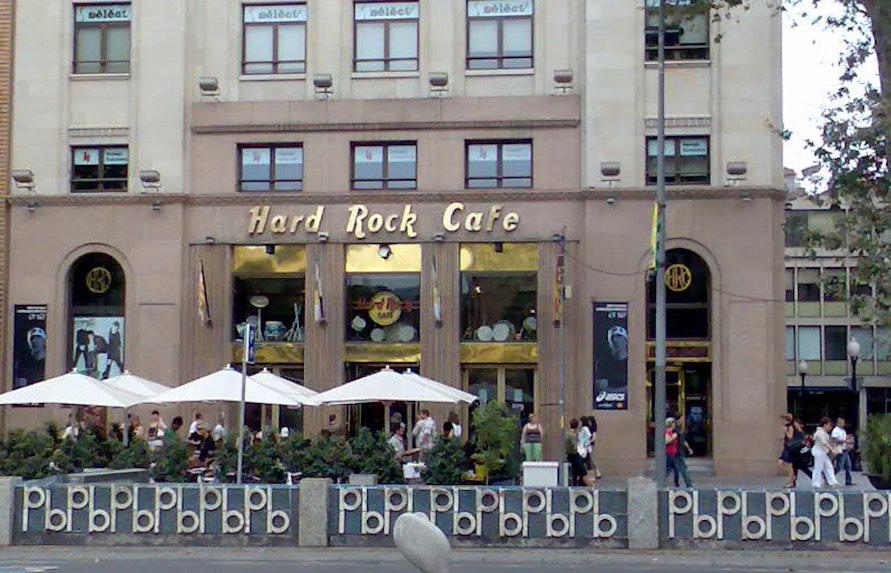 Follow up on your sightseeing tour with a drink at Hard Rock Cafe of Plaça de Catalunyà. Rest and enjoy the view and soak in the vibe and energy of the Catalonia Square Barcelona.
Placa de Catalunya Tours & Tickets
Audio Guided Tours
If you prefer to explore Placa de Catalunya on your own, then take this hassle-free hop-on hop-off city bus tour. This is ideal for first-time visitors and also includes onboard commentary, city map, and discounts at select Barcelona businesses. Book your tour at Barcelona-tickets.
Guided Tours
This guided tour starts with a detailed exploration of Plaça Catalunya Barcelona before exploring the medieval city of Girona and villages of Costa Brava. This 10 and 30-minute-long tour is perfect for those wanting to explore and experience the Catalan Culture and the delights of Catalonia Square Barcelona. This tour includes a local guide, a small group tour, and an air-conditioned vehicle.
Skip the Line Tickets
If time is a constraint and you are trying to cram in the Catalan experience in a short time, then make the most of your time in the city with a small-group tour of top attractions, including Montjuic Castle, Plaza de Espanya, Plaza de Cataluna, and La Pedrera. Skip long queues with fast-track entry to Park Güell and/or La Sagrada Familia, discover the home of Catalan modernism, and unwind with a guaranteed on-time return to your ship.
How to Get There
Plaça Catalunya Barcelona, widely regarded as the city center of Barcelona, is very well-connected. Travelers must purchase the Hola Barcelona Transportation Pass, which is the ultimate transportation pass in Barcelona as it offers unlimited travel in the city and allows you to discover this iconic city on your own.
Train
Catalunya rail station is situated in Plaça de Catalunya, in the center of Barcelona. For those preferring to take a train to Placa de Catalunya, they can opt for the following train lines, R1, R4, R7, RG1.
Airport
For those preferring to access Placa de Catalunya from the airport, then El Prat Josep Tarradellas (BCN) is the main Barcelona Airport. It is approximately 13 km south-west of the Barcelona city center (Plaça Catalunya). From the airport, you can get to Placa de Catalunya by metro, bus, or taxi.
Metro
While you can take the Metro line L9  from the T1 and T2 airport terminals of Barcelona to Plaça Catalunya, it is certainly not the fastest option. The transit time to Placa de Catalunya is around 1 hour and 10 minutes. Remember to purchase and use the HOLA Barcelona pass for this journey.  
Bus
For tourists looking for the fastest mode of transportation from the airport, then Aerobus is the best option. It plies between the airport and the Plaça de Catalunya (center of Barcelona) with a travel time of about 35 minutes. Tickets are priced at 5,90 Euros for one-way and 10,20 Euros for a round ticket. Children under 4 years travel free.
Taxis
While taxis are easily available, the journey into the city from the airport takes around 20 minutes and will set you back by around EUR 30 inclusive of the luggage. 
Airport Transfer Service
First-time visitors can use the private shuttle service to alight at Placa de Catalunya. It is not more expensive than a taxi, and tourists will be greeted with a placard with their name printed on it inside the terminal.
Best time to visit Placa de Catalunya
May - Early September is one of the best times to head to Placa de Catalunya and explore this quaint and historic place, and experience its energy and vibe. The long, sultry days are perfect for exploring its many attractions. Even late March to April and late September can offer the best of both worlds with fiestas held during spring and later summer and autumn. 
Hotels around the Placa de Catalunya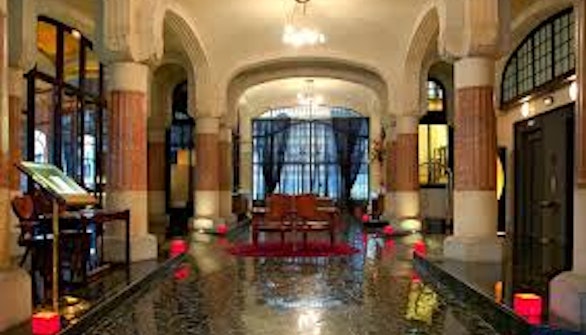 5 Star Hotels
Renaissance Barcelona Hotel
Priced at $ 200 onwards, the Renaissance Barcelona Hotel is accessibly located in the heart of Barcelona, Spain just steps away from Paseo de Gracia shopping district and Plaza Cataluña. 

Hotel Casa Fuster
Priced at $ 200 onwards, the Hotel Casa Fuster is a result of an impeccable refurbishment of  an emblematic modernist building and projected by the famous architect Lluis Domènech i Montaner. (Image Credits)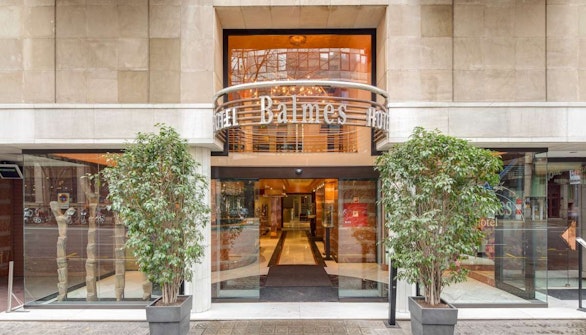 4 Star Hotels
Hotel Acta Atrium Palace
Priced at $140 onwards, Acta Atrium Palace is a 4 stars hotel located in the Gran Via de Les Corts Catalanes, one of the main roads of the city of Barcelona and just a few minutes' walk from Paseo de Gracia and Plaza Catalunya.

Hotel El Avenida Palace
Priced at $ 140 onwards, the Hotel El Avenida Palace has been recently refurbished and located close to the city center.

The Balmes
Priced at $140 onwards, The Balmes is a modern four-star hotel just a few steps away from Barcelona's Avinguda Diagonal, in the city's Eixample neighborhood. (Image Credits)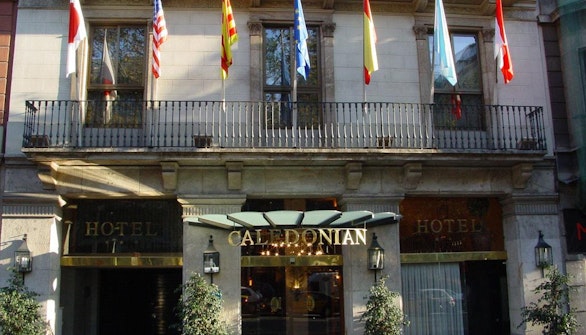 3-Star Hotel
Caledonian Hotel
Priced at $ 130 onwards, Caledonia Hotel is located at the center of Barcelona within 10 min from Las Ramblas and Plaça Catalunya and perfectly connected by different metro and bus lines. (Image Credits)
Know Before You Go
Below are the tips and hacks you can use for a hassle-free and seamless Placa de Catalunya experience
Learn a few words of Catalan to blend in. Keep phrases like Bon dia (good morning), si us plau (please), vagi be (be well), and Visca Barça! (long live FC Barcelona!) handy.
Beware of pickpocketing, mugging, and bag snatching in the city. If you are a victim of theft, dial '112', you can also avail of their services in English or visit the Help Center for Tourists at 43 La Rambla. It is open 24 hours a day.
Plan ahead and book your tickets to tours in advance to avoid long queues.
Consider purchasing the Barcelona Hola Travel Card which gives you unlimited metro and bus rides for 2-5 days.