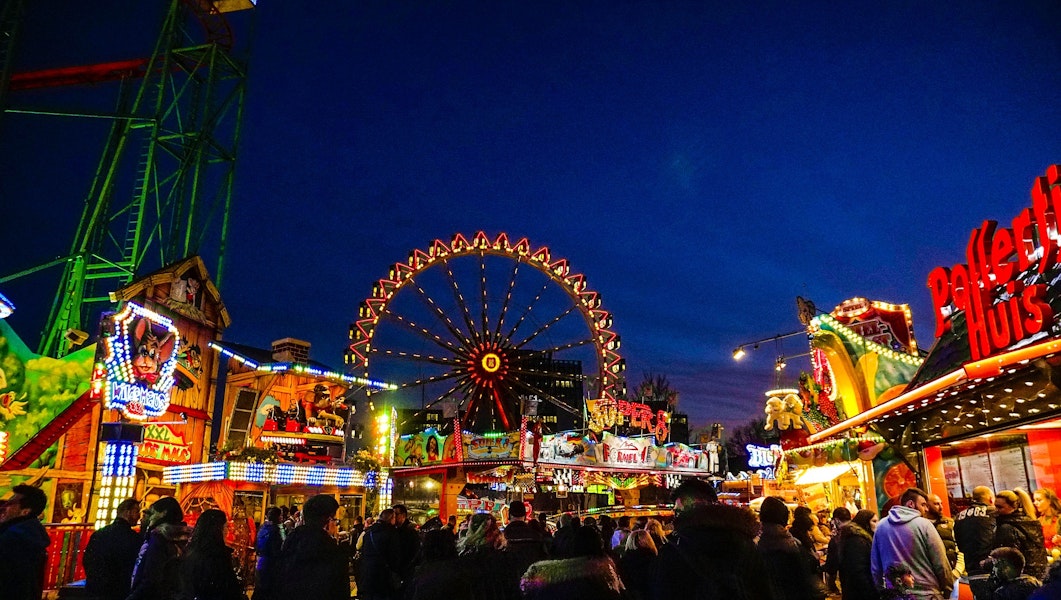 Tibidabo Theme Park Barcelona | The Ultimate Barcelona City Guide
Located on top of Mount Tibidabo in Barcelona is one of the world's oldest theme parks, Tibidabo Theme Park. With more than 117 years of history, Tibidabo Amusement Park has the perfect combination of cool vintage rides with contemporary ones. Being 512 meters above sea level, it offers the most spectacular view of the city. It is a great place for friends and families to unwind and relax. Book your tickets now for an unforgettable experience at Tibidabo Amusement Park, Barcelona!
Why Visit Tibidabo Theme Park?
Visit Barcelona's oldest and most fascinating vintage theme park located on top of Mount Tibidabo.
It is one of the oldest theme parks in Spain and the world. 
You get to experience some super cool vintage rides that have been in use since 1905.
Located on the highest peak in Barcelona on the Sierra de Collserola range, it offers breathtaking panoramic views of Barcelona's skyline. 
There are other attractions on Mount Tibidabo for you to visit such as Tibidabo Cathedral of the Sacred Heart and the bronze statue of Jesus Christ. 
What's better than going on thrilling rides surrounded by greenery and spectacular views of Barcelona. 
Essential Information about Tibidabo Theme Park
Tibidabo Timings
Address
Ticket Prices
Best Time To Visit Tibidabo
Monday to Friday: 11:00 AM and 4:00 PM 
Saturday and Sunday: 11:00 AM to 7:00 PM
Plaça del Tibidabo, 3, 4, 08035 Barcelona, Spain
Tibidabo ticket prices start at €12.70. Check our website for more details. Tibidabo tickets cost €28.50 for adults and €10.30 for kids. Access to the Panoramic Area is free, however, day passes for the Emblematic Rides cost €12.70 for adults and €7.80 for kids.
The best time to visit Tibidabo Amusement Park is in summer. In winter it is only open on weekends and public holidays. 
Top 5 Best/Most Popular Rides At Tibidabo Theme Park
Tibidabo Theme Park Tickets
Where to get tickets?
Tibidabo Amusement Park Tickets and Tibidabo Panoramic Tickets are both available on Barcelona-tickets. You can also purchase them on the official website. Tibidabo Amusement Park tickets grant you entry into the park and access to all the rides inside. Tibidabo Panoramic Tickets you can hop on the Funicular and take in the beautiful skyline view of Barcelona.
How to get tickets?
 Book your tickets with just a click of a button without any hassle. Get instant confirmation and show your tickets on your mobile for easy access. 
Why book them in advance?
 By booking your tickets in advance, you spend less time waiting in lines. This is especially helpful during summer when temperatures are at its peak. It also gives you the chance to plan the rest of your trip, making sure you check out all the popular attractions in Barcelona. 
Advantage of purchasing tour packages
You can also opt for tour packages, where you get to experience many of Barcelona's attractions without having to plan it yourself. 
Where to Eat at Tibidabo Theme Park?
Tibidabo Theme Park offers a wide range of food options for its visitors. From salads to pizzas, tapas, and mouth-watering desserts, there's something for everyone! Here are a few of our choices: 
For delicious burgers, salads, roast chicken, and more head over to Bar Estació.
Enrique Tomás offers the best ham and sandwiches with outside tables where you can enjoy the view.
Indulge in the classic Spanish breakfast or munch on churros and chocolate at Xurreria, located right next to the ride Talaia. 
View the entire list of restaurants at Tibidabo Theme Park. 
Know Before You Go
Budget
If you're booking tickets in advance, you don't need to carry too much except for €5.50 to €7.70 for the tram and funicular respectively. This cost is for a single journey for one person. The park offers a range of restaurants, so carry a little extra for food. 
Dress Code
There is no strict dress code at the amusement park. Wear comfortable attire suitable for the dry and water rides. 
Etiquette Rules
The age and height restrictions are different for each ride. Make sure you check these in advance if you have very young children. 
Tibidabo Activities
Tibidabo has a range of vintage and modern rides, along with a few water rides. There are many options for people of all ages. Some of the rides have a height restriction, be sure to check their website for more details about this before your visit. 
What to Carry
We recommend carrying comfortable clothes since you will be sitting on most of the rides. Carry a change of clothes because there are a few water rides that will get you drenched. Because of its high altitude, it tends to get chilly, so carry a jacket to cover yourself after your visit. 
Travel Advisory
The park is now closed due to the Coronavirus outbreak. Check their website to stay updated on when the park will be reopened. 
FAQs
Q. Is entry to Tibidabo Amusement Park free?
A. No, you need to buy a ticket to enter the amusement park.
Q. Can I buy tickets online? 
Yes, check our website for prices and other information.
Q. Do I have to buy tickets in advance? 
A. No, tickets are available at the venue, however, booking in advance allows faster access to the   park. 
Q. Can attractions be paid for separately? 
A. Only attractions in the Panoramic Area can be paid for separately. They cost €2 per ride. 
Q. Is there a dress code? 
A. There is no strict dress code, however, we recommend dressing respectfully since there are lots of families that visit the theme park. Be sure to wear comfortable clothing for all the rides. 
Q. Is food available inside the park?
A. Yes, Tibidabo Amusement park offers a range of food options. 
Q. Can I bring food from outside? 
A. Yes, you are allowed to carry food and drinks from outside, however, you are expected to consume them in a respectful manner. Respect the cleanliness and hygiene of the park. 
Q. What is the Panoramic Area?
A. Tibidabo's Panoramic Area is a separate area that is free to access. It has fewer rides and some of the best views of the city. The rides can be paid for separately or all together. Check our website for more information on prices. 
Q. How do I get to the park?
A. You can take the tram or the funicular, either of which will take you to the park's entrance. Prices start at €5.50. 
Q. Is there an age restriction? 
A. There is no age restriction to enter the park, however, some rides have a height restriction. Other rides require children to be accompanied by an adult.