Explore Casa Mila in Barcelona | Highlights, Visitor's Guide & More
Contents
La Pedrera, or Casa Mila, is a popular modernist building in Barcelona designed by Spanish architect Antoni Gaudí. The building, completed in 1912, is unique due to its stone facade, wrought-iron balconies, and other features.
Quick Facts about Casa Mila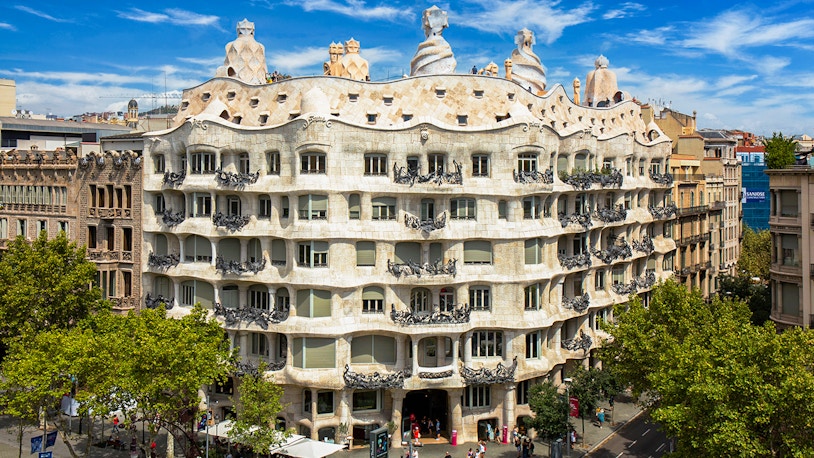 Official name: La Pedrera
Location/Address: Pg. de Gràcia, 92, 08008 Barcelona, Spain
Date of Opening: 1912
Architect: Antoni Gaudi
Architectural Style: Modernist
UNESCO World Heritage Site: 1984
Number of Visitors Per Year: One million+
Function: Museum
Casa Mila Facts
What to Do At Casa Mila?
Walk Royally through the Entrance
Antoni Gaudí's fascination with natural elements is evident at the Casa Mila entrance. The Spanish architect used glass and iron grilles to build the doors and designed them to look like branches of a tree expanding upwards. He designed it to allow vehicles and human beings to enter easily inside the building.
Admire the Magnificent Facade
Casa Mila's facade is a striking feature and the reason why it is Barcelona's premier attraction. The self-supporting structure featuring wrought-iron balconies and large windows gives the building a fluid appearance and allows plenty of light to enter the interiors. Gaudi used limestone and stones to build the facade and ensure it could support the building.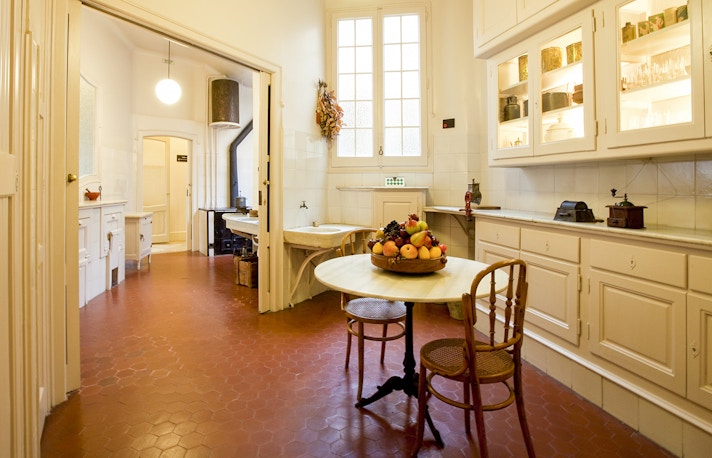 Explore the Building's Interior
Casa Mila is a spectacular attraction because it has equally impressive interiors. From extravagant furniture to large entrance halls and 16 apartments, Casa Mila has enough points of interest to keep you busy for hours. You can gaze at the curvaceous walls, spiralling staircases, and unique ceilings perpetually and never get bored.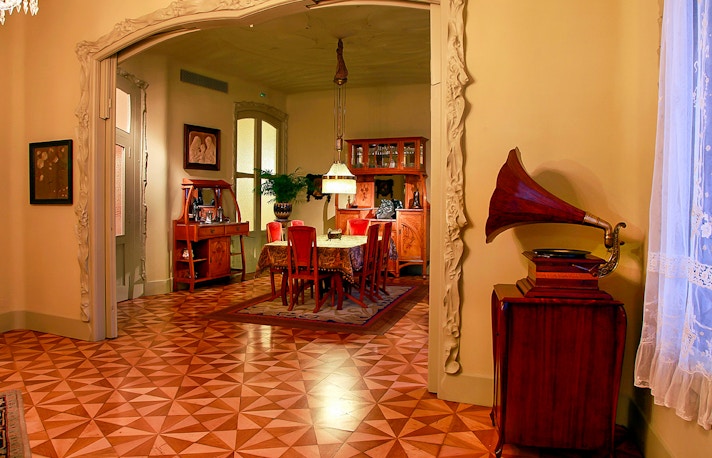 Enter Casa Mila's Apartments
Many tenants used Casa Mila's apartments throughout history. Each room has a distinctive flavour: the rooms on the main floor have antique furniture, while the ceilings' vivid decorations provide a royal feel. Natural lighting is a common feature in all the rooms, as Gaudi ensured every part of the building had a natural element.
More about Casa Mila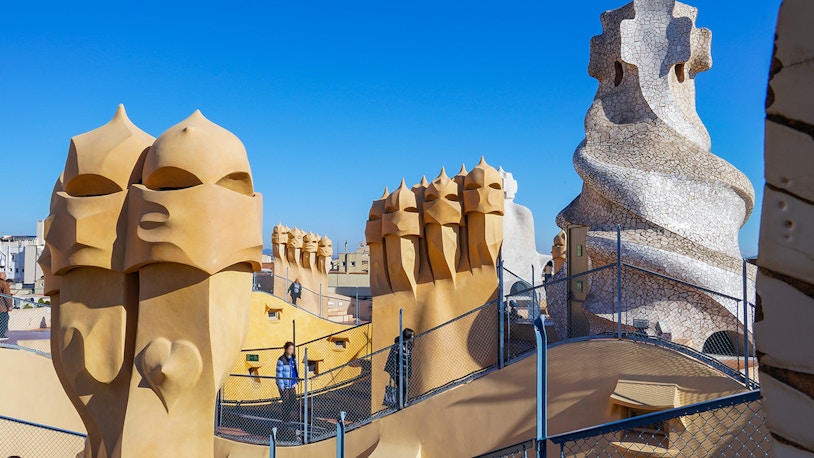 Casa Mila is vital for Barcelona's heritage. The building is proof of the city's invaluable history and architectural might, with Gaudi's work on Casa Mila kickstarting a new movement in architecture.
Thanks to its impact on buildings in Barcelona and worldwide, Casa Mila was recognised as a UNESCO World Heritage Site in 1984. The building's facade, wrought-iron balconies, and rooftop adorned with surreal chimney sculptures are a sight to behold.
Casa Mila Tickets and Tours
Frequently Asked Questions About Casa Mila in Barcelona
Casa Mila is a building crucial to Barcelona's heritage. It was designed by Antoni Gaudi and features unique architecture and layout.
Casa Mila is famous because of its unique design and its magnificent architecture that is a testament to Barcelona's rich cultural heritage..
What can I do at Casa Mila?
You can explore Casa Mila's apartments, admire its exterior, and walk the distinctive hallways.
How much are Casa Mila tickets?
Casa Mila tickets begin from €25.
Are there guided tours available at Casa Mila?
Yes. Guided tours to Casa Mila are available.
Spanish architect Antoni Gaudi designed Casa Mila.
When was Casa Mila built?
Casa Mila was built at the start of the 20th century.
How can I get to Casa Mila?
You can reach Casa Mila by bus, train, metro, and other public transport means.
What are Casa Mila's timings?
Casa Mila is open daily from 9 AM to 6:30 PM.