All You Need to Know to Plan Your Visit to Casa Mila
Contents
Casa Milà | Visitor Information At A Glance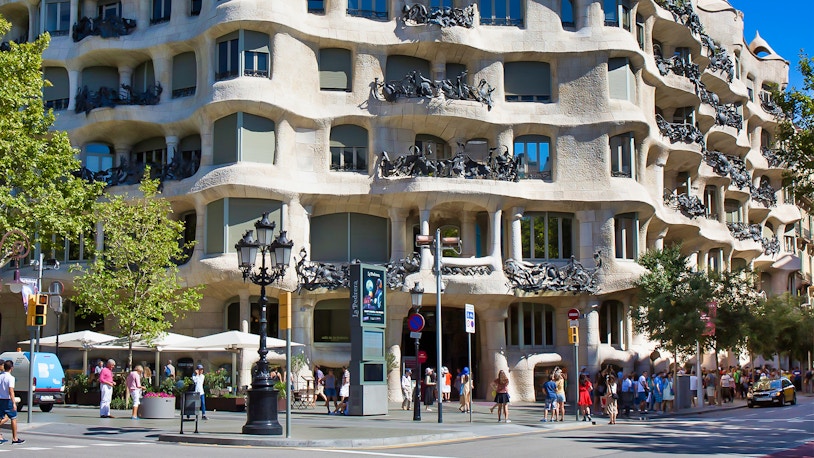 What are the Casa Milà opening hours?
Casa Milà is open from 9 AM to 11 PM every day of the week.
Where is the Casa Milà located?
The official address of Casa Milà is Pg. de Gràcia, 92, 08008 Barcelona, Spain. Find on Map.
How many entrances does the Casa Milà have?
The main entrance of Casa Milà is located at Carrer Provença, 261-265. This entrance is usually where visitors enter the building for tours and visits. Additionally, an entrance on the neighbouring street, Passeig de Gràcia, provides access to the underground parking area.
How many number visitors does the Casa Milà see per year?
About 1 million visitors come to tour Casa Milà every year.
Where is Casa Mila Located?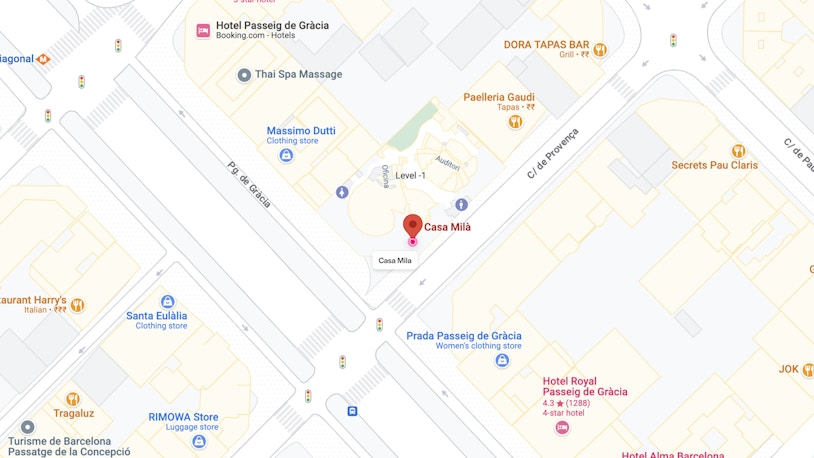 Address: Pg. de Gràcia, 92, 08008 Barcelona, Spain
Casa Milà is situated in the vibrant city of Barcelona, Spain, on the renowned street of Passeig de Gràcia.
Closest Landmark: Casa Batlló, 500 m away
Reaching Casa Mila
Getting to Casa Milà in Barcelona
By Public Transportation
Subway: The nearest metro station to Casa Milà is Diagonal, which is served by two metro lines, L3 (Green Line) and L5 (Blue Line). From there, it's just a short walk to the building.
Bus: Several bus lines have stops near Casa Milà. The most common bus lines are V15, V17, H10, H8, 7, 22, 24, 6, 33 and 34.

Renfe: Passeig de Gràcia station is the most convenient Renfe station for reaching Casa Milà. Once you arrive at the station, exit and head towards Passeig de Gràcia Avenue.
Taxi: Taxis are readily available in Barcelona and can drop you off directly in front of Casa Milà. Make sure to check if there are any additional charges for luggage or special fees for travelling during certain hours.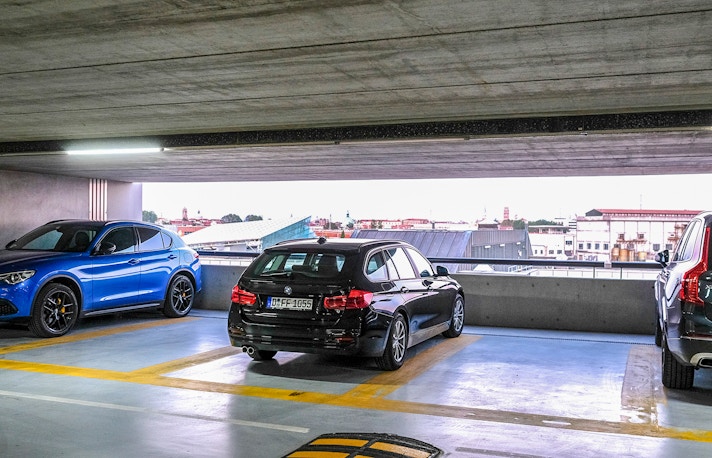 Parking Facilities
Here are some parking spots near Casa Milà:
Pàrquing Saba Bamsa Passeig de Gràcia - Mallorca: Located just a 5-minute walk from Casa Milà, this underground parking facility offers secure parking with ample spaces and convenient access to the attraction.
Parking BSM Ona Glòries: Situated approximately 18 minutes away, this parking garage provides a reliable option for visitors, offering both covered and uncovered parking spaces.
Parking Estació de Sants: Positioned around a 13-minutes away from Casa Milà, this parking facility offers parking spots and is an excellent choice.
Know Before You Go to Casa Mila
Skip the Line
Entrances
Facilities
Audio Guide
Accessibility
Shop
Dine
Stay
Nearby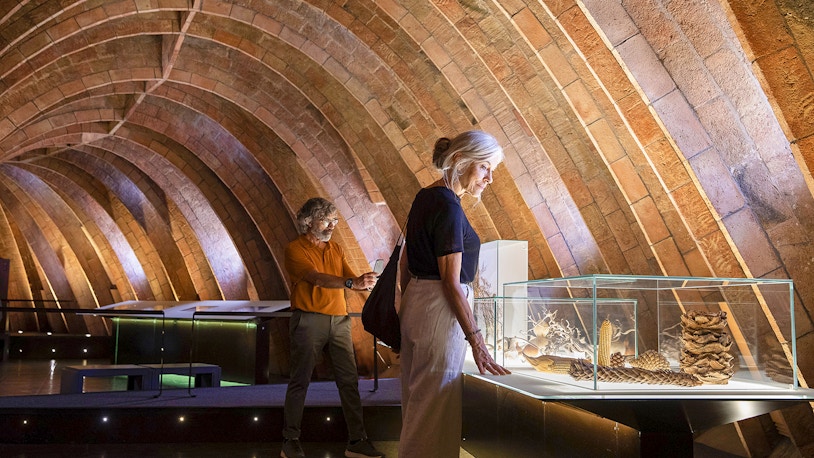 Purchase Skip-the-Line Tickets Online: Buy skip-the-line tickets in advance to enter the attraction directly, avoiding the regular ticketing line. It is advisable to book tickets ahead of time, especially during peak tourist seasons, to secure your preferred time slot and skip the wait.
Visit Early in the Morning or Late in the Afternoon: Avoid long queues by arriving early in the morning or late in the afternoon. By visiting Casa Milà during these off-peak hours, you can significantly reduce the wait time and enjoy a more relaxed experience. 
Consider a Guided Tour: Opting for a guided tour can provide an opportunity to skip the line at Casa Milà. This not only saves you time but also offers the advantage of having an expert guide who can provide insightful information about the history and architectural significance of Casa Milà.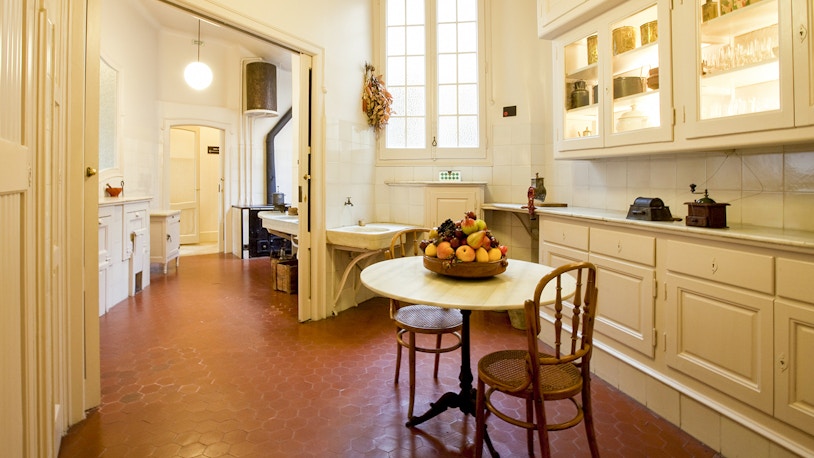 Main Entrance Gate (Carrer Provença): The main entrance gate of Casa Milà is located on Carrer Provença. This imposing gate serves as the primary access point for visitors and leads to the main entrance hall. It is a beautifully crafted ironwork gate adorned with intricate details, reflecting the unique style of Antoni Gaudí. This gate welcomes visitors into the architectural masterpiece that is Casa Milà.

Passeig de Gràcia Entrance Gate: Casa Milà also has an entry gate on Passeig de Gràcia, one of the most renowned streets in Barcelona. This gate provides access to the underground parking area, allowing visitors who arrive by car to conveniently park and enter the building. It offers a separate entrance point for those using the parking facilities.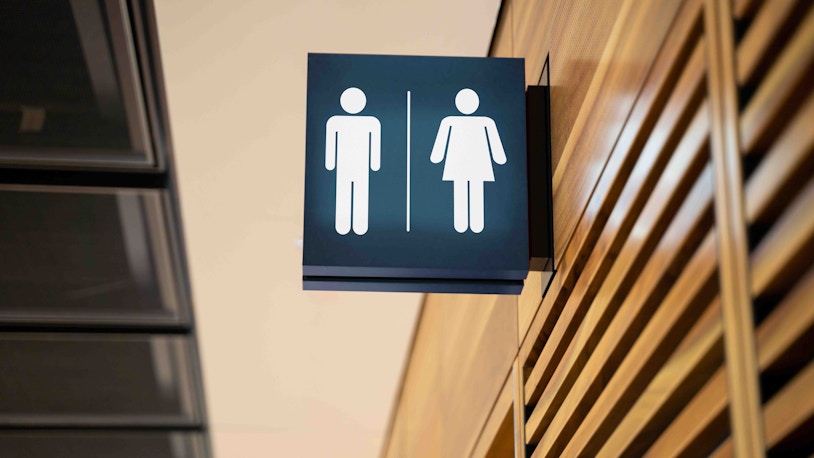 Locker rooms: There are locker rooms available where visitors can store their belongings, such as strollers, backpacks or other belongings, during their visit to Casa Milà.
Toilets: Restroom facilities are conveniently located within Casa Milà, ensuring visitors have access to clean and well-maintained facilities throughout their visit.
Wi-Fi: Casa Milà provides Wi-Fi connectivity for visitors, allowing them to stay connected and share their experiences with friends and family during their time at the attraction.
Gift Shop: Casa Milà has two gift shops where visitors can browse and purchase a variety of items related to Casa Milà, Gaudí, and Barcelona. It offers a wide range of souvenirs, books and other merchandise.
Café: Inside Casa Milà, there is a café where visitors can take a break, relax, and enjoy a selection of refreshments, including coffee, snacks, and light meals.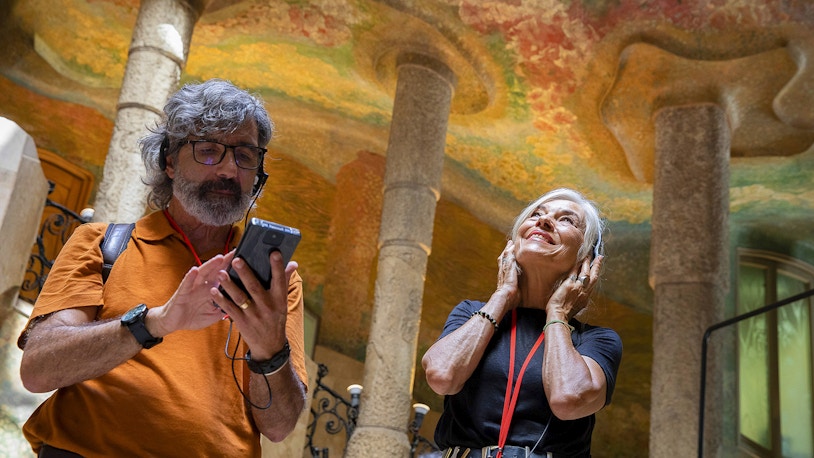 Casa Milà offers a complimentary audio guide service to enrich the visitor experience and provide in-depth insights into the history, architecture, and significance of the building. The free audio guide enhances the self-guided tour by offering informative commentary at various points of interest throughout Casa Milà.
With the free audio guide, visitors can customize their experience, spending as much time as they desire at each point of interest and listening to the commentary at their own pace. This immersive audio tour allows visitors to delve deeper into Casa Milà's history and appreciate the intricate details of the building's design, creating a more engaging and informative visit.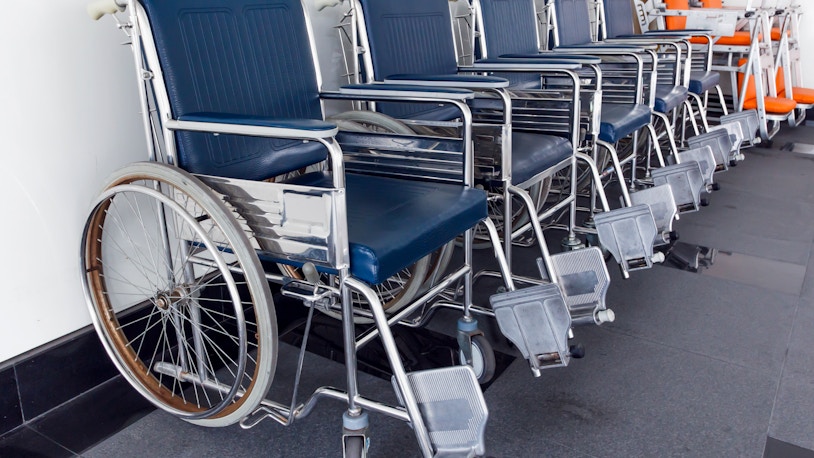 Elevators: Casa Milà is equipped with elevators to ensure easy accessibility for visitors to navigate between different levels of the building, accommodating individuals with mobility challenges.
Ramps: In addition to elevators, Casa Milà features ramps throughout the building, providing smooth access for wheelchair users and people with strollers or mobility aids.
Adapted toilets: Casa Milà offers adapted toilets that are designed to meet the needs of visitors with disabilities, providing accessibility and convenience.
Wheelchair loan service: For visitors who require a wheelchair during their visit, Casa Milà provides a wheelchair loan service, allowing them to explore the attraction comfortably.
Tactile spaces: Casa Milà incorporates tactile spaces that enhance the experience for visitors with visual impairments. These spaces allow tactile exploration and engagement with the architectural features, adding a multisensory dimension to the visit.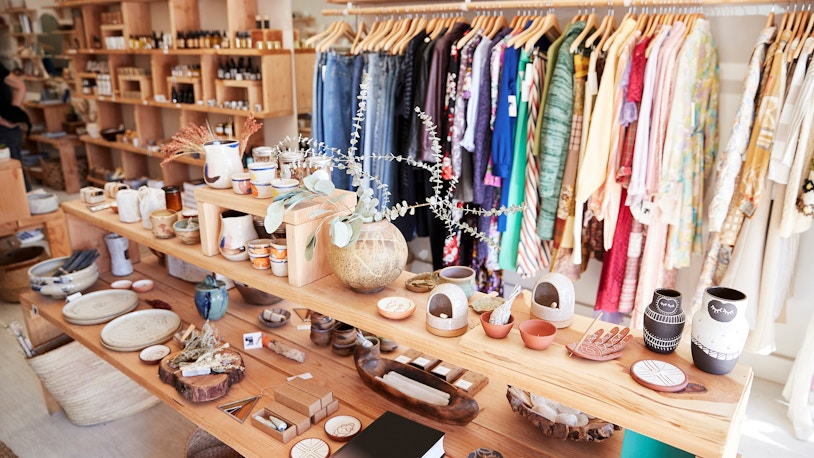 La Pedrera Gift Shop: Located within the building, the La Pedrera Shop is a spacious and well-curated boutique that showcases a diverse selection of merchandise. Find handcrafted items, jewelry, and decorative objects inspired by Gaudí's distinctive style, providing a chance to take home a piece of Casa Milà's artistic legacy.

Vintage Shop: The vintage shop at Casa Milà takes visitors on a journey through time with its collection of antique pieces and art nouveau-style items. The shop showcases a carefully curated selection of vintage treasures, including decorative objects, furniture, ceramics, and other unique artifacts that reflect the spirit of the early 20th century.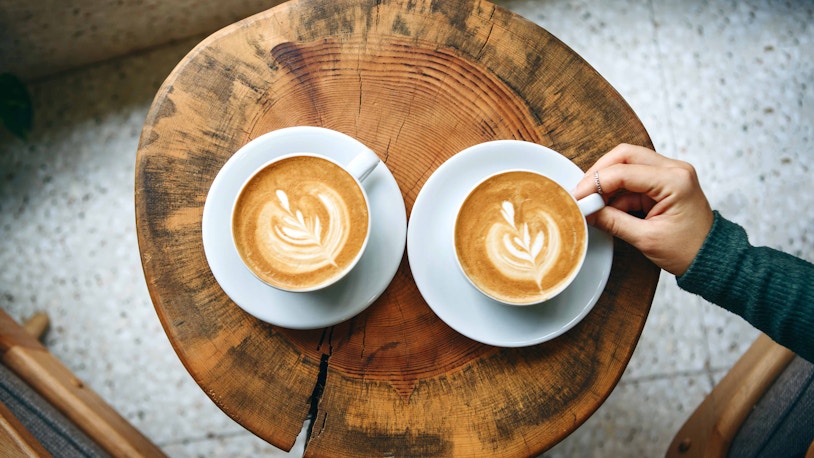 Cafè de La Pedrera: Situated within the premises of Casa Milà, the café provides visitors with a delightful space to relax, unwind, and enjoy a variety of refreshments. It offers a tranquil retreat where visitors can refuel and savor the moment amidst the architectural splendor of Antoni Gaudí's masterpiece.

Restaurants in Casa Mila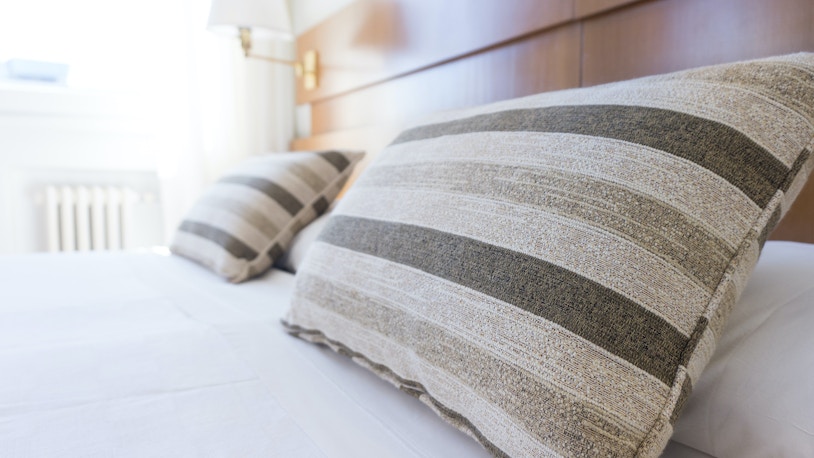 Budget - Generator Barcelona, 600 m away | Hotel Actual Boutique, 200 m away | Casa Gràcia, 350 m away
Mid-Range - Hotel Amèrica Barcelona, 600 m away | Allegro Barcelona, 650 m away | Seventy Barcelona, 450 m away
Luxury - Hotel Claris, 450 m away | H10 Casa Mimosa, 190 m away | Hotel Condes de Barcelona, 210 m away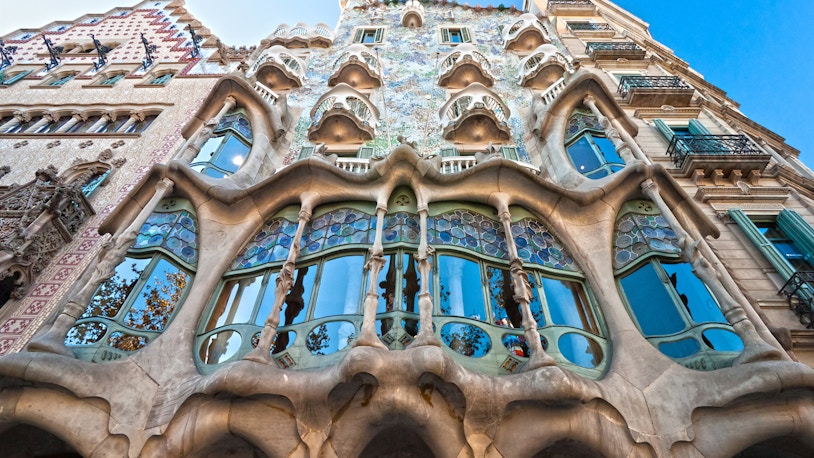 Sagrada Família: Just a short distance from Casa Milà, the Sagrada Família stands as one of Barcelona's most iconic landmarks. Designed by Antoni Gaudí, this magnificent basilica is renowned for its awe-inspiring architecture, intricate details, and symbolic elements.
Casa Batlló: Another architectural gem by Antoni Gaudí, Casa Batlló is a stunning building located within walking distance of Casa Milà. Its unique design, characterized by colorful façades and organic shapes, captures the imagination of visitors.
Passeig de Gràcia: A famous boulevard in Barcelona, Passeig de Gràcia is a shopper's paradise and a hub of modernist architecture. Along this avenue, you'll find luxury boutiques, renowned fashion brands, and stylish cafes.
Park Güell: Located a short distance from Casa Milà, Park Güell is a UNESCO World Heritage site and another masterpiece by Antoni Gaudí. This public park showcases Gaudí's distinctive style with its colorful tile work, undulating structures, and whimsical designs.
Frequently Asked Questions About Visiting Casa Mila
What are the Casa Milà opening hours?
Casa Milà is open all days of the week from 9:00 AM to 11:00 PM. 
What is the best time to visit Casa Milà?
The best time to visit Casa Milà, also known as La Pedrera, is on weekdays to avoid larger crowds. Early mornings or late afternoons offer a more serene experience. Consider visiting during shoulder seasons like spring or autumn to avoid peak tourist times. Keep an eye out for special events and exhibitions happening during your visit. Purchasing tickets in advance and considering skip-the-line options can enhance your experience.

How much time does it take to visit Casa Milà?
The amount of time required to visit Casa Milà can vary depending on your level of interest and exploration. On average, visitors typically spend around 1.5 to 2 hours exploring the attraction. 

Can I enter the Casa Milà once I exit?
Yes, Casa Milà allows visitors to re-enter the attraction after exiting. Simply ensure that you have your valid admission ticket or pass with you.

Where is Casa Milà located?
The official address of Casa Milà is Pg. de Gràcia, 92, 08008 Barcelona, Spain. Find it on Map.

Is Casa Milà wheelchair accessible?
Yes, Casa Milà is wheelchair accessible.

What are some of the accessibility features in place at Casa Milà?
Casa Milà offers elevators for easy movement between levels, ramps to facilitate wheelchair access, adapted toilets for convenience, wheelchair loan service for visitors and tactile spaces for those with visual impairments.
Is there a dress code to be followed at Casa Milà?
No, there is no dress code at Casa Milà.
Are prams allowed in Casa Milà?
No, prams/strollers must be left at the entrance. You can carry a baby carrier backpack inside.
Is photography permitted inside Casa Milà?
Photography for personal use is allowed inside Casa Milà. However, professional shoots are prohibited.
Can I bring food and drinks to Casa Milà?
No, eating and drinking inside Casa Milà is not allowed. There is a cafe inside where you can dine.