The History of Casa Batllo
Barcelona is known for its iconic architecture. These structures are the reason why millions of tourists throng the city every year. One of these buildings is Casa Batllo, located in the center of the city and designed by the revered Catalan genius, Antoni Gaudí. 
Knowledge Graph
Address: Passeig de Gràcia, 43, 08007 Barcelona, Spain
Construction started: 1877
Architects: Antoni Gaudí, Josep Maria Jujol, Joan Rubió
Architectural styles: Modernisme, Modern architecture, Expressionist architecture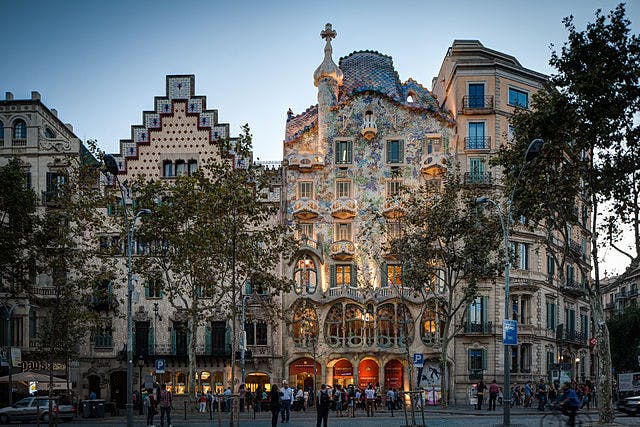 Casa Batllo History
Casa Batllo was built in 1877 when it was commissioned by Lluís Sala Sánchez. The building began as a normal structure with no distinguishing features. It had a basement and a total of five floors above it. The estate also included a garden. Later on in the 1900s, a wealthy textile industrialist named Josep Batlló decided to spend his fortune acquiring real estate in the prestigious and fashionable Passeig de Gracia neighborhood of the city. He bought the building commissioned by Sánchez and then asked Gaudi to help them renovate the building. 
Batllo wanted a house that was unlike any other so he instructed Gaudi to go out of his way and come up with a new plan. The Batllo family was distinguished in the city and many of the famed structures in the city at that time belonged to the family. Josep Batllo wanted to stand out in terms of the property he owned. Antoni Gaudi, as such, began one of the most stunning works of renovation. The entire process was completed in 1906. Josep Batllo stayed at the Casa Batllo until his death in 1934. The house was then managed by his wife. Once she passed away in 1940, the house was under the care of the Batllo children until 1954.