Casa Batllo History | The Story of Casa Batllo in Barcelona
Contents
Barcelona is known for its iconic architecture. These structures are the reason why millions of tourists throng the city every year. One of these buildings is Casa Batllo, located in the center of the city and designed by the revered Catalan genius, Antoni Gaudí. 
Casa Batllo Timeline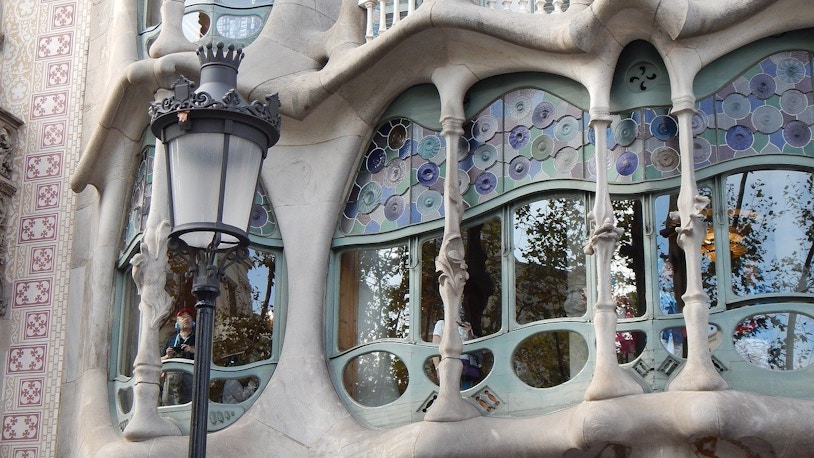 1877:  The original building is constructed
1903: The building is bought by Josep Batlló
1904: Batlló hires Gaudí 
1934: Josep Batlló dies
1954: Insurance company Seguros Iberia acquires Casa Batlló
1970: First refurbishment
1993: Current owners purchase the house
2005: Casa Batlló becomes a UNESCO World Heritage Site
About Casa Batllo
Casa Batllo History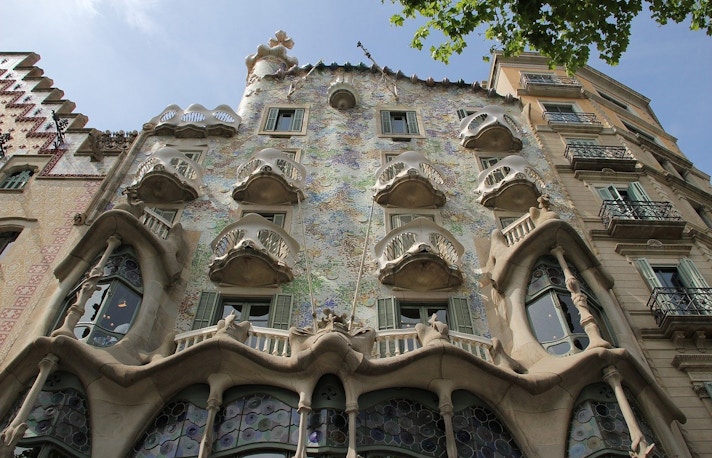 Paseo de Gracia
The transformation of Paseo de Gracia in Barcelona's Eixample or Expansion District plays an extremely important role in the development of Casa Batllo. Until 1827, Passeig de Gràcia was known as Camí de Jesús (Jesus Road) and was a quasi-rural lane that connected Barcelona with the neighboring town of Gràcia. In 1824, as part of an urbanization project, this lane was converted into an avenue that became a favorite hanging spot for aristocrats. Modernista/Art Nouveau architects began designing homes here. It was around this time that Josep Batlló y Casanovas, a prominent businessman, bought the Casa Batllo building from Lluís Sala Sánchez. Today, Passeig de Gràcia is considered to be one of the most expensive streets in Barcelona and in Spain.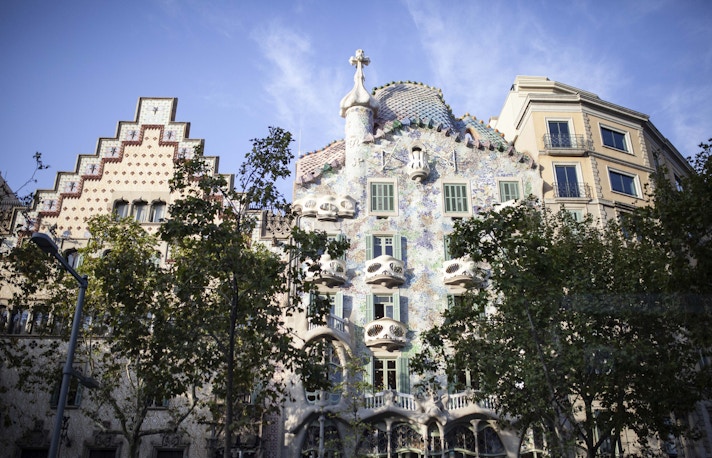 Initial Construction
In 1877, Casa Batllo, in its original form, was constructed by Emilio Sala Cortés, who was one of Gaudí's architecture professors. At this point, Barcelona still did not enjoy electric light. The building has been commissioned by Lluís Sala Sánchez. The original building was quite unoriginal. It was a classical building with a basement, a ground floor, four other floors, and a garden in the back. However, one can say that the building's dullness became its saving grace. Batllo bought the building, despite its undesirable design, because of its prime location. A few years later, Battlo called Gaudi to transform this lackluster house into something that would be able to match the spectacular nature of the neighboring building, Casa Amatller, which has been designed by Puig i Cadafalch.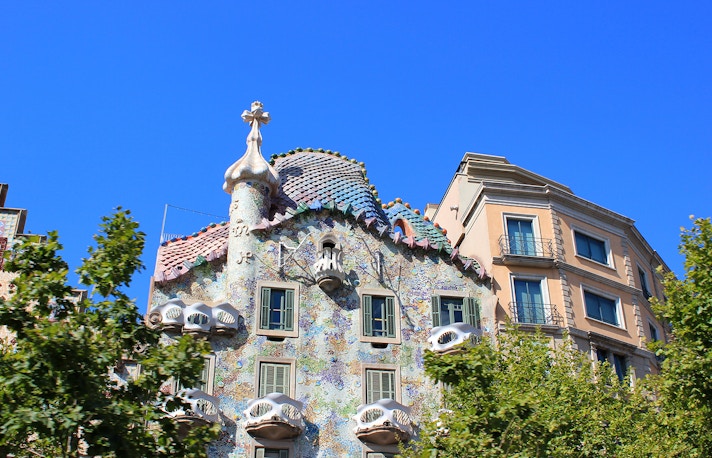 Renovation
Josep Batlló's initial plan was to demolish the original house and build a new one entirely. However, Gaudi, to whom Josef granted complete creative freedom, was convinced that a renovation was all the house needed. Between 1904 and 1906, Gaudi set about transforming the house into the Casa Batllo we all know today. The main apartment became the Noble Hall, where the Batllo family resided. He expanded the Patio of Lights to create a double courtyard that allowed light and ventilation throughout the house. He also had a few floors added. And of course, he added the facade, which completely changed the way the house looked. However, amidst all the redesigning, Gaudi never lost sight of the purpose of the house, which is why all throughout you will find functionality and aesthetics coexisting with each other.
Inside Casa Batllo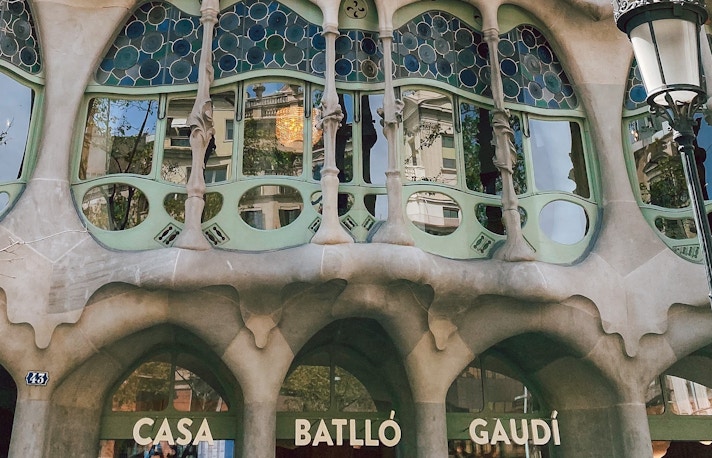 Restoration
Josep Batlló died in 1934 and 6 years later, his wife too passed. The Batllo children managed the house until 1954 when an insurance company set up offices here. During these years, the house went through some refurbishments. In 1970, several interior rooms were revamped and in 1983, the exterior balconies were restored to their original color. In 1993, the current owners of Casa Batlló bought the home, and it went through another set of reformations. In 2001, a couple of years after it was named a UNESCO World Heritage Site, the restoration and maintenance efforts began. 18 years later, from February to May 2019, professionals from 7 different fields came together to check the work that had been carried out. Apart from cleaning, restoring, and putting conservation techniques in place, they also discovered and restored the original authentic skin of the house.
About Casa Batllo
All Your Questions About Casa Batllo History Answered
Q. When was Casa Batllo built?
A.  While the original building was built in 1877 by Emilio Sala Cortés. It was renovated by Antoni Gaudi between 1904 and 1906.
Q. Where is Casa Batllo located?
A. Casa Batllo is located at Passeig de Gràcia, 43, 08007 Barcelona, España.
Q. Are Casa Batllo tickets available online?
Yes, Casa Batllo tickets are available online. You can buy them here.
Q. Who designed Casa Batllo?
A. Casa Battlo was designed by Antoni Gaudi.
Q. How many years did it take to renovate the original Casa Batllo building?
A. Gaudi renovated the house between 1904 to 1906, giving him about two years to create the Casa Batllo we know today.
Q. What is Casa Battlo famous for?
A. Casa Batlló is a UNESCO World Heritage site. Designed by Antoni Gaudi, the building is a must-visit attraction for anyone who wishes to understand and marvel at Gaudí's work.
Q. Who lived in Casa Batllo?
A. The Batllo family lived in the house between 1900 to 1954.
Q. Who currently resides at Casa Batllo?
A. No one currently resides at Casa Battlo. Today, it is acts as a tourist attraction for those who wish to understand Gaudi's genius. It also acts as a venue for events.
Q. What are the other prominent buildings on Passeig de Gracia?
A. The other four prominent structures on Passeig de Gracia are Casa Amatller by  Josep Puig i Cadafalch, Casa Lleó Morera by Lluís Domènech i Montaner, Casa Mulleras by Enric Sagnier and Casa Josefina Bonet by Marcel-li Coquillat.
Q. How did Casa Batllo earn its name?
A. Casa Batllo quite literally translates to 'House of Batllo', which makes sense since the house went through the transformations that made it the cultural asset it is today after Josef Batllo purchased the house. It is also locally called Casa dels ossos (House of Bones), because of the bone-like structure of the house.
Q. How old is Casa Batllo?
A. The original building was constructed in 1877, which makes Casa Batllo 144 years old. However, it has been only 115 years since Gaudi renovated the house.
Q. Is Casa Batllo a museum?
Yes, today, Casa Batllo is open to visitors for cultural visits so that they can learn about and admire Antoni Gaudi's genius.
Q. What is the architectural style of Casa Batllo?
A. Casa Batllo is designed in the style of Modernisme or Art Nouveau.
Q. When was Casa Batllo completed?
A. Gaudi completed his work on Casa Batllo between 1904 and 1906.