Bask in the Glory of Gaudí's Casa Vicens: A Paradigm of Artistic Brilliance
Contents
Quick Facts about Gaudi Casa Vicens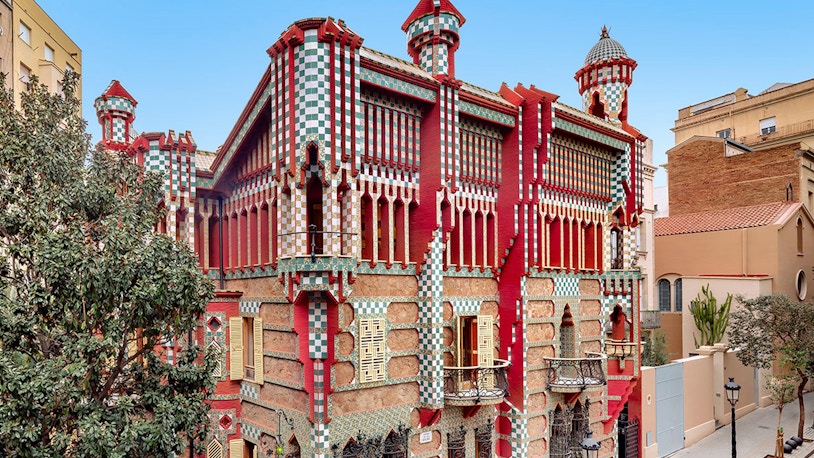 Official name: Casa Vicens 
Address: Carrer de les Carolines, 20, 08012 Barcelona, Spain 
Date of opening: 1888 
Timings: 10am - 8pm (Closed on Mondays) 
Architect: Antoni Gaudi 
Architectural style: Art Nouveau 
UNESCO World Heritage Site: Yes (Declared in 2005) 
Number of visitors per year: Around 150,000 visitors per year
Function: Historical landmark and museum
Why Visit the Gaudi Casa Vicens?
Architectural Marvel: Immerse yourself in the visionary world of Gaudi as you marvel at Casa Vicens' vibrant facade adorned with captivating ceramic tiles.
Gaudi's First Residential Project: Witness the birthplace of Gaudi's genius, where his innovative style began to take shape, setting the stage for his iconic masterpieces.
Intricate Interiors: Step inside to discover a treasure trove of meticulously crafted details, from sculptural columns to mesmerizing stained glass windows.
Time Capsule of History: Experience the atmosphere of a bygone era as you explore the original furniture and decorative elements that have been preserved within the house.
UNESCO World Heritage Site: Delight in the fact that you're visiting a place of exceptional cultural value recognized by UNESCO, a testament to its architectural significance.
Inspiring Creativity: Let Casa Vicens ignite your own creative spirit as you soak in the imaginative fusion of architectural influences that make this house truly unique.
Architectural Evolution: Trace Gaudi's journey from Casa Vicens to his later masterpieces, appreciating the development of his style and concepts.
Plan Your Visit to Casa Vicens
Opening Hours
Location
Nearby Attractions
Monday: 10:00 AM - 3:00 PM
Last admission: 1:40 PM
Tuesday - Sunday : 10:00 AM to 7:00 PM
Last admission: 5:40 PM
Best Time to Visit
The best time to visit Casa Vicens is during spring and autumn (April to June, September to October) when the weather is mild, crowds are smaller, and the gardens are in full bloom. These seasons offer comfortable temperatures, enhanced architectural details with soft lighting, and a chance to experience Barcelona's cultural events.
Detailed Opening Hours for Casa Vicens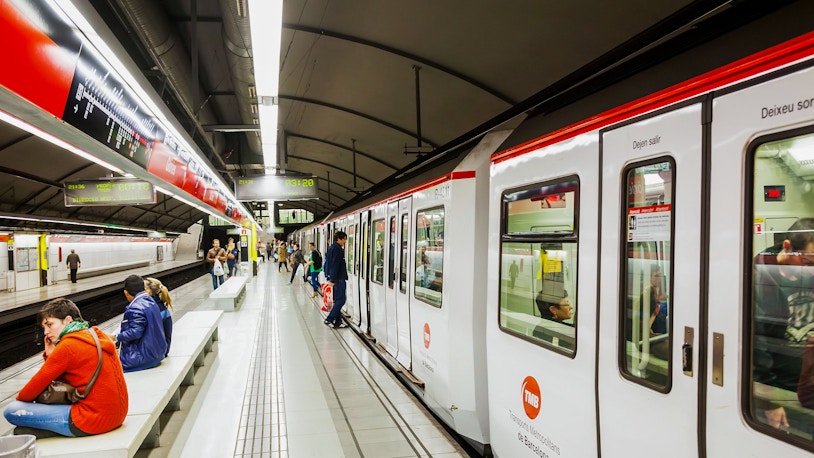 Address: Carrer de les Carolines, 20-26, 08012 Barcelona, Spain
Getting There
Metro: You can take the metro to reach Casa Vicens. The closest metro station is "Fontana" on the Green Line (L3). From there, it's just a short walk to the attraction.
Bus: The bus lines V17, 22, 24, 27, 32, H6, and N4 all have stops within walking distance of the attraction. Get off at Gracia-Av. Vallcarca stop.
Taxi: Taxis and ride-sharing services like Uber or Cabify are readily available in Barcelona. Simply input Casa Vicens as your destination, and the driver will take you directly to the attraction.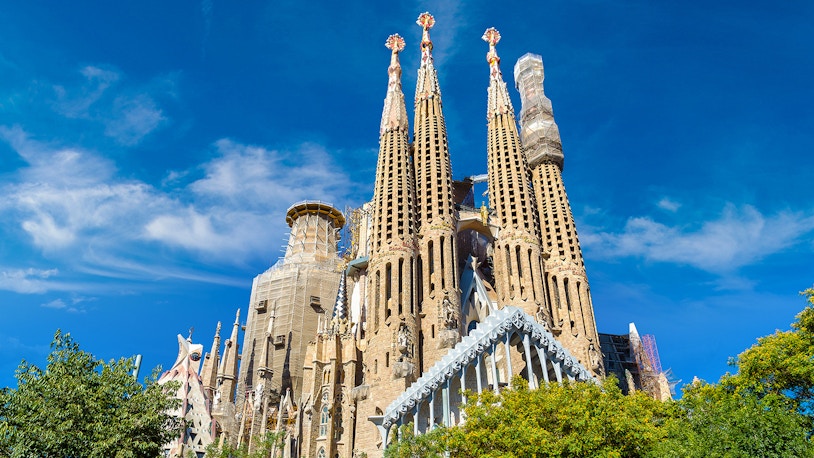 Park Güell: Another iconic creation by Gaudi, this whimsical park is a UNESCO World Heritage site and offers stunning views of the city along with Gaudi's distinctive architecture.
La Sagrada Familia: The awe-inspiring Basilica of the Sagrada Familia is a must-visit. This magnificent unfinished masterpiece by Gaudi showcases breathtaking design and intricate details.
Gràcia Neighborhood: Explore the narrow streets of charming Gràcia neighborhood, lively squares, and trendy boutiques. Don't miss Plaça del Sol, known for its vibrant atmosphere and outdoor cafes.
Casa Milà (La Pedrera): Another architectural gem by Gaudi, Casa Mila, a modernist building features a unique undulating facade and hosts exhibitions, cultural events, and a rooftop with panoramic views.
Passeig de Gràcia: A renowned shopping street, Passeig de Gràcia offers a mix of upscale boutiques, designer stores, and striking modernist buildings.
Things to do at Gaudi Casa Vicens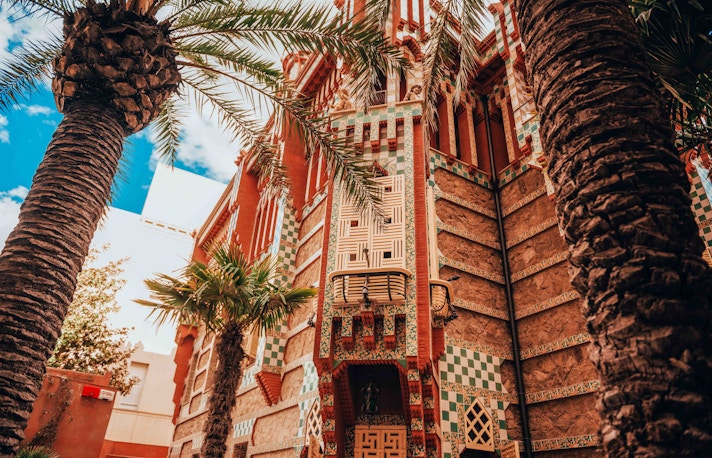 Explore the Vibrant Facade
Admire the colorful ceramic tiles and intricate details of Casa Vicens' exterior, capturing the essence of Gaudi's visionary style. Take a self-guided or a professionally guided tour of the building and admire the stunning architecture of Casa Vicens.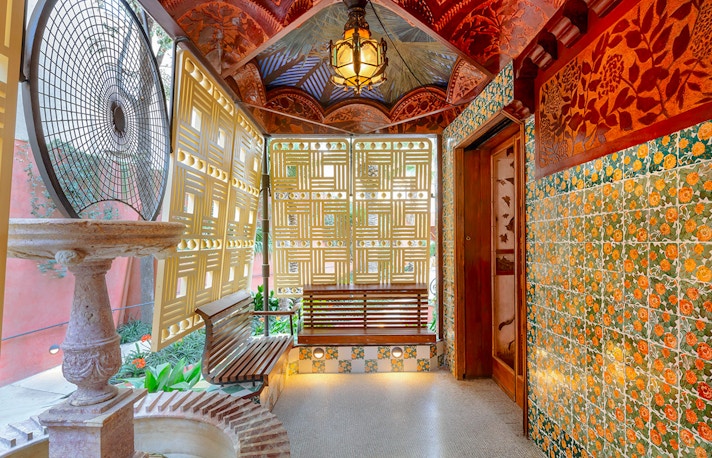 Marvel at the Interior Spaces
Step inside and wander through the rooms, where you'll find a fascinating blend of architectural influences, from Moorish to Gothic, with each space offering its own unique charm.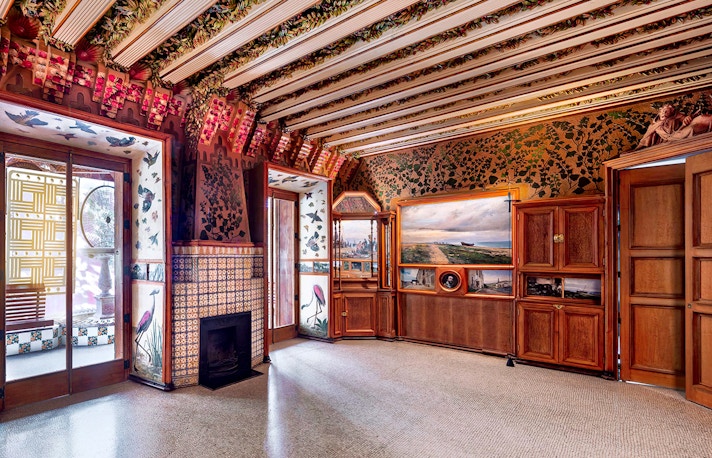 Admire the Furniture & Windows
Take in the mesmerizing beauty of the stained glass windows that adorn Casa Vicens, casting vibrant colors and creating a magical ambiance. Appreciate the preserved original furniture pieces that reflect the era and style in which Casa Vicens was built.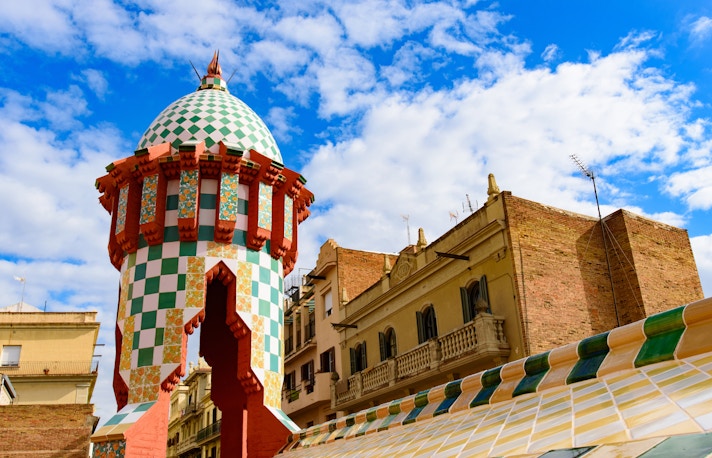 Learn about Gaudí's Early Work
Gain insight into Gaudi's architectural evolution as you explore Casa Vicens, his first major residential project, and witness the seeds of his genius that would later bloom in his iconic creations.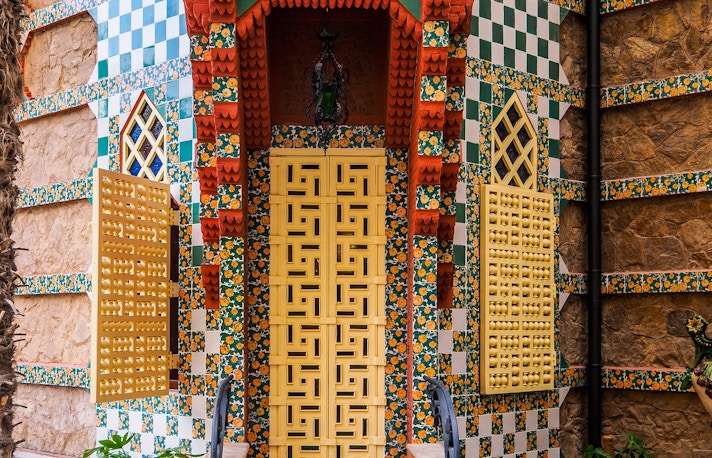 Engage with Interactive Exhibits
Casa Vicens offers interactive exhibits and multimedia presentations that delve into Gaudi's design process, providing a deeper understanding of his creative vision and the historical context of the house.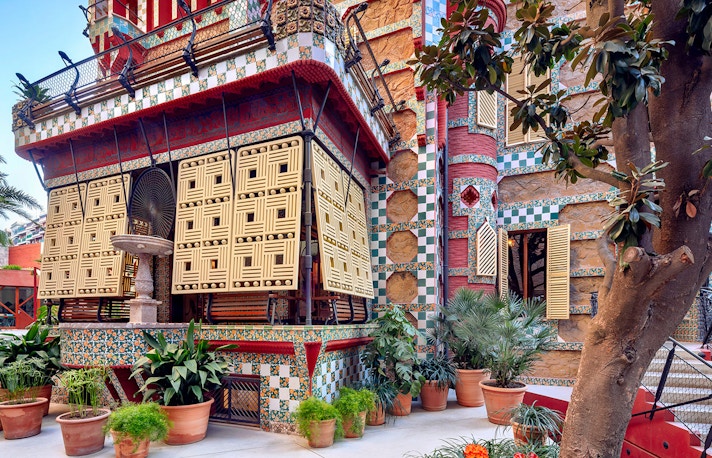 Enjoy the Surrounding Gardens
Take a leisurely stroll through the charming gardens surrounding Casa Vicens, where you can relax amidst the greenery and appreciate the harmonious integration of nature and architecture.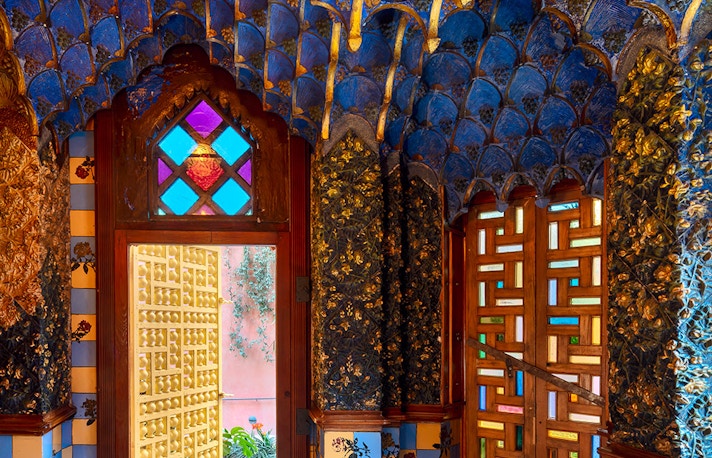 Capture Memorable Photos
With its stunning architecture and vibrant colors, Casa Vicens presents countless photo opportunities. Don't forget to snap some memorable shots to commemorate your visit.
Who Built Palazzo Vecchio?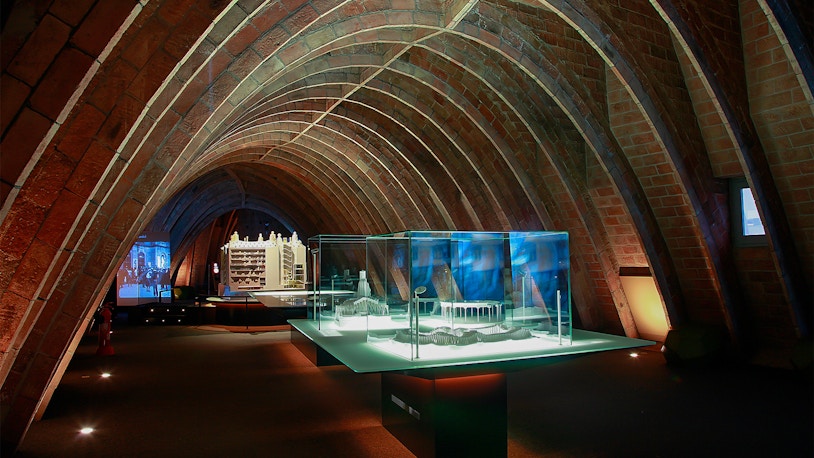 Casa Vicens was brought to life by the visionary architect Antoni Gaudi. His innovative ideas and distinctive architectural style have left an indelible mark on Barcelona's landscape. Gaudi's other notable works include the awe-inspiring Sagrada Familia, whimsical Park Güell, and the undulating Casa Milà (La Pedrera). His unique approach fused various architectural influences, resulting in the creation of mesmerizing spaces that continue to inspire and captivate visitors today.
Fun Fact: Gaudi's brilliance has transcended time and entered pop culture. You might recognize his work from movies like "Vicky Cristina Barcelona," where Casa Vicens made a cameo appearance, adding a touch of architectural allure to the big screen.
Architecture of Casa Vicens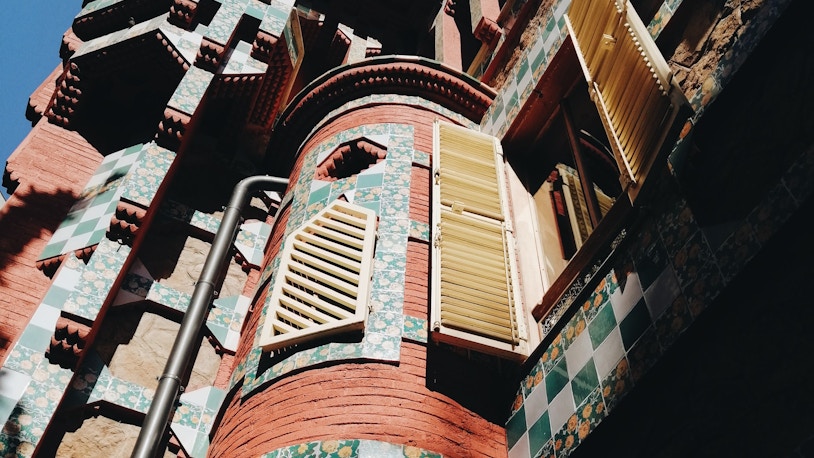 The architectural style of Casa Vicens is a captivating fusion of Moorish, Gothic, and Oriental elements, showcasing Gaudi's innovative approach. The exterior is adorned with vibrant ceramic tiles, reflecting Gaudi's meticulous attention to detail.
Inside, you'll discover a harmonious blend of spaces, characterized by sculptural columns, intricate stained glass windows, and carefully designed furniture. Gaudi's intention was to create a captivating and immersive experience, where every element, from floor to ceiling, was a work of art.
Fun Fact: The construction of Casa Vicens utilized various materials, including brick, stone, and iron, combining them with Gaudi's artistic vision. It's fascinating to note that the house was once adorned with real seashells, adding an element of whimsy to the design.
More about Casa Vicens architecture
Book Casa Vicens Tickets
Combo (Save 5%): Casa Vicens + Casa Batlló Tickets
More details
Frequently Asked Questions about Gaudi Casa Vicens
How long should I spend at Casa Vicens?
Plan for approximately 1 to 1.5 hours to fully explore Casa Vicens and immerse yourself in its architectural wonders.
Is it worth visiting Casa Vicens?
Absolutely! Casa Vicens is a hidden gem that showcases Gaudi's genius and offers a unique glimpse into his early works. It's a must-visit for architecture enthusiasts and those seeking artistic inspiration.
Where is Casa Vicens located?
Casa Vicens is located in the Gràcia neighborhood of Barcelona, Spain. Its specific address is Carrer de les Carolines, 24, 08012 Barcelona.
What is the main purpose of Casa Vicens?
Casa Vicens was originally designed as a summer residence for the Vicens family. Today, its main purpose is to provide visitors with a captivating cultural experience, celebrating Gaudi's architectural legacy.
Can I buy tickets on-site or should I book in advance?
It's recommended to book your tickets online in advance, especially during peak seasons, to secure your entry and save time. However, limited tickets may be available for purchase on-site.
Are guided tours available at Casa Vicens?
Yes, guided tours are available and highly recommended to gain deeper insights into the history, architecture, and significance of Casa Vicens. Knowledgeable guides bring the space to life with fascinating stories.
Is Casa Vicens suitable for children?
While Casa Vicens may not have specific activities for children, its unique architecture and colorful design can capture their imagination. It's a family-friendly attraction, but keep in mind that young children should be supervised.
Can I take photos inside Casa Vicens?
Yes, photography is permitted inside Casa Vicens. Capture the intricate details, vibrant colors, and stunning architecture to preserve your memories of this extraordinary place.
Is Casa Vicens accessible for individuals with mobility issues?
Casa Vicens has made efforts to provide accessibility, with an elevator and ramps in certain areas. However, due to the historic nature of the building, some sections may have limited accessibility.