Casa Vicens Location & Entrances | Your Gateway to Barcelona's Architectural Gem
Contents
Nestled in the Gracia district of Barcelona, the Casa Vicens location invites visitors to discover its architectural splendor and immerse themselves in its rich history. It was designed by the renowned architect Antoni Gaudí and built between 1883 and 1885. Today, the building is a UNESCO World Heritage Site and is open to visitors from around the world. The different entrances to the building offer various options to suit your needs and preferences.
Where is Casa Vicens?
Address: Carrer de les Carolines, 20, 08012 Barcelona, Spain
Casa Vicens is situated in the prestigious neighborhood of Gràcia, Barcelona. Just a short distance away, you'll find the iconic Park Güell, another masterpiece by Antoni Gaudí. The area is known for its charming streets, bustling cafes, and unique boutiques, offering visitors a delightful blend of culture and leisure.
Closest landmark: Park Güell - 2.4 kilometers away.
Casa Vicens Entrance Explained
Main Entrance
The main entrance to Casa Vicens is located directly on Carrer de les Carolines. This entrance is open to all visitors and provides access to the main areas of Casa Vicens.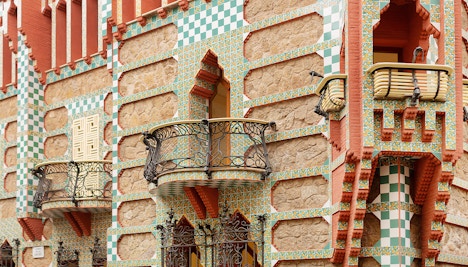 How to Reach
To reach Casa Vicens in Barcelona, there are several convenient transportation options available. It is advisable to use public transport as private vehicle commutes may be restricted in the area due to traffic regulations and limited parking availability.
By Metro: Take the Green Line (L3) or Blue Line (L5) and get off at the Fontana metro station. From there, Casa Vicens is just a short 10-minute walk away.
By Bus: Bus routes H6, 22, 27, 32, 87, and 114 stop near Casa Vicens. You can check the local bus schedules and plan your journey accordingly.
By Taxi: Taxis are readily available throughout Barcelona. You can hail a taxi from anywhere in the city, and the average fare to Casa Vicens is approximately €12 to €15.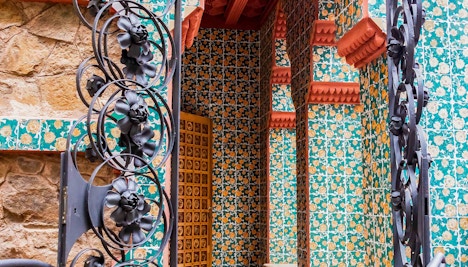 Timings
The main entrance follows the same opening and closing timings as Casa Vicens.
General Timings from From April - October 2023
Monday - Sunday: 10:00 AM to 8:00 PM
General Timings from November 2023 - March 2024:
Monday: 10:00 AM to 3:00 PM
Tuesday - Sunday: 10:00 AM - 7:00 PM
The place remains inaccessible on December 25, 2023 and January 6, 2024.
Detailed Casa Vicens Opening hours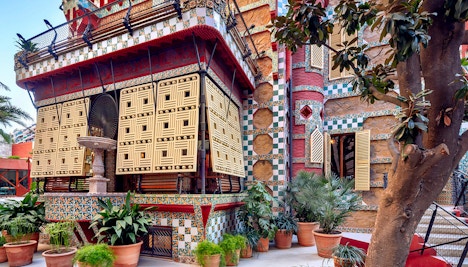 Average Wait Time
The wait time at the main entrance can vary depending on the time of day and season. If you have a reservation, the wait time is typically minimal, around three minutes. However, if you don't have a reservation, it could take approximately 30 minutes to enter Casa Vicens via this entrance.
Explore more about Casa Vicens
Book Casa Vicens Tickets
Combo (Save 5%): Casa Vicens + Casa Batlló Tickets
More details
Frequently Asked Questions about Casa Vicens
How many Casa Vicens entrances are there?
Casa Vicens has two entrances: the main entrance and an accessible entrance for visitors with disabilities.
What is the average wait time at the Casa Vicens entrance?
The wait time at Casa Vicens entrance can vary, but with a reservation, the average wait is typically around three minutes.
Which Casa Vicens entrance do skip-the-line ticket holders use?
Skip-the-line ticket holders can use the main entrance of Casa Vicens to enter without waiting in the regular queue.
Which Casa Vicens entrance is used for guided tours?
Guided tours usually enter Casa Vicens through the main entrance, where the tour starts.
Which Casa Vicens entrance do visitors with disabilities use?
Visitors with disabilities can use the accessible entrance at Casa Vicens, which provides barrier-free access and facilities.
Which Casa Vicens entrance do I use if I have already purchased tickets?
If you have already purchased tickets, you can use either the main entrance or the accessible entrance based on your preference or accessibility needs.
Which Casa Vicens entrance should I use if I'm traveling with a group?
If you're traveling with a group, it is recommended to use the main entrance for easier coordination and entry.
How can I avoid waiting in line for a long time at Casa Vicens?
To avoid long wait times, it is advisable to purchase skip-the-line tickets in advance or visit during less crowded times, such as early mornings or weekdays.
What time should I visit Casa Vicens to avoid waiting in line?
To minimize waiting, it's recommended to visit Casa Vicens during off-peak hours, such as early morning or late afternoon, when visitor numbers are generally lower.