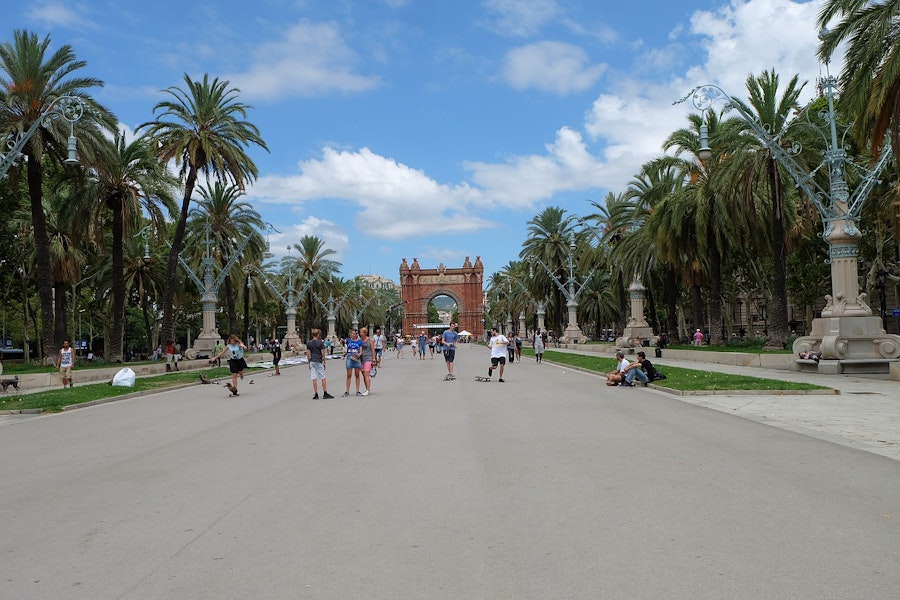 Best Time to Visit Barcelona | Barcelona Weather Through the Seasons
In Barcelona, the streets share pleasantries with the tourists! A warm and welcoming abode for the explorers and wanderers, Barcelona is full of vivacity. With elegant architecture, swinging city life and a beautiful beach - Barcelona is a perfect getaway.  Rich with culture, festivals, architecture, food, and well football, Barcelona should be a must on your bucket list. 
Don't let anything dampen your Barcelona spirit as this guide helps you plan your trip sunny side up. From your fashion choices to the activities you want to do, everything depends on the weather at the time of your vacation. Curate your perfect itinerary as you discover all about the patterns of Barcelona weather.
Seasons in Barcelona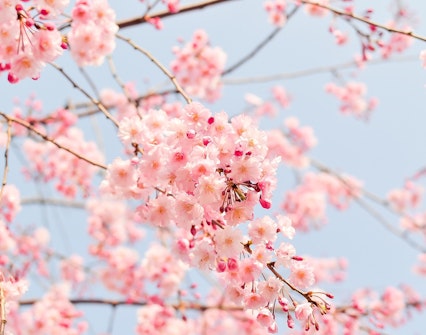 Spring
Spring in Barcelona is spread across the months of March, April, and May. With cold winds gushing and showers sprinkled here and there, Spring is the best time to visit Barcelona. 
Temperatures gradually rise towards the end of Spring, with March varying between 9-16 degrees celsius. April shows temperatures between 11 degrees to 18 degrees celsius. May is the warmest month of the three with temperatures falling under 14 degrees to 21 degrees celsius. With toasty sunny days, fresh air, and enjoyable rainfall, the balmy coastline city is very attractive in May. 
Be prepared for Barcelona Weather during spring by always carrying a thin windcheater or sweatshirt especially in March. Carry an umbrella for unexpected showers. Bring layers that can be easily donned and removed according to the demands of the weather. With late spring sunshine, May sets the perfect mood for relaxing at the beach. 
Spend your Spring in Barcelona, drinking good Cerveza (beer) and devouring food.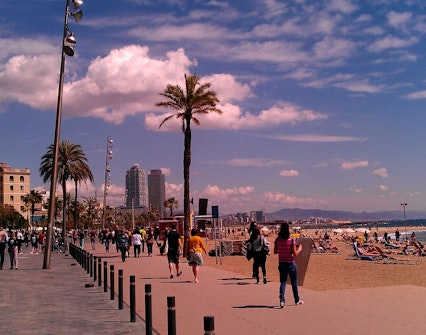 Summer 
The months of June, July, and August bring with them ample sunshine and warmth. These are the months to hit the Barcelona beaches. The heat soars up in July and August to 28 degrees Celsius. The summer months welcome tourists with less traffic and less crowd. The Barcelona calendar is marked with events that enliven the city in Summer. You can attend The Dancing Egg festival which happens around Mid-June with buildings festooned with decorations and housing dancing eggs. 
Barcelona comes alive to the sound of music in June and August. Musica Als Parcs brings free outdoor concerts in parks all over Barcelona. Other musical events also take the city by storm. 
Pack all your summer floral dresses, shorts, shirts and sandals for a comfortable trip. Keep a pullover handy for cooler nights in June. The end of August sees a lot of rain showers so always keep an umbrella. 
Grab your Horchata, the creamy drink made with Tiger Nut and a staple for summer days in Barcelona, and enjoy your vacation.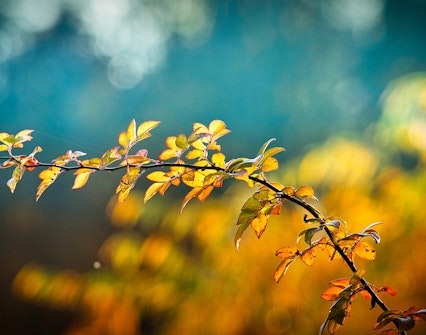 Autumn 
Autumn brings plentiful rain in Barcelona. Through September, October, and November. Temperatures fall steadily till November brings in the cold days of winter. Barcelona sees many thunderstorms during the month of September. Barcelona weather in October is the peak autumn season. Temperatures fluctuate between 25 degrees Celsius to 11 degrees Celsius. 
With kids back in school after Summer vacations, Barcelona is a delight in Autumn. The weather is perfect to enjoy Barcelonian attractions.  Autumn in Barcelona has a special place for all sports lovers. The city sees many races being organized in November and December. The Oktoberfest is also celebrated in Barcelona, full of activities, traditional food and lots of live music. 
Pack layers that can be easily put on and removed as the temperature changes. Don't forget to pack your rain essentials like raincoats, boots, and an umbrella for a visit to Barcelona in Autumn.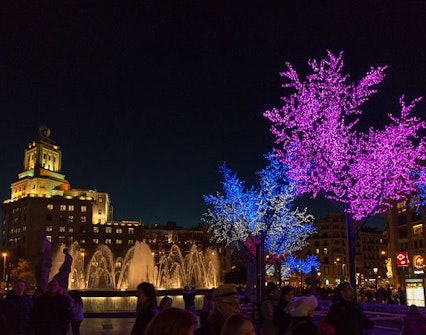 Winter 
Winter brings chilly sea air to Barcelona. December, January, and February see temperatures ranging between 6 degrees Celsius to 14 degrees Celsius. Winter means relaxing with good food for the Catalonian Capital. The city brightens up with Christmas Lighting. Winter is a beautiful time to visit Barcelona with family. Winters in Barcelona are quite comfortable as the sun still shines. 
Every Winter the Plaça de Catalunya central square converts into a giant ice skating rink. The aroma of traditional food can be smelt all over the city as Churros and Escudella de carn D'olla take over. Wintertime is the Mushroom season for Barcelona- find temping mushroom delicacies like rovellons, ceps, and chanterelles. 
Pack coats and boots for the colder days. Make space for wooly jumpers, scarves, and gloves as well.
Best Time to Visit Barcelona: Month on Month Guide
January 
Average Temperature: 7 to 14 °C
January is the coldest month in Barcelona. Pack coats to help you keep warm and cozy. January too experiences its fair share of sunshine.  The filtered sun rays will make roaming around in Barcelona a memorable experience. With fewer crowds, explore Barcelona in January with peace and leisure.
January 5 brings the whole of Barcelona together to meet the 3 Kings who parade the city leaving gifts for the children. Bring your shopping list along as city-wide sales start from 7th January. The sign Rebajas and Rebaixas are your cues to shop till you drop.
February 
Average Temperature: 10 to 15 °C
With bright sun and grey clouds, Barcelona in February is a treat. The city is filled with hula as festivities take it by storm. Pack yourself with scarves, jackets, and umbrellas to be a part of Barcelona Carnival.
Ring in a New Year surrounded Chinese traditions and lore. Chinese New Year is a colorful event with dragons and lions celebrate every year at the Arc De Triomf. 
Exploring the markets, architecture, and landmarks of Barcelona is a lot more charming in the month of February. The parks of Barcelona seem very welcoming in the February weather. Spend your Valentine's nestled in the winter warmth of Barcelona with barbequed onions. 
March
Average Temperature: 15 to 20 °C
As winter gives way to Spring, in March, Barcelona prepares to host tourists from all over the world. The city calls upon every beer fan to attend its Barcelona Beer Festival which has over samples of 450 beer brands. 
Early March sees the arrival of the Rally of Vintage Cars. Coastal roadways are adorned with luxury cars racing alongside each other.  Easter Celebrations add a spark of vivacity to the city. Celebrations are high in various pubs and nightclubs of Barcelona as the city celebrates St. Patrick's Day on 17th March. The weather in March makes it the best time for going on picnics.
April 
Average Temperature: 12 to 18 °C
With winters officially over for the Catalonian Capital, tourists can enjoy sunny days exploring Barcelona in April. The season brings refreshing showers to the city. 
Mid-April is a time when all the geeks unite to attend the Comic Convention in Barcelona. An ode to all things nerdy, Barcelona invites authors, publishers and other artists to share their work. With music festivals, carnivals, late nights and sunny days - Barcelona in April is a very pretty sight. 
May 
Average Temperature: 16 to 22 °C
One of the best months to tour Barcelona, May brings the bright and sunny days. The balmy days of May bring the beach days to Barcelona. The calendar is packed with big events like the F1 Grand Prix and Primavera Sound Festival. 
With flowers in full bloom, Gardens in May are exceptionally beautiful. In Spring you can also enjoy a trip to the vineyard and create your bottle of Cava - an infamous local drink. Celebrate International Museums Day on 18th May with museums open till late at night. 
June 
Average Temperature: 22 to 32 °C
The Catalan Capital welcomes tourists with sunny weather and irresistible beaches. With your sunscreen and sunglasses, you have all the tools to have a wonderful time in Barcelona in June.
You will find clear blue skies in the month of June to enjoy evenings on rooftops. Watching Daning eggs (June 20-23) is just the beginning of fun you will have in Barcelona in June. Festival Jardines Pedralbes brings exciting concerts and dance shows to the city.
July 
Average Temperature: 24 to 33 °C
Summer is at its peak in July. Plan to spend most of your days at the beach getting the perfect tan lines. With tank tops and shorts, enjoy the many outdoor events that happen in July. Book all your tickets online to avoid overwhelming lines at popular landmarks like the Sagrada Familia. 
Music events line the month of July, bringing fans from all over to bond over different genres. Festival Del Grec is a cultural rendezvous with theatrical, musical and even circus performances.  July in Barcelona is all about music and beaches. 
August 
Average Temperature: 24 to 30 °C
Weather in Barcelona in August is best for beach fun. Longer days give you more opportunities to stay at the beach as late as you want. The most famed rooftop bars of the city give out free drinks during this month.
A lot of restaurants and shops usually close down, be sure to check the opening times of your favorites before booking your ticket. August hosts the biggest carnival in Barcelona - La Fiesta Mayor De Gracia with streets festooned with ribbons and flowers.
September 
Average Temperature: 17 to 26 °C
The off-peak season of September is another great month to visit the city in. The temperature is still good to visit the beaches which are much less crowded now. The humidity of the summer months starts declining considerably and the weather is perfect for sightseeing.
September is your chance to see Catalan traditions and culture during the La Merce Festival. The pleasant weather of September is perfect for exploring the markets of Barcelona and cycle through its streets and alleys. 
October 
Average Temperature: 14 to 22 °C
October in Barcelona is marked with falling temperatures and last beach days. October is a wonderful month for your pocket as well, get amazing discounts at Spanish Brands that line the Passeig de Gracia.
The arrival of autumn is Barcelona is a beautiful sight, with the shades of orange and brown lending a charm to every street. Surrounded by autumn, enjoy chestnuts in season during October in Barcelona. October rejuvenates the many galleries and museums of the city where tourists can spend hours amidst the art.
November 
Average Temperature: 12 to 16 °C
Even without the beach, there is a lot to do in Barcelona in November. The art adorning the city is an incentive enough for you to book your tickets. Without being flogged with tourists, November is a good time to explore the city in peace.
Plan a picnic with a boat ride in the Citadel Park which displays the best of autumn. Barcelona Pensa Festival, a gathering of philosophical intellectuals also takes place in November. 
Barcelona in November Guide
December 
Average Temperature: 12 to 16 °C
Have your best Christmas yet with Barcelona! The city is flooded with Christmas markets and tinsel lights. With La Liga in full swing, Barcelona fans can also catch a football match.
This time of the year is also wonderful to dive deep into the traditional cuisine of the city and learn some cooking. The winter is also a suitable time to go on a Game of Thrones tour. The adventure junkie in you can also go skiing during December.
Barcelona in December Guide