All You Need to Know About Park Guell in Barcelona
Barcelona is the culturally rich, vibrant capital city of Spain's Catalonia region. From sunny beaches to gorgeous buildings, Barcelona has a lot to offer its visitors. Park Guell, designed by Antoni Gaudi, is one such attraction. The UNESCO heritage site is a must-visit if you are in Barcelona.
A visit to the park gives us insight into the brilliance of Gaudi and is a great way to discover his eclectic and unique style. The venue is steeped in history, and today, it is one of the most famous landmarks in the city, seeing over 9 million visitors annually.
Quick Guide to Park Guell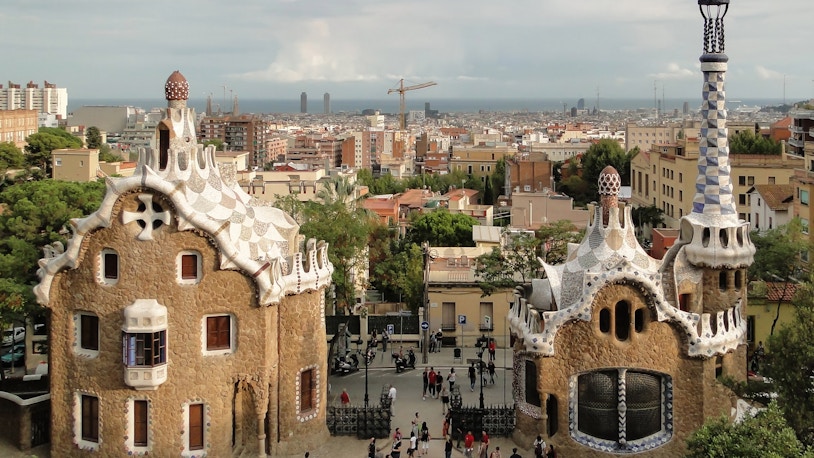 Also Known As: Parc Güell (Catalan)
Location: Carmel Hill, Gracia, Barcelona
Established: 1914
Architect: Antoni Gaudi
Architectural Style: Modernisme
Number of Visitors Per Year: 12 million
UNESCO World Heritage Site Designation: 1984
Facts About Park Guell
What is Park Guell?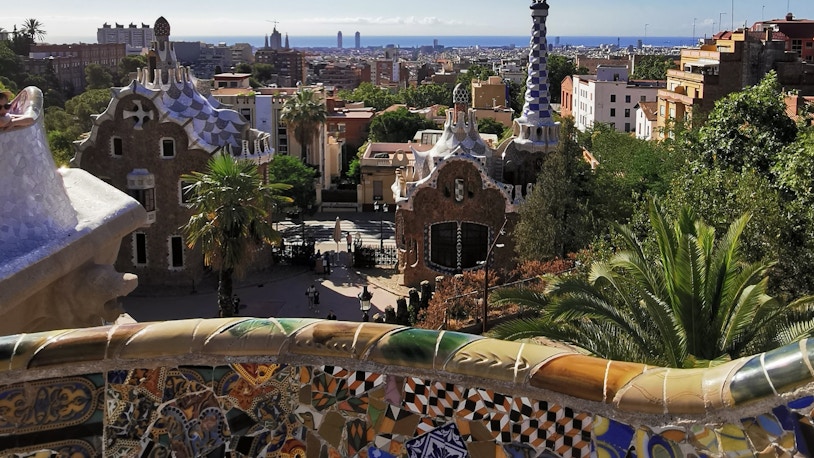 Landmark: Located right on the edge of Barcelona Park Guell is a beautiful park full of bright colors, interesting architecture, lush greenery, and more!
Open since 1923: The park is named after Eusebi Güell, a rich entrepreneur, who commissioned Gaudi to build a luxury residential complex. When the project was abandoned, Gaudí designed a park. Created between 1900 and 1914, Park Guell has been open to the public since 1923.
UNESCO World Heritage Site: In 1984, it was declared as a World Heritage Site by UNESCO. The park was made following the architectural style that made Gaudi famous: Catalan Modernism.
Covers 19 hectares: Spread across 19 hectares, you will find rounded forms, undulating lines, and structures covered in rainbow-colored mosaic and iron gates come together to create a space that is magical in every sense of the word.
Why is Park Guell famous?
Park Guell is one of the largest green spaces in Barcelona. The park, which covers 19 hectares and houses quirky buildings as well as a nature reserve and biodiversity, is located in the Gracia district of Barcelona.
There are a number of distinct spaces and structures designed by Antoni Gaudi that can be found inside the park. The colorful mosaic Dragon that will greet you as soon as you enter the park, Sala Hipòstila (the Hypostyle Room), Museu del Guarda (Guard Museum), Jardins d'Àustria (Gardens of Austria), Plaça de la Natura (Nature Square or terrace), Pòrtic de la Bugadera (Wash House Portico) and interesting roads, viaducts, and paths and the large terraces that offer wonderful views over the city are all creations born straight out of Gaudi's genius.
Plan Your Visit To Park Guell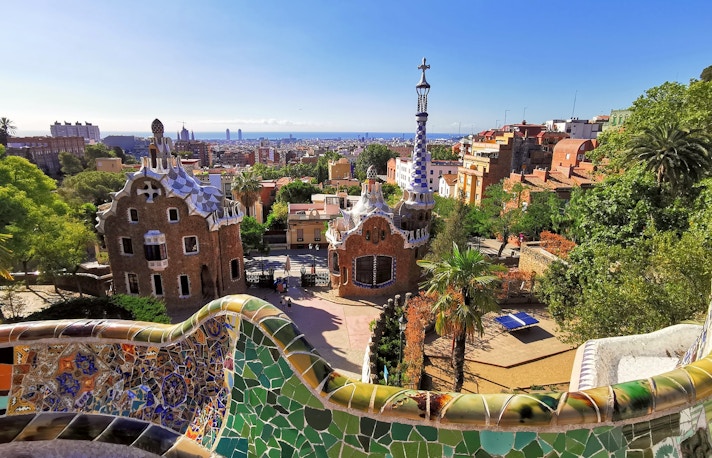 Where is Park Guell Located?
Address: 08024, Barcelona, Spain
Park Guell is located between the neighborhoods of El Coll, La Salut, Vallcarca i els Penitents, El Carmel and Can Baró, in the districts of Gràcia and Horta-Guinardó. It is spread across the two hills of Les Menes and El Carmel.
The surrounding areas are urban neighborhoods that are highly populated. The green park, therefore, offers a respite from the concrete jungle, easing urban pressure and improving the area's environmental quality.
Know More Park Guell Opening Hours
Park Guell is open daily. The opening hours are:
From 1 July to 31 August 2022: 9 AM to 7:30 PM
From 1 September to 29 October 2022: 9:30 AM to 7:30 PM
30 October 2022 to 31 December 2022: 9:30 AM to 5:30 PM
Opening Hours for Residents
Citizens are free to come to the Park Güell, at no cost, at any time between 7 AM to 10 PM. However, to avoid crowds it might be best to visit the park from 7 AM to 9 AM and from 6 PM to 10 PM when Park Guell is reserved exclusively for residents of neighboring areas. Tourist visits are not allowed during these hours.
Know More
Book Park Guell Tickets & Tours
Park Guell Entrances
Park Guell has three entrances:
Main Entrance: This is located right next to the Porter's Lodge Pavilion.
Carretera del Carmel: This is located on the west of the park.
Av. del Santuari de St. Josep de la Muntanya: This is on the eastern side and can be accessed via mechanical stairs.
Zones of Park Guell
The park is divided into two zones: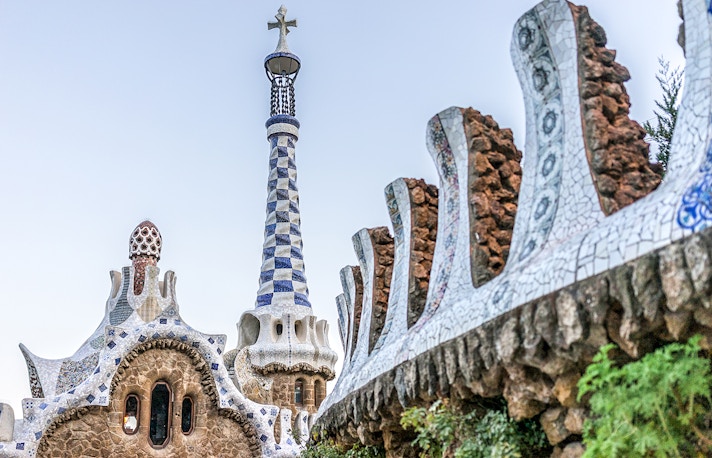 Monumental Zone
The monumental zone spread over 12 hectares is the core attraction of the landmark. It includes a series of tremendous buildings.
Know More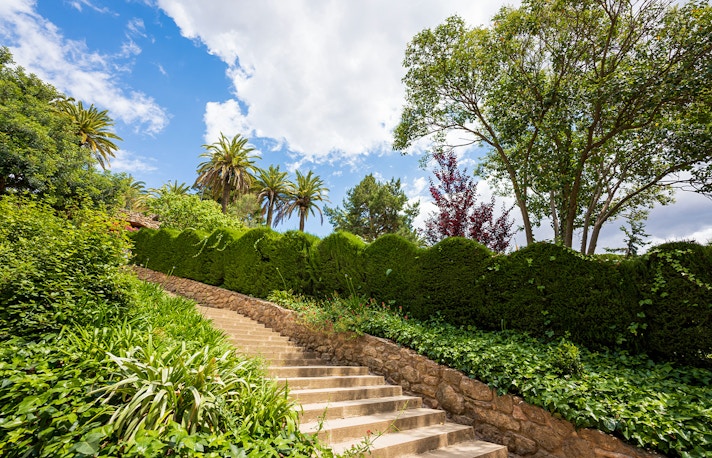 Forest Zone
The adjacent woodland zone is spread over another 8 hectares. The woodland zone is open for everyone to visit and doesn't require a ticket. 
Things to See at Park Guell Barcelona
Park Guell is a magic wonderland created by Antoni Gaudi. Here are some of the things to look out for inside Park Guell.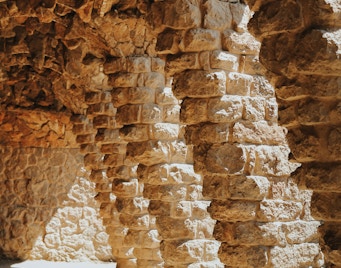 Pathways And Viaducts
Gaudi designed Park Güell with the idea of merging it with the natural surroundings and hilly topography. To achieve this, he laid down an intricate network of paths, bridges, and viaducts throughout the property. The three viaducts that glide up the mountain in succession are called Pont de Baix, the Pont del Mig, and the Pont de Dalt.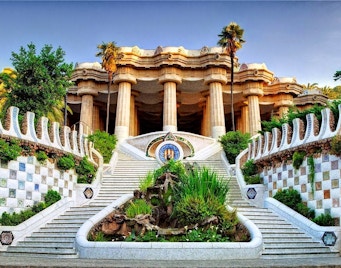 Porter's Lodge Pavilion
The main entrance to Park Güell has an impressive facade and presents a stunning view of the work of art inside. The ceramic tiled stone wall and palm leaf-shaped iron gates are just a trailer of the nature-inspired architectural marvels, one would witness ahead.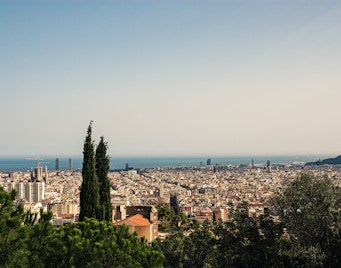 Three Cross Hill
The Three Cross Hill is the highest viewpoint in Park Guell and offers beautiful views of the city of Barcelona. Getting to the top will require some effort, as there is steep stairway to climb, but the breathtaking views at the top of the hill make the journey well worth the effort.
Gaudi House Museum
One of the original homes in the park, Gaudi House Museum is now a collection of the fabled architect's life and work. To enter the museum, you'll need to buy a separate ticket from the Park Guell website since the regular tour does not cover the museum.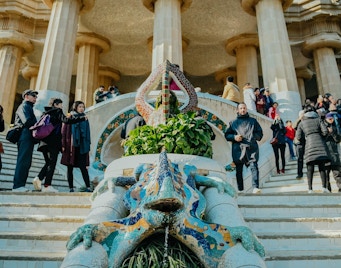 The Dragon Stairway
An artistic twin flight of steps rises up from the entrance to the Hypostyle Room. Divided into three sections, the stairway has a fountain running along its edge and each landing on the way up is marked by a distinct element.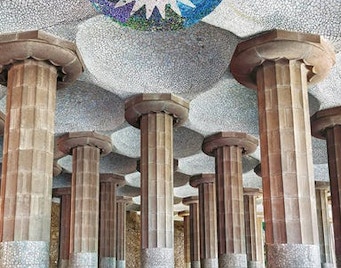 The Hypostyle Room
The Dragon Stairway culminates into an enormous space called the Hypostyle room. The entire space is supported by 86 striped columns, with the outermost ones sloping in an undulating form contrary to the rules of classical composition.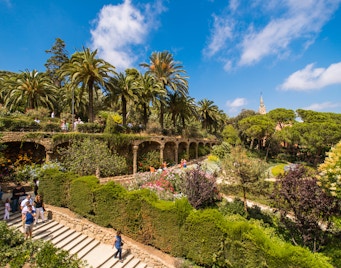 Greek Theatre
At the heart of Park Güell lies the huge open air space originally called the Greek Theatre and now called Plaça de la Natura (Nature Square). This vast platform was planned to stage large open-air shows.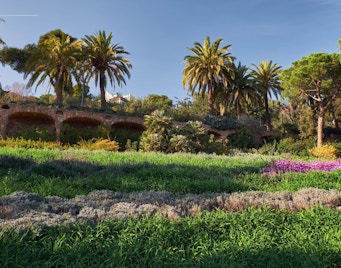 Austria Gardens
With trees donated from Austria, this part of the park has a very distinguished look. The Austria gardens have a beautiful view and host two prominent houses, one of which was acquired by Gaudi's family which has now been converted into Gaudí House museum.
Who Designed Park Guell?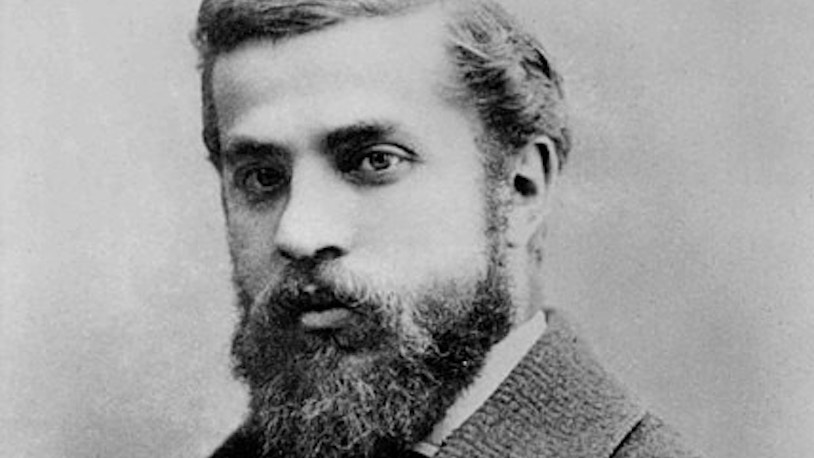 Antoni Gaudi I cornet, one of the most significant visual artists of the 19th and 20th centuries from Spain, developed Park Guell. He is known as a pioneer of the artistic technique Art Nouveau which is also his signature art style.
Renowned for his intricate craftwork in buildings all across Spain, Gaudí's works have a highly individualized, sui generis style. Most of these buildings are located in Barcelona, including his glorious masterpiece, the church of the Sagrada Família.
During his studies, Gaudí constructed several projects, among which the following stand out: a cemetery gate (1875), a Spanish pavilion for the Philadelphia World Fair of 1876, a quay-side building (1876), and a university assembly hall (1877). 
Design & Architecture of Park Guell
The natural beauty of Park Güell is planned in a way to provide the serenity and quiet that a park may offer. The green space is interspersed with creations by Gaudi that blend seamlessly with the nature that surrounds it.
You will find evidence of Gaudi's signature Modernisme style throughout the park. Visitors will also get to see the use of Trencadís throughout the park.  Gaudi firmly believed that there were no straight lines or sharp corners in nature, and so, the entire park features curved lines and fluid designs. 
Guests will find various animals throughout the park, designed in Trencadís mosaic. The most famous of these creations is the El Drac, located at the entrance to the park. Park Guell also includes motifs from Catalan nationalism, religious mysticism, and ancient poetry. From its highest point, the park features a stone hill with numerous steps leading to a platform where three large crosses are mounted. The official name of this is "El Turó de les Tres Creus," however it is popularly called Calvary. From here, you can enjoy panoramic views of Barcelona.
History of Park Guell In A Nutshell
Park Guell was originally supposed to be a housing complex for the aristocratic families of Barcelona. Count Eusebi Güell, after whom the park has been named, commissioned the legendary architect Antoni Gaudí to design it. Inspired by the English garden city movement, the plan was to take advantage of the fresh air and beautiful views. Ultimately, only two houses were constructed, neither by Gaudi. In 1906, Gaudi moved into one of the houses with his family.
However, due to various reasons, the project didn't work out, and the estate was converted into a private garden. In 1926, Park Guell open to the public. In 1963, the house that Gaudi used to live in was converted into the Gaudi House Museum (Casa Museu Gaudí). In 1969 it was declared a historical-artistic monument of national interest. In 1984, UNESCO declared the park a World Heritage Site under "Works of Antoni Gaudí".
UNESCO World Heritage Site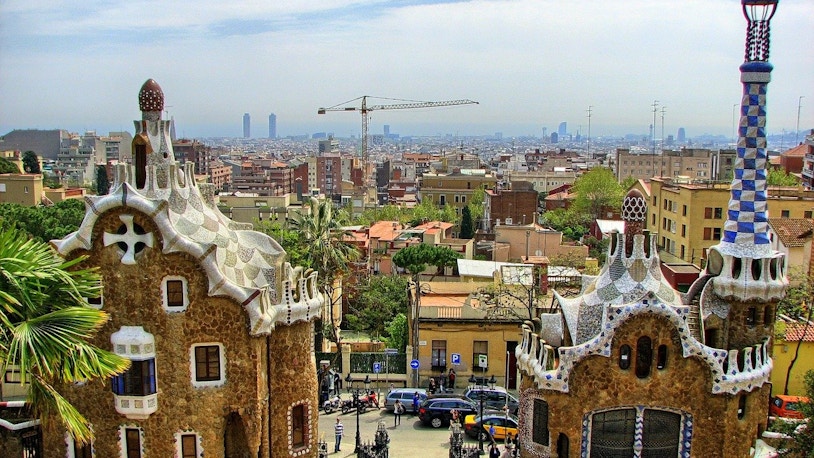 In 1984, UNESCO declared Park Guell as a World Heritage Site as part of "The Works of Antoni Gaudi", which features seven buildings by the architect Antoni Gaudí located in Barcelona and its surrounding areas.
The other six creations of Gaudi included in the World Heritage List includes the Palau Güell, the Casa Milà-La Pedrera, the Casa Vicens, the Nativity Façade and the Crypt of the Sagrada Família, the Casa Batlló, and the Crypt of the Colònia Güell.
Know More
Nature & Biodiversity at Park Guell
Park Guell has been designed in a way to protect and promote the nature and biodiversity of the area.
Due to its proximity to Collserola hills and other green areas, this park attracts a wide range of fauna. Reptiles such as the Moorish gecko, mammals like Pipistrelle, Brown rat and birds such as the Rock dove, Nightingale, European crested tit live here.
You will also find a wide variety of flora species such as olive trees, strawberry trees, Common hawthorn, mastic trees, and red valerian trees. You can walk along the Biodiversity Route to enjoy the rich biodiversity of Park Guell.
Frequently Asked Questions About Park Guell in Barcelona
Park Guell is an urban park in Barcelona, Spain that was designed by Antoni Gaudi.
Why is Park Guell Barcelona famous?
Park Guell is Barcelona's landmark park. It is the second most-visited park in Barcelona after Parc de la Ciutadella, and resonates with Modernist elements like no other place. Park Guell is a must-visit in Barcelona thanks to its rich history and the mastermind behind its design, the eminent architect Antoni Gaudi.
Is it safe to visit Park Guell Barcelona?
Yes, it is perfectly safe to visit Park Guell Barcelona, as a number of health measures are in place to ensure safety of visitors.
How much are Park Guell Barcelona tickets?
Park Guell tickets start at €10 for adults, while guided tours start at €27.
What can I do at Barcelona Park Guell?
Park Guell Barcelona has a number of highlights such as The Dragon Stairway, The Serpentine Bench, Austria Gardens, El Drac, and Laundry Room Portico, among others.
When was Park Guell built?
Park Guell was planned and designed by Antoni Gaudi (1852-1926), between 1900 and 1914. His original designs were altered due to financial reasons, and the park opened in 1926, ten years after his death.
Where is Park Guell located?
Park Guell is located between the neighborhoods of El Coll, La Vallcarca, El Carmel and La Floresta in Barcelona.
How can I get to Park Guell?
What are Park Guell Barcelona timings?
Park Guell is currently open from 9 AM to 7:30 PM.
How many entrances does Park Guell Barcelona have?
Park Guell has three entrances — the main entrance, Carretera del Carmel, and Av. del Santuari de St. Josep de la Muntanya.
Why is there a restricted zone in Park Guell?
From October 2013, Barcelona City Council began regulating entry to the main core of the park with the objective of preserving the iconic space and keeping it in the best possible state of conservation. For a number of year prior, unregulated entry had begun to take its toll on the surroundings, the flora of the park and contributed to degradation of Gaudi's sculpture. In order to avoid worsening of the situation, visitor tickets are being regulated.
More Reads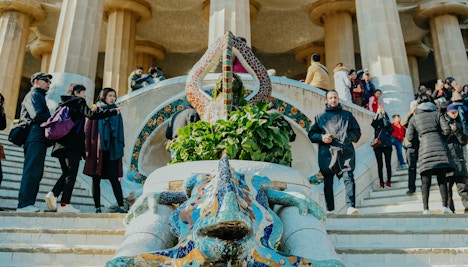 Plan Your Visit to Park Guell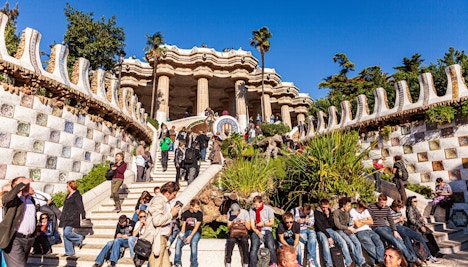 Tips For Visiting Park Guell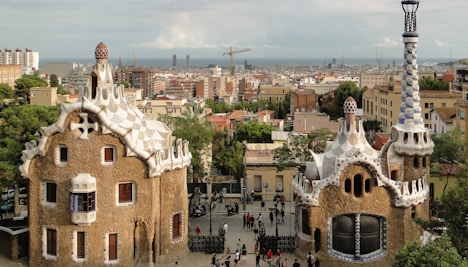 Map of Park Guell