History of Park Guell | Housing for Aristocrats to World Heritage Site
Contents
Park Guell is one of Barcelona's most-visited attractions, featuring some unique creations of Gaudi and lush gardens. Read on to find out about the rich history of one of Barcelona's most iconic destinations.
About Park Guell?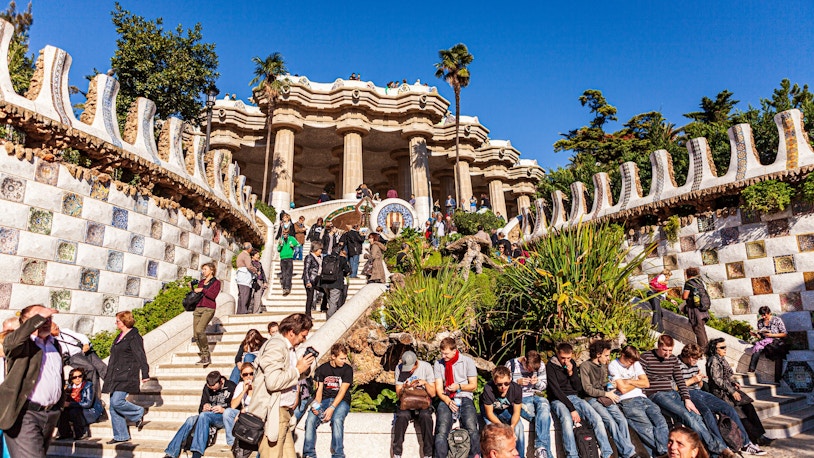 Originally conceived as a private residential area for affluent Catalan families, Park Güell is the work of world-renowned architect Antoni Gaudí who let his imagination go wild on the gardens and architectural elements of this park.
His use of natural forms shaped into covered walkways, galleries, and archways beautifully camouflage the artificial structures into the surrounding Mediterranean hillside.
A designated UNESCO World Heritage Site, Park Güell is now one of the most enchanting gardens of the world and captivates thousands of tourists every day.
About Park Guell
Origins of Park Guell In the 1900s Barcelona's upper class began growing exponentially, while the rest of Spain was struggling economically. The economic crisis created room for the growth of Catalan nationalism, which was focused on the revival of Catalan traditions and national culture. Catalan artists and architects, thus, began being favored. It is this sentiment that allowed for Modernisme to develop in Catalan.
Buildings in this new modernist style came to be seen as not only a sign of patriotism but also of prestige. Aristocrats began to patron artistes of the Modernisme. Eusebi Guell's and Antoni Gaudi's relationship began when Güell saw a window display that Gaudí had planned for glove retailer at the Universal Exhibition in Paris in 1878. Their association grew stronger and finally, in 1900, Guell gave Gaudí the assignment of designing Park Güell. 
Architects of Modernisme Lluis Domènech i Montaner
His works, Hospital de Sant Pau and Palau de la Música Catalana were collectively declared as a UNESCO World Heritage Site. Josep Puig i Cadafalch
One of his most well-known buildings is his rebuilding of the Casa Amatller in Passeig de Gràcia.
Park Guell Tickets
Combo (Save 4%): Park Güell with Audio Guide + Barcelona Airport to/from City Center One-Way Tickets
More details
History of Park Guell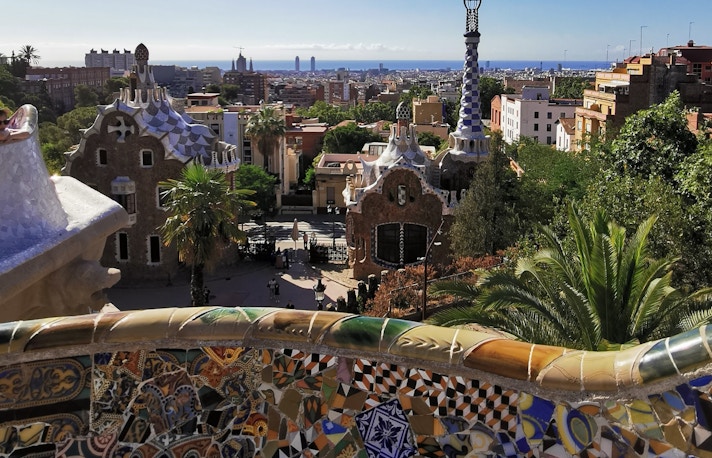 Construction of Park Güell
The construction of Park Guell began in October 1900 with the leveling of the land. By 1903, the two pavilions at the entrance, the main staircase, the waiting area, the exterior fence, viaducts, and part of the esplanade, as well as the drainage system, were completed.
In 1902, Martí Trias i Domènech bought the first plot of land in the park. He commissioned the architect Juli Batllevell to build his villa.
Around the same time, Josep Pardo i Casanovas built a show house in the hopes that it would boost sales. The house was designed by Gaudí's collaborator, Francesc Berenguer.
In 1906, Gaudí, at Güell's suggestion, moved into the park.
He lived here, with his family and father, until his death in 1926. Interestingly, the house he lived in was not built by him, but by Francesc Berenguer.
The following year, Guell himself moved to the development, into the Casa Larrard. By this time, Hypostyle Hall was completely covered and events began being held in the main square. The tiled bench that surrounds it was completed in 1914.
Park Guell Facts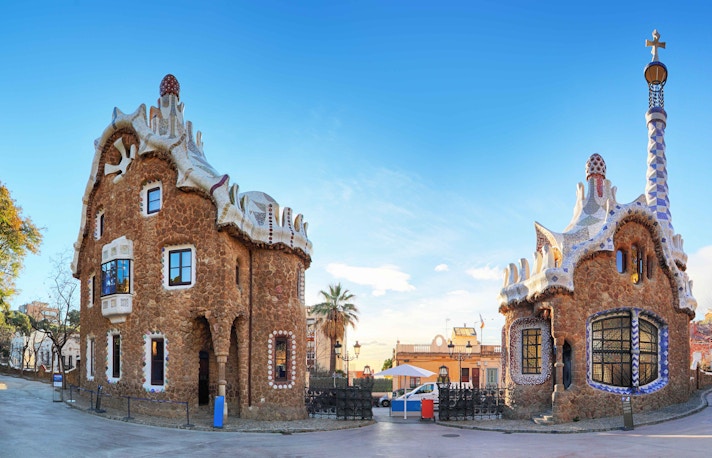 Housing Development to Public Park
The housing project failed for many reasons. The plots were to be sold using old emphyteutic contracts.
The rather exclusive nature of the project as well the lack of adequate transport to the site, also made the project undesirable for prospective buyers.
The project was abandoned in 1914 and by this point, only two of the 60 planned houses had been built.
It went from being a housing project to being a private garden. Guell used to allow events to be held here. In 1918, Guell died. His descendants offered the park to the City Council. The Council opened the park as a municipal park in 1926. 
The house of the Güell family was set up as a public school, and the area to the left of the entrance was used as a nursery. Gaudi's house opened to the public as the Gaudi House Museum in 1963.
It was recognized as an artistic monument in 1969. The glory of the park finally culminated in 1984 when it was declared a World Heritage Site by UNESCO in 1984.
Frequently Asked Questions About History of Park Guell
When was Park Guell built?
Park Guell was built between 1900-1914.
Park Guell was designed by Antoni Gaudi, who had been commissioned by Eusebi Güell.
Where is Park Guell located?
Park Guell is located on Carmel Hill in Catalonia. Its address is 08024 Barcelona, Spain.
Are Park Guell tickets available online?
Yes Park Guell tickets are available online. You can buy them here.
What is Park Guell famous for?
Park Güell is a huge public park that features beautiful architectural elements designed by Antoni Gaudí. These architectural elements blend seamlessly with nature, making it a great place for relaxation just as much as it is a place to explore.
In 1906, Gaudi moved to Park Guell with his samily and the following year, Guell moved into the Larrard House in the park. Both men lived here until their deaths in 1926 and 1918, respectively.
Why was the housing development called Park Guell?
The project had been inspired by the British residential parks. Park Guell is a reference to this inspiration, as well as to Guell, the vision behind Park Guell.
Why did the Park Guell housing project not pan out?
The housing project was abandoned as there were no buyers because of the use of old emphyteutic, the exclusive nature of the project as well the lack of adequate transport.
When did Park Guell become a municipal garden?
Park Guell opened to the public as a municipal garden in 1926.
When was Park Guell declared a UNESCO World Heritage Site?
UNESCO declared Park Guell as a Heritage Site in 1984, as part of 'Works of Gaudi', a series of seven attractions created by Gaudi.