Park Guell Regulation Policy and Rules to Access to the Regulated Zone
Contents
Park Güell Regulation Policy
In October 2013, Barcelona City Council implemented a new regulation policy that would conserve the cultural zone.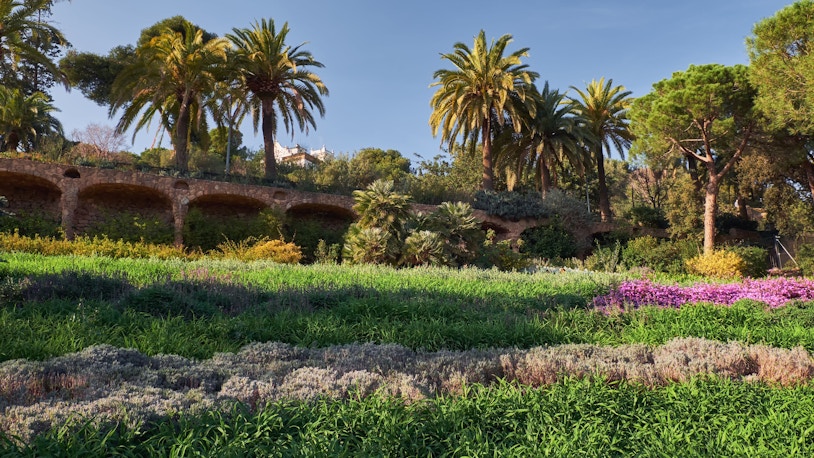 The policy had to fulfill two goals:
Protect, study and promote Gaudí's work, as established in UNESCO's requirements, and to offer a high-quality visiting experience.
Allow the park has to remain an urban park, that would remain as a space for the community, and even a place for individual and collective memories.
As per the policy, access to the Monumental Zone, which represents 7.9 percent of the total area of the park, was restricted. Purchasing a ticket would allow visitors access to 12 hectares of the park. The rest of the park can be accessed for free.
How To Access The Regulated Monumental Zone?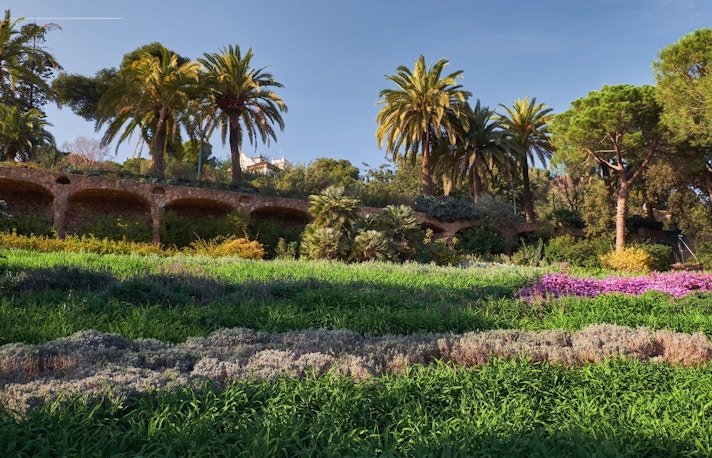 Tickets for Access
Residents in neighborhoods adjacent to Park Güell (La Salut, Vallcarca-Penitents, El Coll, Can Baró, El Baix Guinardó, and El Carmel) can access it with the card for the neighborhood.
Those with the Gaudir Més registration can also enter for free. 
Children from schools located inside the park and in its immediate surroundings —Baldiri Reixac, Reina Elisenda, Cor de Maria, Jesuïtes de Gràcia, Petit Virolai, Turó del Cargol and Escola Montseny— are entitled to free access.
Tourists need to purchase tickets.
Park Guell Tickets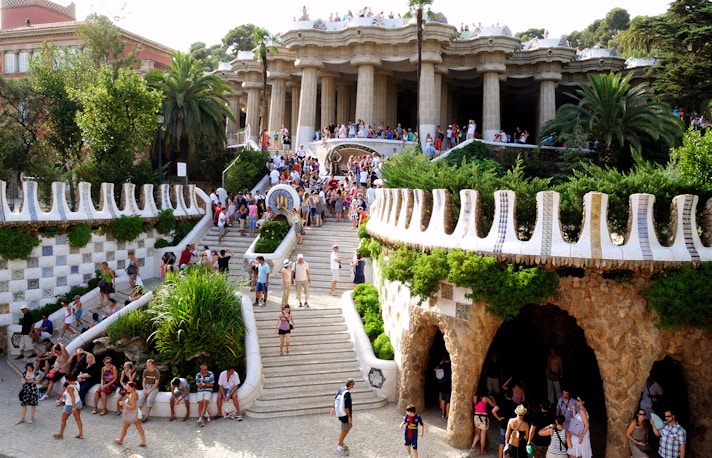 Timings
Tourists can only visit the Monumental Zone during the official opening hours (9 AM to 7: 30 PM from 1 July to 31 August)
During mornings, from 7 AM to 9 AM, and evenings, from 8 PM to 10 PM, access is reserved for the public. Tourist visits are not allowed during these hours.
Citizens can also visit between 9 AM and 7:30 PM. To regulate this, there are a total of 9 entries: four meant only for neighbors and citizens, four for visitors and citizens, and one dedicated exit point located at Carrer Olot.

Plan Your Visit
Rules for Visiting Regulated Zone
Purchase tickets online: It would be best to purchase tickets online. You can also purchase tickets from the venue, but there is a chance you might not get one for immediate visit.
Reach on time: Arrive on time and the tickets entitle visitors to enter Park Güell on the date and within the time allotted on the ticket.
30-minute entry: Tickets allow entry into the Park for 30 minutes after the time-slot reserved.
Entry for locals: Local residents and/or those who have an accreditation card will have to show it at the entrance check point and provide documentation proving ownership of the document.
Minors: Those under the age of 14 have to be accompanied by an adult.
Picnic rules: You can have picnics in the zones designated within Park Guell. Use the wastepaper baskets in order to help keep the Park clean.
Photography rules: Visitors are not allowed to take photographs for professional or commercial purposes.
Voice amplification devices: Use of megaphones, speakers or any voice-amplification devices is not allowed inside the premises.
Park Guell Tickets
Combo (Save 4%): Park Güell with Audio Guide + Barcelona Airport to/from City Center One-Way Tickets
More details
Frequently Asked Questions About Park Guell
Why does Park Guell have a regulation policy?
The regulation policy was intended to reduce overcrowding, and make room for the conservation of heritage, and make managing green areas easier.
How to access Park Guell's regulated monumental zone?
Residents in neighborhoods adjacent to Park Güell (La Salut, Vallcarca-Penitents, El Coll, Can Baró, El Baix Guinardó, and El Carmel) can access it with the card for the neighborhood. However tourists need to purchase tickets in advance to access the area.
What are Park Guell's opening hours?
Park Guell is open every day from 8:00 AM to 8:30 PM.
Is there an admission fee to enter Park Guell?
Yes, a fee is required to enter the Monumental Zone, which includes the famous Gaudi structures. Online booking is recommended.
Can I bring food and drinks into Park Guell?
No, outside food and drinks are not allowed inside the park. There are on-site cafeterias and food vendors available.
Are pets allowed in Park Guell?
Pets are not allowed in the park, with the exception of service animals.
Can I take photos inside Park Guell?
Yes, visitors are allowed to take photos for personal use only. Professional photography requires a permit.
What are the regulations regarding smoking inside the park?
Smoking is prohibited in all areas of Park Guell, including outdoor spaces.