Barcelona Walking Tours | The Definitive Barcelona City Guide
Contents
Barcelona is among the world's premier tourism destinations. From solo adventurers and thrill-seeking youngsters to couples and families, everyone can find something they love about this diverse Spanish city. The best way to explore the city's never-ending attractions is through a guided tour - be it in a group, self-guided, with an actual guide, or a simple audio guide.
A Barcelona walking tour is arguably the most comprehensive way to explore the city's offerings. Tourists and curious locals can opt for a walking tour to visit and learn about the points of interest in Barcelona, from historic landmarks, mouth-watering tapas bars, and the extraordinary Park Guell.
5 Best Walking Tours of Barcelona
Free tour of Barcelona
Learn about Barcelona's extensive history and its thriving present as you walk through old streets featuring classic architecture. The tour covers topics such as Legends of Barcelona, Roman Ruins, The Spanish civil war, and more. This free Barcelona walking tour lasts for 2.5 hours and takes place thrice a day.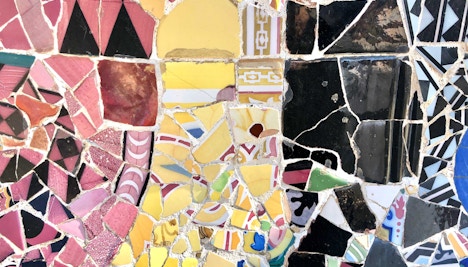 Bohemian Barcelona Walking Tour & Picasso Museum Guided Tour
Relive the art and architecture from the Modernist period with an expert guide. Walkthrough places where Picasso, one of the world's greatest artists, lived, socialized, and served as his inspiration. You will also visit the Picasso Museum, Quatre Gats, Carrer Montsió and the streets of Avinyó.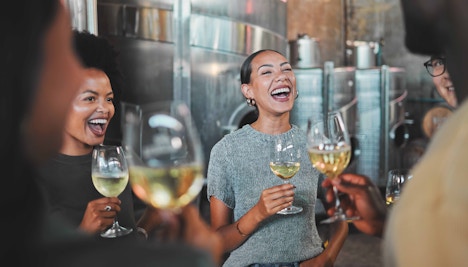 Tapas and Wine Experience Small-Group Walking Tour
This 3-hour tour is a treat for your taste buds as you visit three different neighborhoods and indulge in local culinary offerings and traditional alcoholic drinks. Your experienced guide will tell you everything there is to know about the food and beverages along with Barcelona's culture and history.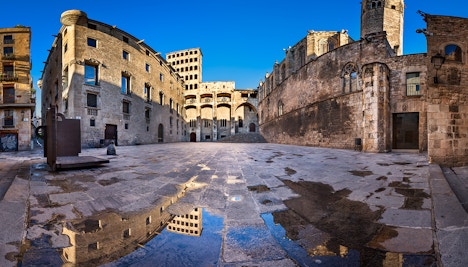 Barcelona Gothic Quarter Morning Walking Tour
One of the main points of interest in Barcelona is the famous Gothic Quarter, which features a range of medieval buildings spread out on tiny, maze-like streets. This premier Barcelona architecture walking tour covers the Plaça del Rei (Royal Palace), Temple d'August, and the Palatine chapel of Santa Agata.
Skip the Line Guided Walking Tour
Gaudi's Park Guell in Barcelona - You cannot separate Barcelona and Antonio Gaudi, the legendary architect who has left his mark on the city. Discover Gaudi's wonderland, Park Guell, with quick access via the skip-the-line tickets and gain valuable insights with the help of an expert guide. The tour lasts for 1.5 hours.
Top 10 Must-See Attractions on a Walking Tour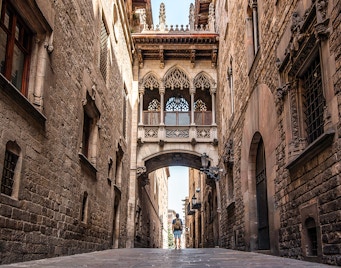 The Gothic Quarter
Any of the Barcelona architecture walking tours are likely to cover the city's Gothic Quarter - the oldest part of the city. The Roman and Medieval walls, Royal Palace, Palau Reial Major, and Casa de la Ciutat (City Hall) are notable landmarks in the area.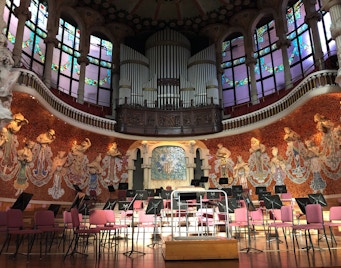 Palace of Catalan Music
The Palau de la Música Catalana is a modernist gem designed by architect Lluís Domènech I Montaner. The concert hall, built between 1905 and 1908, features an exquisite interior with mosaic art, stained glass art, and ironwork.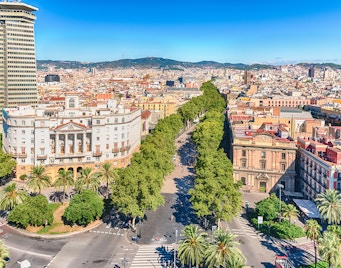 La Rambla
A Barcelona walking tour is not complete without a trip to La Rambla, a central street that acts as a social hub of the city. With numerous cafes, restaurants, and kiosks, this street is always bursting with life.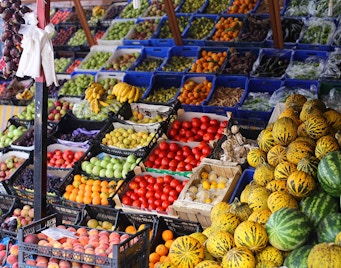 La Boqueria
The Mercat de Sant Josep de la Boqueria is one of the largest and most famous markets in the city. A self-guided walking tour of this market is a treat with numerous stalls to shop at, places to eat, and relax.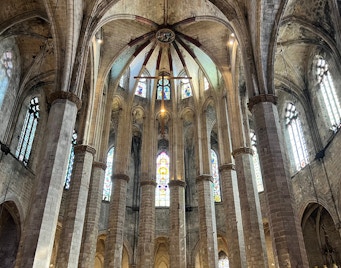 Basílica de Santa Maria del Mar
Built between 1329 and 1383, the Santa Maria del Mar is a remarkable example of Catalan Gothic architecture. The basilica is 80 meters (or 100 feet) long while the central nave is a whopping 33 meters high. The enormous church features exquisite art and structural detailing.